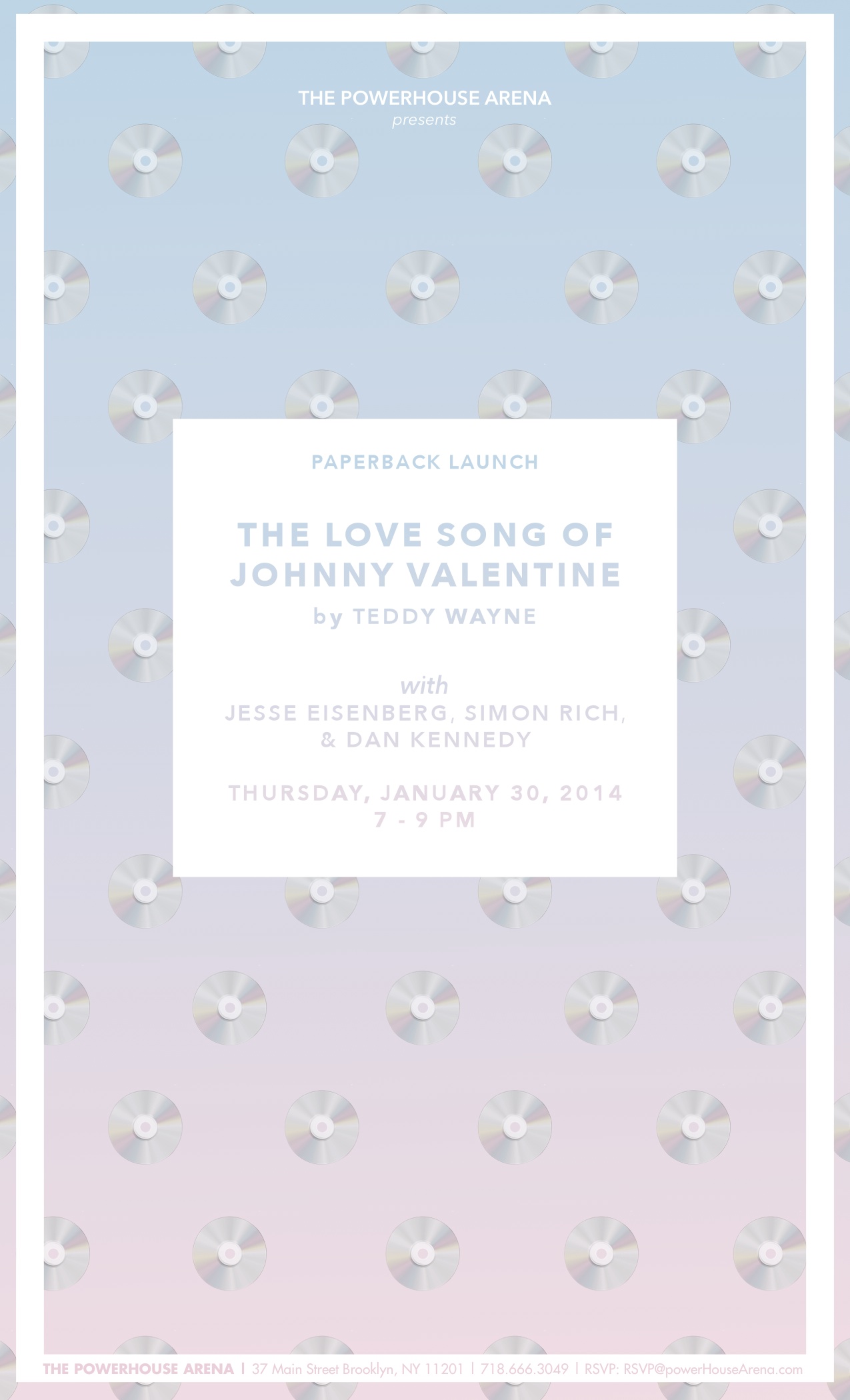 Thursday Jan 30, 2014
7:00 pm - 9:00 pm
THE POWERHOUSE ARENA [Dumbo]
37 Main Street
Brooklyn, NY 11201
For more information, please call 718.666.3049
RSVP appreciated: RSVP@powerHouseArena.com
-or-
Please fill out the "Bookings" form at the bottom of this page.
---
A contributor to GQ and The New Yorker, Whiting Award-winner and powerHouse favorite Teddy Wayne plunges us into the insane world of young music idols with this, his second novel. Jonny Valentine is an 11-year-old pop star with more money, more fame, and more problems! Jesse Eisenberg, Simon Rich, and Dan Kennedy will join Teddy in conversation.
About THE LOVE SONG OF JONNY VALENTINE:
One of the most critically acclaimed books of the year, Whiting Award-winner Teddy Wayne's second novel is "more than a scabrous sendup of American celebrity culture; it's also a poignant portrait of one young artist's coming of age" (Michiko Kakutani, The New York Times)—and an enduring yet timely portrait of the American dream gone awry.
In his rave on the cover of The New York Times Book Review, Jess Walter praised Wayne's writing for its "feats of unlikely virtuosity" and the boy at its center as "a being of true longing and depth, and…a devastating weapon of cultural criticism…You'd have to be made of triple platinum not to ache for Jonny Valentine."
With "assured prose and captivating storytelling" (Oprah.com's Book of the Week), The Love Song of Jonny Valentine also showcases "one of the most complicated portrayals of the mother-son relationship since Room" (BookPage). Touring the country in a desperate attempt to save a career he's not sure he even wants, Jonny is both driven by his mother's ambition and haunted by his father's absence, constantly searching for a familiar face among the crowds. Utterly convincing, whip-smart, yet endearingly vulnerable, with an "unforgettable" voice (Publishers Weekly, starred review), the eleven-year-old pop megastar sounds "like Holden Caulfield Jr. adrift in Access Hollywood hell" (Rolling Stone).
Called "a showstopper" (The Boston Globe), "hugely entertaining" (The Washington Post), "heartbreakingly convincing" (People), "buoyant, smart, searing" (Entertainment Weekly), and "touching and unexpectedly suspenseful" (The Wall Street Journal), this extraordinary novel has been widely embraced as a literary masterpiece and the rare "satire with a heart" (Library Journal, starred review).
About the Author and Contributors:
Teddy Wayne, the author of Kapitoil, is the winner of a 2011 Whiting Writers' Award and a finalist for the Young Lions Fiction Award, PEN/Bingham Prize, and Dayton Literary Peace Prize. He writes regularly for The New Yorker, The New York Times, Vanity Fair, McSweeney's, and elsewhere. He lives in New York.
Jesse Eisenberg is an Academy Award nominated actor, playwright and humorist for the New Yorker. For his first play, Asuncion, he was nominated for a Drama League Award. He has appeared in the films Now You See Me, The Social Network, Adventureland, Zombieland, The Squid and the Whale, and Roger Dodger.
Simon Rich is the author of The Married Kama Sutra, Free-Range Chickens, Ant Farm, Elliot Allagash, What in God's Name, and The Last Girlfriend on Earth. His work has appeared in The New Yorker and the Believer. He lives in San Francisco, where he is a staff writer at Pixar.
Dan Kennedy is a writer living in New York. He is author of the memoirs Loser Goes First and Rock On, and the novel, American Spirit; he is host of The Moth storytelling podcast and live events, and a contributor to GQ and McSweeney's. His stories have been featured on the Peabody Award-winning Moth Radio Hour.
---
For more information, please contact
Justin Levine
email: justin@powerhousearena.com
powerHouse Arena, 37 Main Street, Brooklyn, NY 11201
tel: 212-604-9074 x109
RSVP
Bookings are closed for this event.