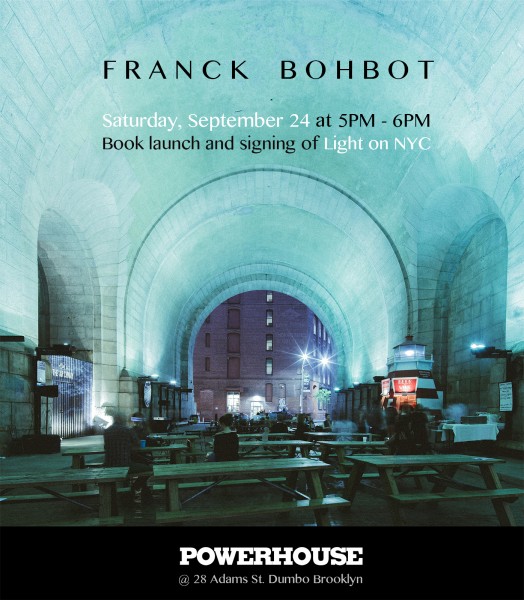 Saturday Sep 24, 2016
5:00 pm - 6:00 pm
POWERHOUSE @ the Archway
28 Adams Street (Corner of Adams & Water Street @ the Archway)
Brooklyn , NY 11201
For more information, please call 718.666.3049
RSVP appreciated: RSVP@powerHouseArena.com
-or-
Please fill out the "Bookings" form at the bottom of this page.
---
The archetypal New York City urban landscape is glimpsed "after hours" in a series of timeless, hyper-real photographs. For fans of contemporary city photography, New York City history, and admirers of magic realism and surrealism in art and photography.
About Light on New York City:
Franck Bohbot's Light On New York City is a sentimental and nocturnal exploration of "the city that never sleeps." In this photography project that began in 2013, New York City is presented in a series of haunting and cinematic images as seen in the nighttime façades and storefronts of buildings that boast neon marquees and signage, eerily preserved in all of their nostalgic and kitschy glory, to undeniably sleek and contemporary exteriors with more daring architectural design. This aesthetic, along with the predominant absence of people, results in a melancholic atmosphere reminiscent of Edward Hopper paintings and evocative of staged theatrical sets—a merging of a contemporary urban reality and a magical, sentimental artificiality. The photographs featured in Light On New York City convey a luminescence that celebrates modernity while longing for the past in an ironically ageless paradox
About the Photographer:
Born in France in 1980, Franck Bohbot, is a Brooklyn-based contemporary photographer known for his vivid and surreal color photography. With a cinematic and painterly approach to his work, he creates meticulously-crafted pictures that capture an enigmatic atmosphere, showing the mystery and dream-like quality of everyday places and everyday life. His unique style has won him several awards and international acclaim in his young career. Recent notable work includes an innovative swimwear collaboration with designer Paul Smith and a stunningly dramatic series of photographs of the Louvre Museum in Paris.
RSVP
Bookings are closed for this event.