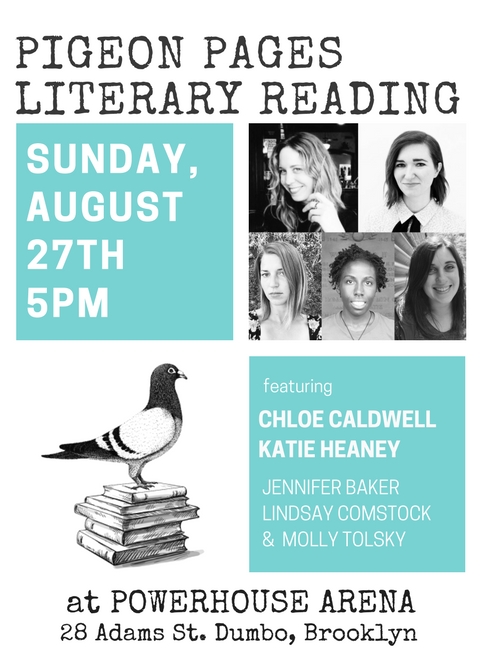 Sunday Aug 27, 2017
5:00 pm - 7:00 pm
POWERHOUSE @ the Archway
28 Adams Street (Corner of Adams & Water Street @ the Archway)
Brooklyn , NY 11201
RSVP appreciated:
Please fill out the "Bookings" form at the bottom of this page.
-or-
Send the name of the event and number of attendees to our RSVP email.
*Disregard the notification that will appear after Booking.*
PLEASE NOTE: Submitting an RSVP for this event DOES NOT guarantee entrance. This is a free-access event — entrance will be on a first-come, first-served basis. RSVPs are used to gauge audience size and are not necessary for attendance.
---
Summer break's over: Join us for our AUGUST READING on Sunday August 27th featuring Chloe Caldwell, Katie Heaney, Jennifer Baker, Lindsay Comstock, & Molly Tolsky, hosted by Alisson Wood! Our readings are always free & open to the public.
About Your Readers:
CHLOE CALDWELL is the author of the novella Women (SF/LD) and the essay collections I'll Tell You in Person (Coffee House/Emily Books) and Legs Get Led Astray (SF/LD). Her work has appeared in Salon, Lenny Letter, Vice, New York Magazine, and many anthologies. Her next book, After Women, will release in 2018 from SF/LD. She lives in Hudson, New York.
KATIE HEANEY is the author of Public Relations, Dear Emma, and Never Have I Ever, as well as the forthcoming memoir Would You Rather?. Her writing has also appeared in New York magazine online, Cosmopolitan, The Atlantic, Racked, and The Hairpin, among other places. She lives in Brooklyn.
JENNIFER BAKER is a publishing professional, creator/host of the Minorities in Publishing podcast, social media director and writing instructor for Sackett Street Writers' Workshop, and she formerly served as panels organizer & social media manager for the nonprofit We Need Diverse Books. In 2017, she was awarded a NYSCA/NYFA Fellowship & Queens Council on the Arts New Work Grant (as well as their award for Artistic Excellence) for Nonfiction Literature. She is the editor of the forthcoming short story collection Everyday People: The Color of Life with Atria Books. Her writing has appeared in Newtown Literary (for which her short story "The Pursuit of Happiness" was nominated for a 2017 Pushcart Prize), Boston Literary Magazine, Eclectic Flash, Poets & Writers magazine, The Offing, The Other Stories podcast, Kweli Journal, and The Female Complaint anthology from Shade Mountain Press. She has also contributed to Forbes.com, LitHub, The Billfold, School Library Journal, and Bustle among other online publications.
LINDSAY COMSTOCK is a Brooklyn-based writer and photographer hailing from northern California. Editor of Graphis Journal, her arts journalism and nonfiction essays have also appeared in American Photo, Artcritical, The Atlantic, EYEmazing, Featureshoot, PDN, and SUITED, among other publications. She's currently at work on her first nonfiction book.
MOLLY TOLSKY is a writer and editor originally from Chicago, currently living in New York. Her work has appeared in Hayden's Ferry Review, MAKE: A Chicago Literary Magazine, Lumina, Modern Loss, and elsewhere. She is the editor of Alma, a new lifestyle publication for Jewish women, and senior editor of No Tokens.
About Your Host & Curator:
ALISSON WOOD's essays, stories, and poems have appeared in newspapers and literary journals such as The New York Times, Catapult, Dovetail, NY Yoga + Life Magazine, and Salad Days Substance. She is the founder & curator of the NYC reading series, Pigeon Pages, and editor of the newly launched Pigeon Pages Literary Journal. More at alissonwood.com & @literaryTSwift
RSVP
Bookings are closed for this event.