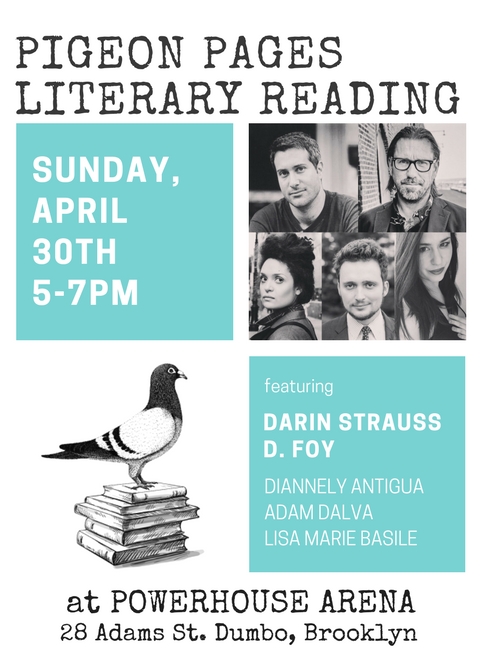 Sunday Apr 30, 2017
5:00 pm - 7:00 pm
POWERHOUSE @ the Archway
28 Adams Street (Corner of Adams & Water Street @ the Archway)
Brooklyn , NY 11201
RSVP appreciated:
Please fill out the "Bookings" form at the bottom of this page.
*Disregard the notification that will appear after Booking.*
-or-
Send the name of the event and number of attendees to our RSVP email.
---
Please join Pigeon Pages @ PowerHouse for our April reading on Sunday, April 30th from 5-7pm!
All readings are free & open to the public.
About the Authors:
DARIN STRAUSS is a recipient of the The National Book Critics Circle Award, a Guggenheim Fellowship and a winner of the American Library Association Award, the internationally-bestselling writer Darin Strauss is the author of the novels Chang & Eng, The Real McCoy, and More Than It Hurts You, and the NBCC-winning memoir Half a Life.
D. FOY is the author of the novels Made to Break and Patricide and the forthcoming novel Absolutely Golden. His stories, poems, and essays have appeared in Guernica, Literary Hub, Salon, Hazlitt, Post Road, Electric Literature, BOMB, The Literary Review, and the Georgia Review, among many others, and have been included in the books Laundromat, A Moment's Notice, and Forty Stories: New Writing from Harper Perennial. www.dfoyble.com.
Diannely Antigua is a Dominican American poet and educator, born and raised in Massachusetts. She received her B.A. in English from the University of Massachusetts Lowell where she won the Jack Kerouac Creative Writing Scholarship. She is currently an MFA candidate at New York University and an Associate Poetry Editor for BOAAT. A Pushcart Prize nominee, winner of the Bodega Poetry Contest, and Community of Writers Fellow, her work appears or is forthcoming in Bloodroot Magazine, Day One, Vinyl, Rust + Moth, Tinderbox Poetry Journal, and elsewhere. She lives in Brooklyn.
Lisa Marie Basile is the author of Apocryphal (Noctuary Press), along with a few chapbooks. She founded and runs Luna Luna Magazine. Her work can be found in The Rumpus, Best American Poetry, Sporklet, PANK, Tin House's blog, and more. She received an MFA from The New School in NYC.
Adam Dalva is a graduate of NYU's MFA Program, where he was a Veterans Writing Workshop Fellow. He was an Associate Fellow at the Atlantic Center for the Arts and a Resident at the Vermont Studio Center. Adam teaches Creative Writing at Rutgers University. His work has been published by The Millions, Tin House, Guernica, The Guardian, and others. He is also a dealer of French 18th Century antiques. You can find his writing at adamdalva.com.
About your Host:
ALISSON WOOD's essays, stories, and poems have appeared in newspapers and literary journals such as The New York Times, Catapult, Dovetail, Stillwater, and Salad Days Substance. She is the founder and curator of the NYC reading series, Pigeon Pages, and is Managing Editor of the online heritage literary magazine, Mr. Beller's Neighborhood.
RSVP
Bookings are closed for this event.