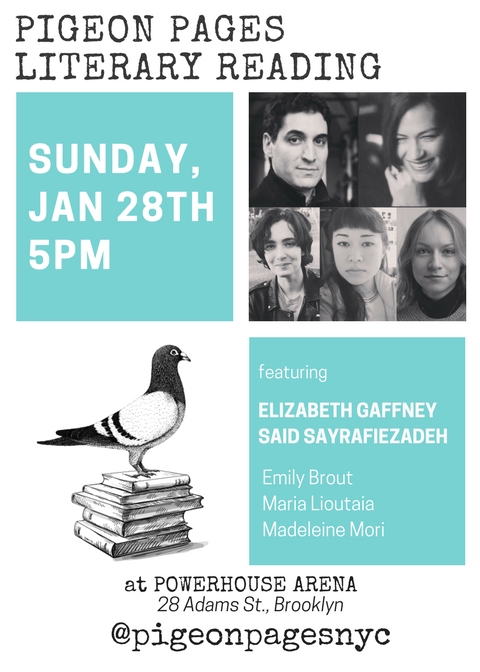 Sunday Jan 28, 2018
5:00 pm - 7:00 pm
POWERHOUSE @ the Archway
28 Adams Street (Corner of Adams & Water Street @ the Archway)
Brooklyn , NY 11201
RSVP appreciated. Please fill out the form at the bottom of this page if you plan on attending.
PLEASE NOTE: Submitting an RSVP for this event DOES NOT guarantee entrance. This is a free-access event — entrance will be on a first-come, first-served basis.
---
Join Pigeon Pages NYC for their first reading of 2018! On Sunday, January 28th we'll be hosting Elizabeth Gaffney, Saïd Sayrafiezadeh, Emily Brout, Maria Lioutaia, & Madeleine Mori, hosted by Alisson Wood. As always, the reading is free & open to the public. You can also visit their online nest: pigeonpagesnyc.com and RSVP on Facebook here.
About the Readers:
ELIZABETH GAFFNEY is the author of the novels Metropolis and When the World Was Young. She's translated 4 books from German and published many short stories in literary magazines, most recently A Public Space, Conjunctions and Craft. A Brooklyn native and founding member of the editorial staff at A Public Space, she also teaches writing at A Public Space, The New School, NYU and at Queens University's low-residency MFA program.
SAÏD SAYRAFIEZADEH is a memoirist, fiction writer and playwright. He is the author of the story collection, Brief Encounters With the Enemy, a finalist for the 2014 PEN/Robert W. Bingham Fiction Prize, and the critically acclaimed memoir, When Skateboards Will Be Free, selected as one of the ten best books of the year by Dwight Garner of The New York Times. His short stories and personal essays have appeared in The New Yorker, The Paris Review, The New York Times, Granta, McSweeney's, The Best American Nonrequired Reading and New American Stories, among other publications. He is the recipient of a Whiting Writers' Award for nonfiction, and a fiction fellowship from the Cullman Center for Scholars and Writers. His play, Autobiography of a Terrorist, was staged last spring by Golden Thread Productions in San Francisco. Saïd serves on the board of directors of the New York Foundation for the Arts, and teaches memoir in the MFA program at Hunter College and creative writing at New York University, where he received an outstanding teaching award. 
EMILY BROUT lives and works in New York City like Cyndi Lauper or Giuliani. As a teenager, she was occasionally known as the vocalist in the rock band The Indecent. More recently, she has written many short stories one of which was recommended by Etgar Keret, translated into Hebrew, and published in Maaboret. She thinks this is pretty damn cool and may act as a psychic atonement for never having been Bat Mitzvahed. She has also written for Tom Tom Magazine, Feminine Collective, Flock, Pigeon Pages, and the New York Observer. 
MARIA LIOUTAIA was born in Moscow four years before the Soviet Union collapsed, then lived in Canada for two decades, and is now an MFA candidate at NYU. She was a Tin House scholar, a finalist for the Iowa Review Awards, and her fiction can be found in Cosmonauts Avenue.
MADELEINE MORI is a Japanese-American poet originally from San Francisco. Her work has appeared or is forthcoming in BOAAT, Bone Bouquet, and Cosmonauts Avenue. She is currently an MFA candidate at New York University, where she serves as Co-Poetry Editor of Washington Square Review.
About the Host:
ALISSON WOOD's essays, stories, and poems have appeared in places including The New York Times and Catapult. Currently, she's a candidate for an MFA in Fiction at NYU where she's Assistant Managing Editor of their literary magazine Washington Square, and is a Goldwater fellow. She is also a professor of creative writing for undergraduates at NYU. She is the founder and curator of the Pigeon Pages NYC reading series and serves as editor for the Pigeon Pages Journal. You can find her online at alissonwood.com
RSVP
Bookings are closed for this event.