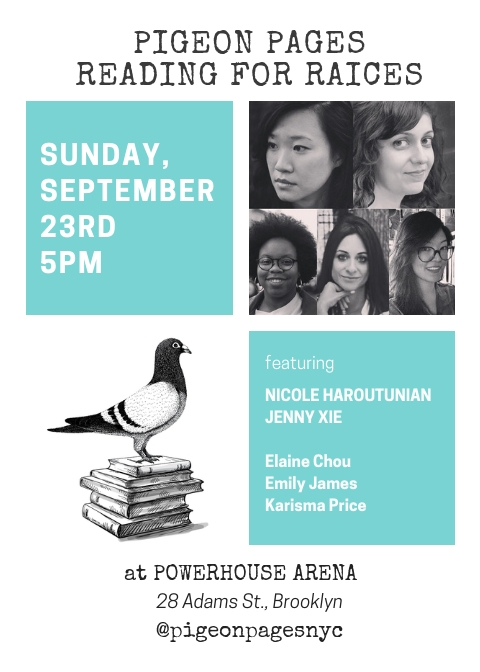 Sunday Sep 23, 2018
5:00 pm - 7:00 pm
POWERHOUSE @ the Archway
28 Adams Street (Corner of Adams & Water Street @ the Archway)
Brooklyn , NY 11201
RSVP encouraged & appreciated.
Please fill out the form at the bottom of this page if you plan on attending. Facebook event found here.
PLEASE NOTE: Submitting an RSVP for this event DOES NOT guarantee entrance. This is a free-access event — entrance will be on a first-come, first-served basis.
---
About the Reading.
Join us for our September reading as we raise money for RAICES, featuring Jenny Xie, Nicole Haroutunian, Elaine Chou, Emily James, & Karisma Price, hosted by Alisson Wood. Fly by & say hi!
You can also visit their online nest: pigeonpagesnyc.com
About the Readers.
JENNY XIE is the author of Eye Level (Graywolf Press, 2018), recipient of the 2017 Walt Whitman Award of the Academy of American Poets and the Holmes National Poetry Prize from Princeton University, and Nowhere to Arrive (Northwestern University Press, 2017), recipient of the 2016 Drinking Gourd Chapbook Prize. Her poems have been published inPoetry, The New York Times Magazine, the New Republic, Tin House, Kenyon Review Online, among other publications. She teaches at New York University.
NICOLE HAROUTUNIAN is the author of the short story collection SPEED DREAMING (Little A, 2015) and a literary editor of the anthology SILENT BEACHES, UNTOLD STORIES: NEW YORK CITY'S FORGOTTEN WATERFRONT (Damiani, 2016). Her writing has appeared in Joyland, Post Road, Tin House's Open Bar, the Literarian, Day One, Vol. 1 Brooklyn, and elsewhere. She is an editor of the digital arts platform Underwater New York and cofounder of the reading series Halfway There. She holds an MFA from Sarah Lawrence College and lives in Woodside, Queens.
ELAINE CHOU is a Taiwanese-American writer from California. Currently, she is an MFA candidate in fiction at New York University. Her work has been published or is forthcoming in Cease Cows, The Normal School and Guernica. She has a cat named Hamlet @sirhamelot2012.
EMILY JAMES is a teacher and writer in NYC. Her work has been featured or is forthcoming in The Rumpus, Hippocampus, The Atticus Review, Mutha Magazine, Firewords, among others. You can tweet her at @writing_james.
KARISMA PRICE is a Cave Canem Fellow and an MFA candidate in poetry at New York University. Her work has appeared or is forthcoming in Narrative Magazine, Four Way Review, Cotton Xenomorph, Tinderbox, Vinyl, and elsewhere. Originally from New Orleans, LA, Karisma lives in New York City, and along with Kwame Opoku-Duku III, she is a founding member of the Unbnd Collective.
About the Host.
ALISSON WOOD's writing has been published in places including The New York Times, Catapult, and Epiphany. She won the inaugural Breakout 8 Writers Prize, chosen by Alexander Chee, Hannah Tinti, and Tracey O'Neill on behalf of Epiphany magazine and the Author's Guild. A graduate of NYU, she is a Professor of Creative Writing for undergraduates at her alma mater and teaches Creative Nonfiction at Sackett Street. Her memoir, Being Lolita, is forthcoming from Flatiron Books (Macmillan).
RSVP
Bookings are closed for this event.