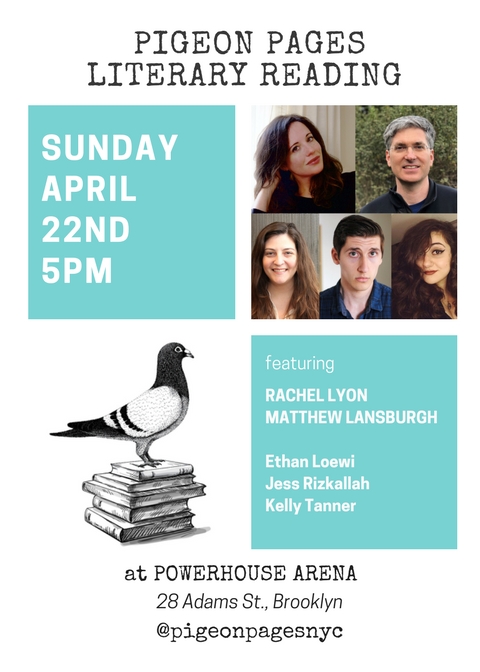 Sunday Apr 22, 2018
5:00 pm - 7:00 pm
POWERHOUSE @ the Archway
28 Adams Street (Corner of Adams & Water Street @ the Archway)
Brooklyn , NY 11201
About the Reading.
Join Pigeon Pages NYC on Sunday, April 22nd at 5pm as they showcase Rachel Lyon, Matthew Lansburgh, Ethan Loewi, Jess Riz, & Kelly Tanner, hosted by Alisson Wood. As always, our readings are free & open to the public at our Brooklyn nest, POWERHOUSE Arena in Dumbo. Fly by & say hi!
You can also visit their online nest: pigeonpagesnyc.com
About the Readers.
RACHEL LYON is the author of the novel SELF-PORTRAIT WITH BOY (Scribner 2018). Her shorter work has appeared or is forthcoming in Joyland, Iowa Review, Electric Literature, and other publications. She teaches for Sackett Street Writers Workshop, Catapult, Slice, and elsewhere, and sends out a weekly writing/thinking prompts newsletter at tinyletter.com/rachellyon. Rachel is a cofounder of the reading series Ditmas Lit, in her native Brooklyn NY. Visit her there, or online at www.rachellyon.work.
MATTHEW LANSBURGH's collection of linked stories, Outside Is the Ocean, won the 2017 Iowa Short Fiction Award and is a finalist for the 30th Annual Lambda Literary Award and the 2018 Ferro-Grumley Award for LGBTQ Fiction. His fiction has appeared in Glimmer Train, Ecotone, Electric Literature, StoryQuarterly, Columbia Journal (2014 Fiction Contest Winner), Guernica, Michigan Quarterly Review, The Florida Review (2015 Editors' Award), and Joyland. In selecting Outside Is the Ocean as the winner of the Iowa Short Fiction Award, Andre Dubus III described Lansburgh's writing as "mesmerizing." www.matthewlansburgh.com
ETHAN LOEWI is a fiction writer from Portland, Oregon. He currently attends NYU, where he works as a creative writing teacher and MFA student. Ethan's writing has been published by Narrative Magazine, Ploughshares, plain china, and the Harvard Review. His novel can be found in word docs on his laptop, where he hopes it will be posthumously recognized as a work of genius.
JESS RIZKALLAH is a Lebanese-American writer and illustrator living in New York. She is an alumna of Lesley University, MFA candidate at NYU, and founding editor at pizza pi press. Her collection THE MAGIC MY BODY BECOMES won the 2017 Etel Adnan Poetry Prize as awarded by the Radius of Arab American Writers and University of Arkansas Press. Find her at jessrizkallah.com.
KELLY TANNER is currently an MFA candidate in Fiction and Nonfiction at Bennington College. She holds a bachelor's degree in Creative Writing and Literature from NYU. She works in Manhattan in Human Resources. Her short stories and memoir have been published in the journal Dovetail. Tanner lives in the Hudson Valley in New York.
About the Host.
ALISSON WOOD's essays, stories, and poems have appeared in places including The New York Times and Catapult. Currently, she's a candidate for an MFA in Fiction at NYU where she's Assistant Managing Editor of their literary magazine Washington Square, and is a Goldwater fellow. She is also a professor of creative writing for undergraduates at NYU. She is the founder and curator of the Pigeon Pages NYC reading series and serves as editor for the Pigeon Pages Journal. You can find her online at alissonwood.com
RSVP
Bookings are closed for this event.