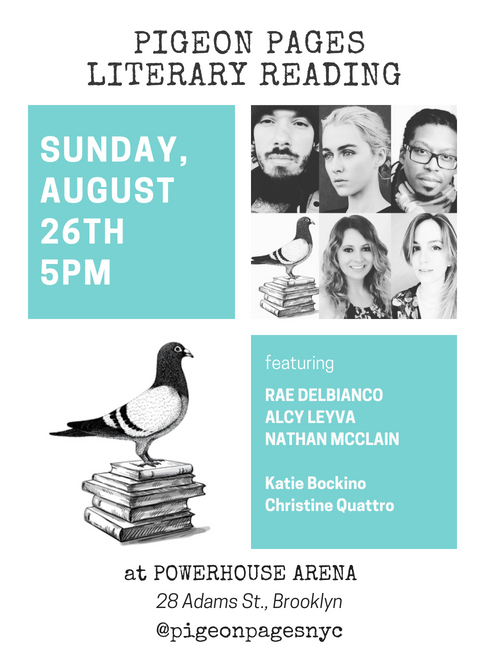 Sunday Aug 26, 2018
5:00 pm - 7:00 pm
POWERHOUSE @ the Archway
28 Adams Street (Corner of Adams & Water Street @ the Archway)
Brooklyn , NY 11201
RSVP encouraged & appreciated.
Please fill out the form at the bottom of this page if you plan on attending. Facebook event found here.
PLEASE NOTE: Submitting an RSVP for this event DOES NOT guarantee entrance. This is a free-access event — entrance will be on a first-come, first-served basis.
---
About the Reading.
Please join us for our 
 AUGUST READING! 
 featuring Rae DelBianco, Nathan McClain, Alcy Leyva, Christine Quattro, & Katie Bockino, hosted by Alisson Wood. Fly by & say hi!
You can also visit their online nest: pigeonpagesnyc.com
About the Readers.
RAE DELBIANCO grew up in Bucks County, Pennsylvania, where she raised livestock, founding a beef cattle operation at age fourteen. She attended Duke University on a Robertson Scholarship, graduating in 2014, and was later accepted to Curtis Brown's six-month novel writing course in London. She is an alumnus of Tin House's Summer Workshop, and lives in Mountainside, New Jersey, staying with her 88 year-old grandmother for the past four years in order to write. ROUGH ANIMALS is her first novel.
NATHAN MCCLAIN is the author of Scale (Four Way Books, 2017), a recipient of fellowships from The Frost Place, Sewanee Writers' Conference, and the Bread Loaf Writers' Conference, and a graduate of Warren Wilson's MFA Program for Writers. A Cave Canem fellow, his poems and prose have recently appeared or are forthcoming in New York Times Magazine, The Rumpus, upstreet, Southeast Review, and Broadsided. He is the Visiting Assistant Professor of Creative Writing and African American Literary Arts at Hampshire College.
ALCY LEYVA is a Bronx-born multi-genre writer whose work has appeared in over twenty different websites and publications. His debut novel, AND THEN THERE WERE CROWS, is out right now by Black Spot Books. He also currently writes for both Quiet Lunch Magazine and Brooklyn Magazine.
KATHRYN BOCKINO received her MFA from NYU's Creative Writing Program. Her work has appeared in Barely South Review, Gandy Dancer Literary Magazine, Hampton Real Estate Showcase Magazine, North Fork Real Estate Showcase Magazine, Komorebi Magazine, and Z Publishing House's New York's Emerging Writers: An Anthology of Fiction. Kathryn also is an editor, freelance writer, and obsessed with the Byzantine Empire, 16th century England, and most TV show love triangles.
CHRISTINE QUATTRO is a writer from California. Her work has appeared in Bridge Eight Magazine, New Limestone Review, Breadcrumbs, and Synaesthesia Magazine. She holds an MFA in writing from Sarah Lawrence College, and a BA in literature from University of North Texas. Christine is Director of Marketing for Best Bullies To The Rescue, a New York nonprofit passionately advocating for homeless animals.
About the Host.
ALISSON WOOD's writing has been published in places including The New York Times, Catapult, and Epiphany. She won the inaugural Breakout 8 Writers Prize, chosen by Alexander Chee, Hannah Tinti, and Tracey O'Neill on behalf of Epiphany magazine and the Author's Guild. A graduate of NYU, she is a Professor of Creative Writing for undergraduates at her alma mater and teaches Creative Nonfiction at Sackett Street. Her memoir, Being Lolita, is forthcoming from Flatiron Books (Macmillan).
RSVP
Bookings are closed for this event.