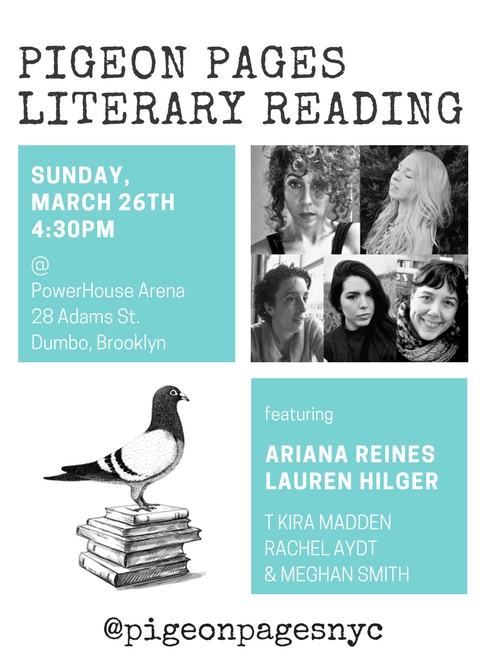 Sunday Mar 26, 2017
4:30 pm - 6:00 pm
POWERHOUSE @ the Archway
28 Adams Street (Corner of Adams & Water Street @ the Archway)
Brooklyn , NY 11201
In honor of Women's History Month/every month, our March reading will feature powerhouse lady authors Ariana Reines, Lauren Hilger, T. Kira Madden, Rachel Aydt, & Meghan Trask Smith, hosted by Alisson Wood. Come for a lovely literary afternoon at powerHouse Arena at 4:30pm! (All ladies & non-ladies welcome.)
About the Authors:
ARIANA REINES is the author of MERCURY (2011), COEUR DE LION (2007), & THE COW (Alberta Prize, 2006), all from Fence, the Obie-Winning play TELEPHONE (2009), THE ORIGIN OF THE WORLD (Semiotext(e) for the Whitney Biennial 2013) & the translator of Preliminary Notes for a Theory of the Young-Girl by TIQQUN (2013), The Little Black Book of Griselidis Real (2009) by Jean-Luc Hennig, from Semiotext(e), & MY HEART LAID BARE by Charles Baudelaire (2009) from Mal-O-Mar. Her performances include MORTAL KOMBAT (2014) at the Whitney, LORNA (2013) at the Martin E. Segal Theatre, & THE ORIGIN OF THE WORLD (2013) at Modern Art, London. PUBIC SPACE, a sculpture collaboration with Oscar Tuazon, showed at Modern Art in London (2016). Writings have appeared in Triple Canopy, The Boston Review, Harpers, Granta, Bomb, & many others. She was Roberta C. Holloway Lecturer in Poetry at UC Berkeley in 2009 & has since taught at Columbia, The New School, NYU, Yale, Tufts, etc. An essay collection from Semiotext(e) tentatively titled GENTLE MEN, TELEPHONE:A PLAY & A SAND BOOK, new poems, are forthcoming this Spring and in 2018. She likes to astrologize via lazyeyehaver.com & mostly lives in Queens.
LAUREN HILGER is the author of Lady Be Good (CCM, 2016.) Awarded the Nadya Aisenberg Fellowship from the MacDowell Colony, where she was a fellow in 2012 and 2014, her work has been chosen for Harvard Review Online's Poetry Pick and has appeared in Gulf Coast, Kenyon Review Online, and Massachusetts Review, among other journals. She serves as a poetry editor for No Tokens.
T KIRA MADDEN is a writer, photographer, and amateur magician living in New York City. Her work has appeared or is forthcoming in Guernica, Black Warrior Review, Columbia Journal, The Kenyon Review, and Tin House online. She is a recipient of fellowships from the MacDowell Colony and Hedgebrook and serves as the founding editor-in-chief of No Tokens.
MEGHAN TRASK SMITH teaches English at a boarding school outside of Boston where she lives with her cartoonist husband, spit-fired daughter, and squishable baby boy. She is working on her first collection of poems and comes to writing each day with the hope that the Muse will show up. Her work has been published in Mom Egg Review, cahoodaloodaling, and other journals.
RACHEL AYDT is a part-time Assistant Professor of writing and literature at the New School University and an MFA candidate in Creative Nonfiction from Sarah Lawrence College (class of 2017). She's held staff positions in national consumer magazines like CosmoGirl and Cosmopolitan, and has combined her loves of writing and New York City by publishing personal essays in many New York-centric publications that include the New York Observer, the New York Post, the New York Times' Motherlode blog, New York Metro Parents, and more. She's hard at work revising a memoir.
About your Host & Curator:
ALISSON WOOD's essays, stories, and poems have appeared in newspapers and literary journals such as The New York Times, Catapult, Dovetail, Stillwater, and Salad Days Substance. She is the founder of the NYC reading series, Pigeon Pages, and is Managing Editor of the online heritage literary magazine, Mr. Beller's Neighborhood.
Please disregard the notification that will appear after Booking.
RSVP
Bookings are closed for this event.