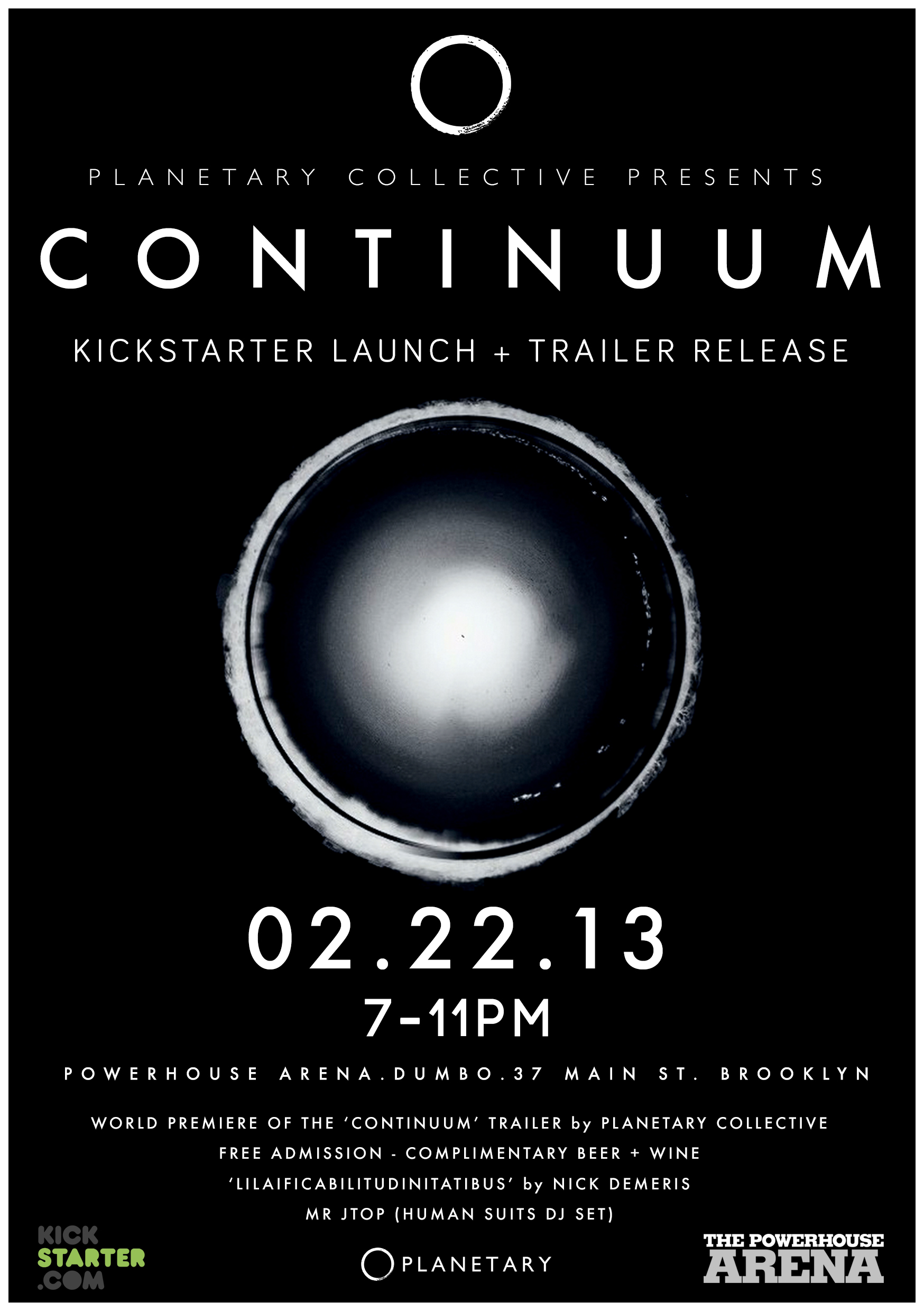 Friday Feb 22, 2013
7:00 pm - 11:00 pm
THE POWERHOUSE ARENA [Dumbo]
37 Main Street
Brooklyn, NY 11201
For more information, please call 718.666.3049
RSVP appreciated: RSVP@powerHouseArena.com
-or-
Please fill out the "Bookings" form at the bottom of this page.
---
Join us for a reception to celebrate the world premiere of Planetary Collective's Continuum trailer. Drinks will be served.
ABOUT PLANETARY COLLECTIVE
Planetary Collective is a group of filmmakers, visual media creatives and thinkers who work with cosmologists, ecologists and philosophers to explore some of the big questions facing our planet at this time.
'Overview' is Planetary Collective's first major short film ("vimeo staff pick and reaching half a million views).
Watch it here (18mins): https://vimeo.com/55073825
Overview was  featured on Adbusters recently: https://www.adbusters.org/abtv/overview-effect.html
The forthcoming 'Continuum' is their first feature film.
CONTINUUM
The planet is in crisis. The root of the environmental and social crises facing humanity is the misperception that we are separate – from each other, the planet, and the cosmos as a whole. The solution to this crisis can be found in an emerging worldview that points to our interdependence.
The CONTINUUM feature-length documentary will explore this worldview, weaving together perspectives and ideas from some of the key theorists and thinkers in the fields of cosmology, environmentalism, sustainability, social theory, anthropology and systems dynamics, telling the story of where we have come from, where we are now, and the possibilities for our future.
Featuring TALKING HEAD INTERVIEWS with key experts, stylish and clear MOTIONGRAPHICS, and an innovative VISUAL NARRATIVE the film frames our planetary crisis in a unique way, at the same time showing how awesome our planet is.
Using cutting-edge cinematography, and techniques like timelapse, slow motion and macro- photography, we will build a visual narrative that emphasizes the beauty and complexity of the natural world, the relationship between humanity and the environment, and the inspiring organizations and projects appearing around the world to confront and transform our current planetary crises.
---
For more information, please contact
Julie Buntin, Events Coordinator
email: julie@powerhousearena.com
powerHouse Arena, 37 Main Street, Brooklyn, NY 11201
tel: 212-604-9074 x109
RSVP
Bookings are closed for this event.