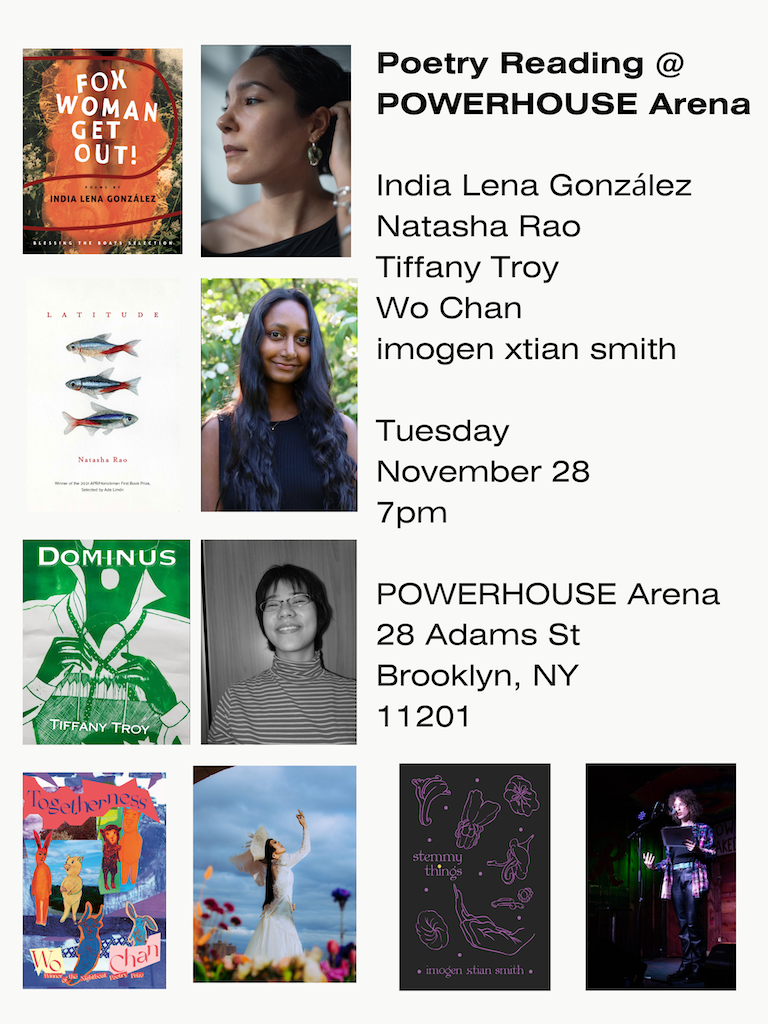 Tuesday Nov 28, 2023
7:00 pm - 9:00 pm
POWERHOUSE @ the Archway
28 Adams Street (Corner of Adams & Water Street @ the Archway)
Brooklyn , NY 11201
Get Tickets Here!
About the Books and Authors. 
India Lena González is a poet, editor, and artist. She graduated magna cum laude from Columbia University (BA) and received her MFA from NYU's Creative Writing program. While at NYU she served as a writing instructor for undergraduates and received a Writers in the Public Schools fellowship enabling her to teach literature to middle school students via Teachers & Writers Collaborative. Her work is published in American Chordata, The Brooklyn Review, Lampblack, PANK, Pigeon Pages, and Poets & Writers Magazine, among others. A three-time National Poetry Series finalist, India is also a professionally trained dancer, choreographer, and actor. fox woman get out! is her debut poetry collection.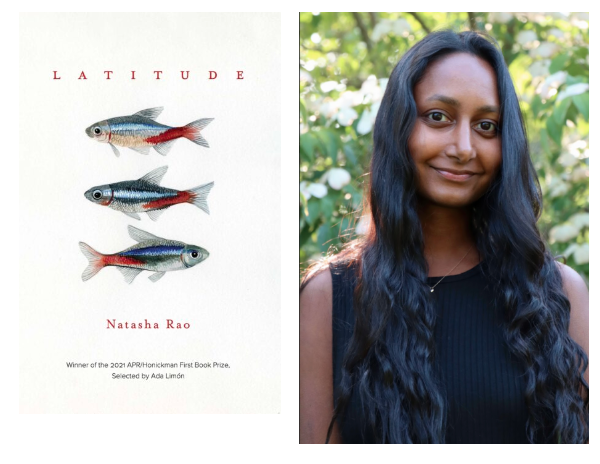 Chosen as the winner of the 2021 APR/Honickman First Book Prize by Guggenheim Fellow Ada Limón, Natasha Rao's debut collection Latitude abounds with sensory delights, rich in colors, flavors, and sounds. These poems explore the complexities of family, cultural identity, and coming of age. By turns vulnerable and bold, Latitude indulges in desire: "In my next life let me be a tomato/lusting and unafraid," Rao writes, "…knowing I'll end up in an eager mouth."
Natasha Rao is a poet and educator from New Jersey. Her debut collection, Latitude, was selected by Ada Limón as the winner of the 2021 APR/Honickman First Book Prize. The recipient of a 2021 Ruth Lilly & Dorothy Sargent Rosenberg Fellowship from the Poetry Foundation, she has also received fellowships from Bread Loaf, the Vermont Studio Center, and the Community of Writers. Her work appears in The Nation, American Poetry Review, The New York Times Magazine, The Yale Review, and elsewhere. She holds a BA from Brown University and an MFA from NYU, where she was a Goldwater Fellow. She is currently an Editor of American Chordata.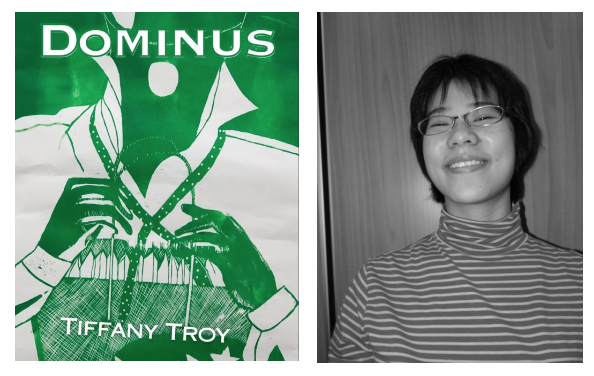 Poetry alumna Tiffany Troy '22 has published Dominus (BlazeVOX, 2023), her first full-length poetry collection. Dominus was conceived and compiled during Troy's time as a student at Columbia.
Tiffany Troy is a critic, translator, and poet. She is the author of the chapbook When Ilium Burns (Bottlecap Press), as well as co-translator of Santiago Acosta's The Coming Desert / El próximo desierto (Alliteration Publishing House), in collaboration with Acosta and the 4W International Women Collective Translation Project at the University of Wisconsin-Madison. Her literary criticism, translation, and creative writing are published in The Adroit Journal, BOMB Magazine, The Cortland Review, EcoTheo Review, Hong Kong Review of Books, Latin American Literature Today, The Laurel Review, The Los Angeles Review, Matter, New World Writing, Rain Taxi, and Tupelo Quarterly, where she is Managing Editor.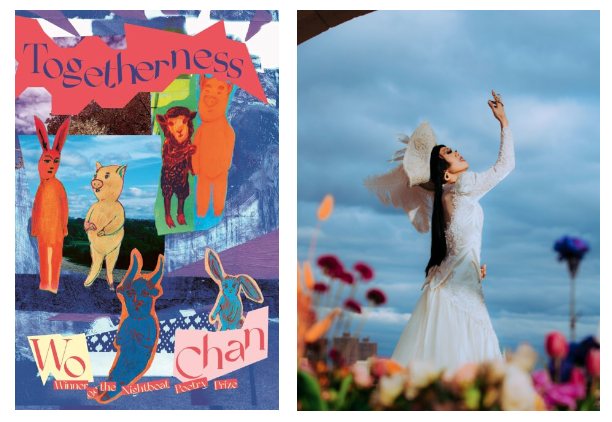 Togetherness sends out sparks from its electric surface, radiating energy and verve from within its deep and steady emotional core: stories of the poet's immigrant childhood spent in their family's Chinese restaurant, culminating in a deportation battle against the State. These narrative threads weave together monologue, soaring lyric descants, and document, taking the positions of apostrophe, biography, and soulful plaint to stage a vibrant and daring performance in which drag is formalism and formalism is drag—at once campy and sincere, queer, tender, and winking.
Wo Chan who performs as The Illustrious Pearl is a poet and drag artist. They are a winner of the Nightboat Poetry Prize and the author of Togetherness (2022). Wo has received fellowships from MacDowell, New York Foundation of the Arts, Kundiman, The Asian American Writers Workshop, Poets House, and Lambda Literary. Their poems appear in POETRY, WUSSY, Mass Review, No Tokens, The Margins, and elsewhere. As a member of the Brooklyn-based drag/burlesque collective Switch N' Play, Wo has performed at venues including The Whitney Museum of American Art, National Sawdust, New York Live Arts, and the Architectural Digest Expo.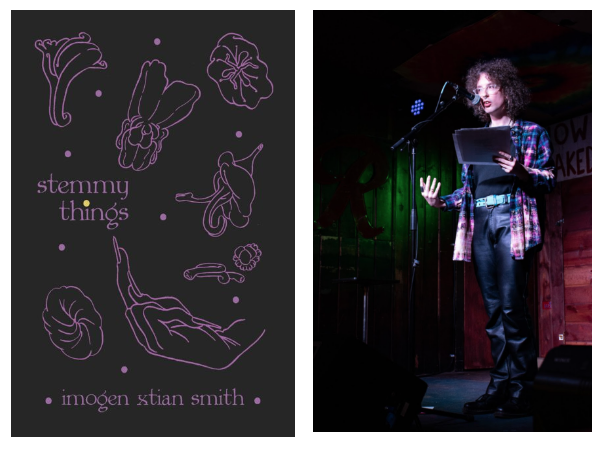 This flirty collection traces unruly paths of becoming; its sprawling poems build towards an expansive world celebrating fluidity while casting a critical lens on state power, ecological precarity, and the yearning for queer utopia on stolen land. Referencing lineages of poets, musicians, workers and neighbors, as well as conversations between lovers and friends, stemmy things is a vision unraveling, breaking open to make space for glimmering while reckoning with the body's multiple contexts. Layered, lush, and lavish, these poems offer up tangling, blossoming desire.
imogen xtian smith is a poet & performer living & working in Lenapehoking / Brooklyn, New York. Their work has appeared in Folder, Tagvverk, Blush, The Rumpus, Peach Mag, the Poetry Project Newsletter, & We Want It All: An Anthology of Radical Trans Poetics (as xtian w), & elsewhere. imogen received an MFA at NYU & was a 2021-22 Emerge Surface Be Fellow at the Poetry Project at St. Mark's Church. stemmy things is their first book.