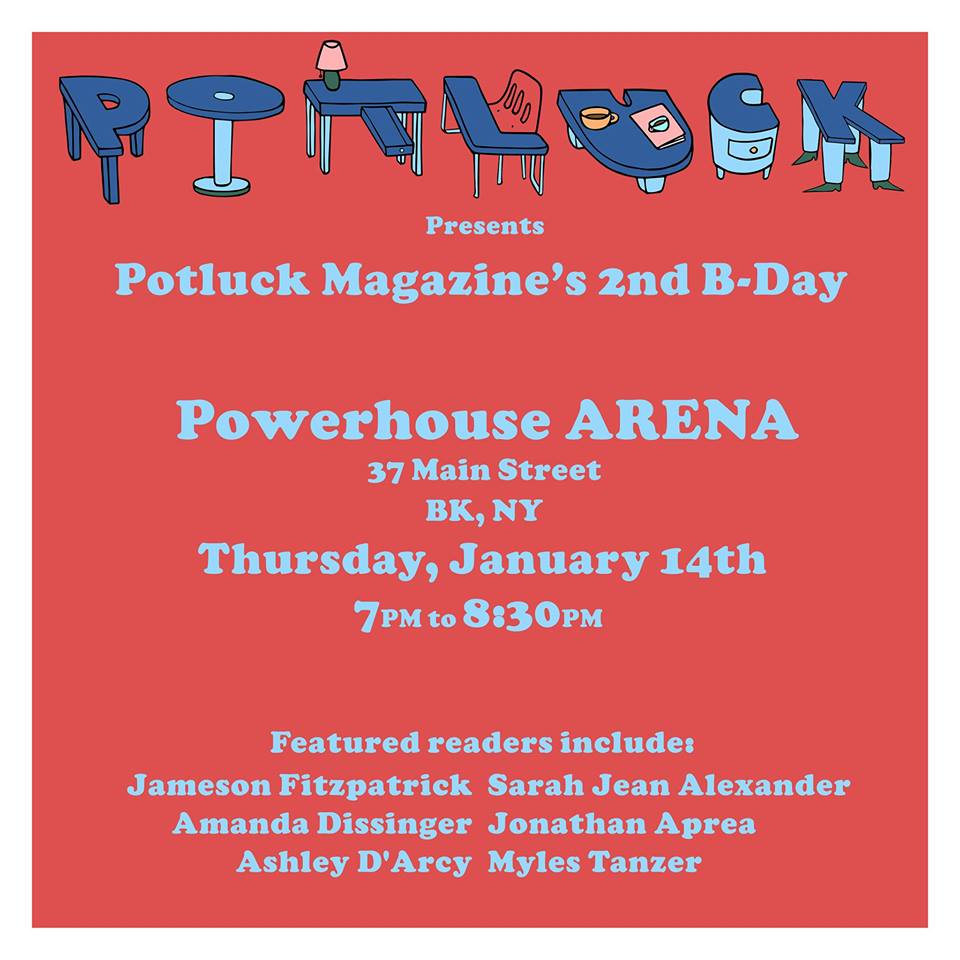 Thursday Jan 14, 2016
7:00 pm - 9:00 pm
THE POWERHOUSE ARENA [Dumbo]
37 Main Street
Brooklyn, NY 11201
For more information, please call 718.666.3049
RSVP appreciated: RSVP@powerHouseArena.com
-or-
Please fill out the "Bookings" form at the bottom of this page.
---
Celebrate the first print edition of Potluck, which features 60 pages of poetry, fiction, nonfiction, photography, illustration, and more!
About Potluck Magazine:
Potluck Mag is a space to present a diverse and resonant collection of creative media, narrowing the gaps between different forms of art, ideas, and people. In seeking to create a community of artists, writers, and friends, Potluck Mag shares individual pieces to bring larger ideas of identity and culture to the table. We believe that if we are not actively pushing to promote the underrepresented, then we are passively working against them. Here at Potluck, we strive to serve and promote writers and artists whose voices might otherwise go unheard.
Potluck Mag was founded in January 2014 by John Surico, Nate Cabral, Melissa Cronin, Alexander Seedman, Max Schieble, and Leah Clancy in Brooklyn, NY. Since its inception, the website has published exciting works from hundreds of artists and writers from around the world. About Potluck's FIRST print issue!
Released in July of 2015, the first print edition features 60 pages of poetry, fiction, nonfiction, photography, illustration, and more. It's a fabulous compilation of artists from all over the place! It's a real testament to the spirit of young, burgeoning creative communities.
About the Featured Readers:
Amanda Dissinger works with all sorts of music in Brooklyn. She recently released her first book of poetry This is How I Will Tell You I Love You via St. Louis' Bottlecap Press. She has also been published on Potluck Mag, Rain Party Disaster Society, The Legendary, Be About it Press, Abrams Books/Poetry Bomb and more.
Sarah Jean Alexander is an American writer from Baltimore. She is the author of Wildlives (Big Lucks Books, 2015) and has been featured in the Fader, Dazed Digital, Hobart, Human Parts and other places online and in print. She is the poetry editor of Shabby Doll House and tweets @sarahjeanalex
Jameson Fitzpatrick is the author of the chapbook Morrisroe: Erasures (89plus/LUMA Publications), and his poems have appeared in The Awl, The Literary Review, Prelude and Poetry, among elsewhere. A poetry editor for Lambda Literary Review, he holds a BA and an MFA in poetry from New York University, where he now teaches expository writing.
RSVP
Bookings are closed for this event.