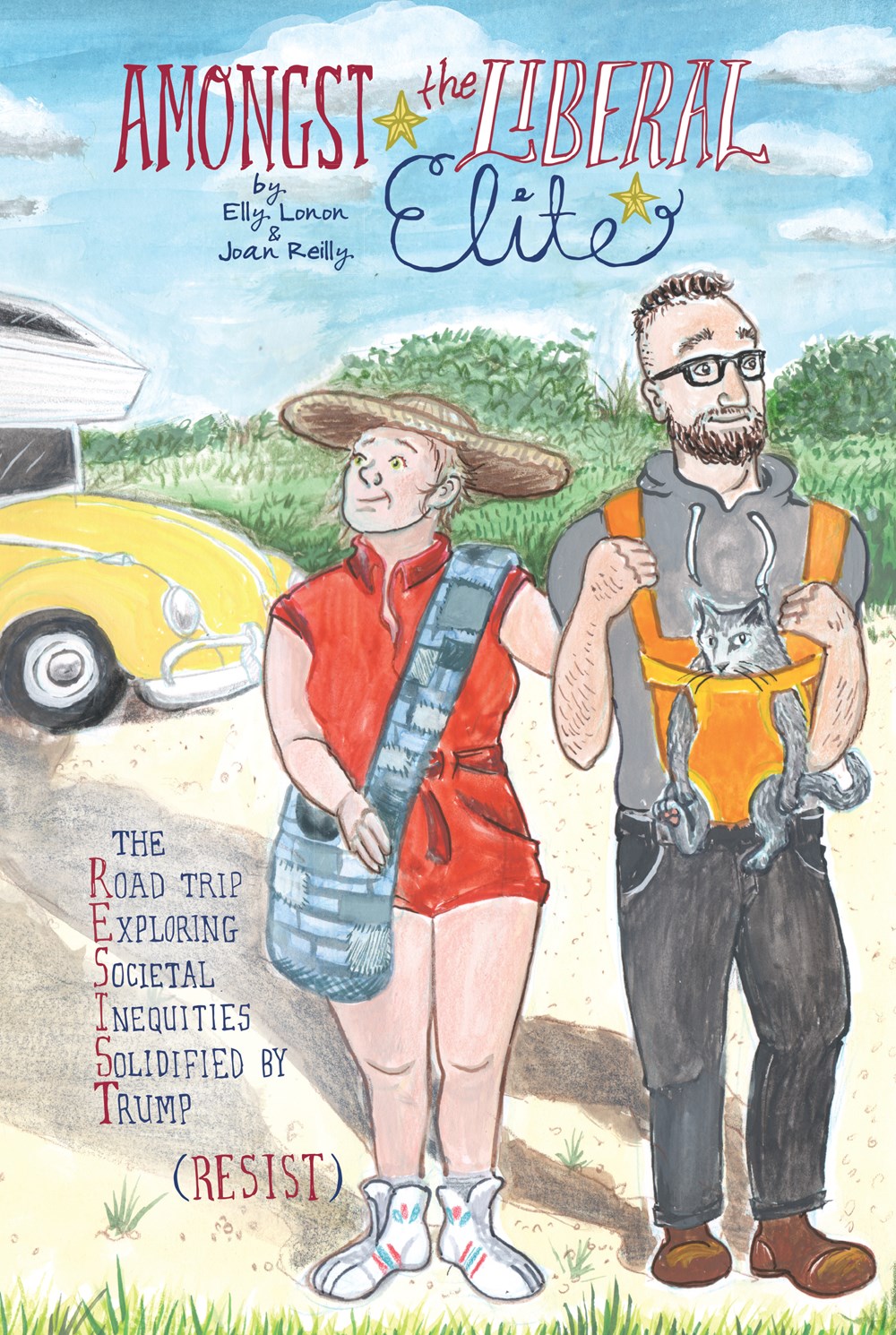 Monday Oct 29, 2018
7:00 pm - 9:00 pm
POWERHOUSE @ the Archway
28 Adams Street (Corner of Adams & Water Street @ the Archway)
Brooklyn , NY 11201
RSVP encouraged & appreciated.
Please fill out the form at the bottom of this page if you plan on attending. Facebook event found here.
PLEASE NOTE: Submitting an RSVP for this event DOES NOT guarantee entrance. This is a free-access event — entrance will be on a first-come, first-served basis.
---
About the Book.
Getting woke is hard. As this couple is discovering under 45's regime, it takes more than listening to NPR on our daily commutes and watching Jon Stewart cameos on our phones in bed while we sip craft beer from artisanal glassware made by at-risk women on another continent to make us global citizens. That won't stop Alexandra and Michael from trying, though.
Based on the successful McSweeney's column, Amongst the Liberal Elite takes readers on a cross-country road trip with Alex and Michael, romantic partners whose voices will resonate with fans of shows such as Portlandia, Parks and Recreation, Full Frontal with Samantha Bee, and Last Week Tonight with John Oliver. The couple decides to use their tax refund to reconnect with their fellow Americans via a cross-country road trip and, more specifically, better understand how Trump won the election. In a quest to visit The World's Largest Frying Pan (of which there are six in the U.S.) Alex and Michael embark on a journey marked with personal and societal realizations. Arguments about topics ranging from mom-shaming to misogyny related to their pet cat, unsuccessful attempts at yoga meditations in small spaces, and anticlimactic touristic attractions that deepen their gloom about the nation, bring Alex and Michael clarity about what it means to resist. Amongst the Liberal Elite is the political satire we've all been waiting for — one that offers comic relief from ourselves.
About the Author & Art Designer.
Elly Lonon, a member of the Liberal Elite herself, is still recovering from growing up in a red state. Born and raised in North Carolina, she moved to Manhattan for graduate school and to pursue a career in the music business. Weary from consistent marginalization by the patriarchy, she left both the industry and NYC, opting to work for a not-for-profit and moving to the suburbs of Jersey where living near a Superfund site promptly gave her cancer. Once in remission, she read far too many self-help books, learned to embrace life, and abandoned her previous career to write and procreate.
Joan Reilly's work was featured most recently in RESIST!, a comics newspaper edited by Francoise Mouly and Nadja Spiegelman, and in Draw the Line (drawthelinecomics.com), an online anthology of comics promoting political action. Her comics and illustration have been published in many anthologies and literary magazines over the last two decades. She is a co-editor of The Big Feminist BUT: Comics About the IFs, ANDs & BUTs of Feminism, and created illustrations for the "Ask Marilyn" column in Parade magazine for over ten years. For more information, visit joanreilly.com.
About the Special Guest.
Emily Flake regularly cartoons for The New Yorker, and writes and draws a weekly strip called Lulu Eightball (Atomic Books), which has been assembled into two collections. In 2007, she wrote and illustrated These Things Ain't Gonna Smoke Themselves (Bloomsbury USA).  She also wrote and drew a book of cartoons and essays called Mama Tried that was published in 2015 (Grand Central Publishing). Her illustrations and cartoons appear in publications all over the world, including the New York Times, Newsweek, the Globe and Mail, The Onion, The New Statesman, and Forbes.
Emily Flake
RSVP
Bookings are closed for this event.