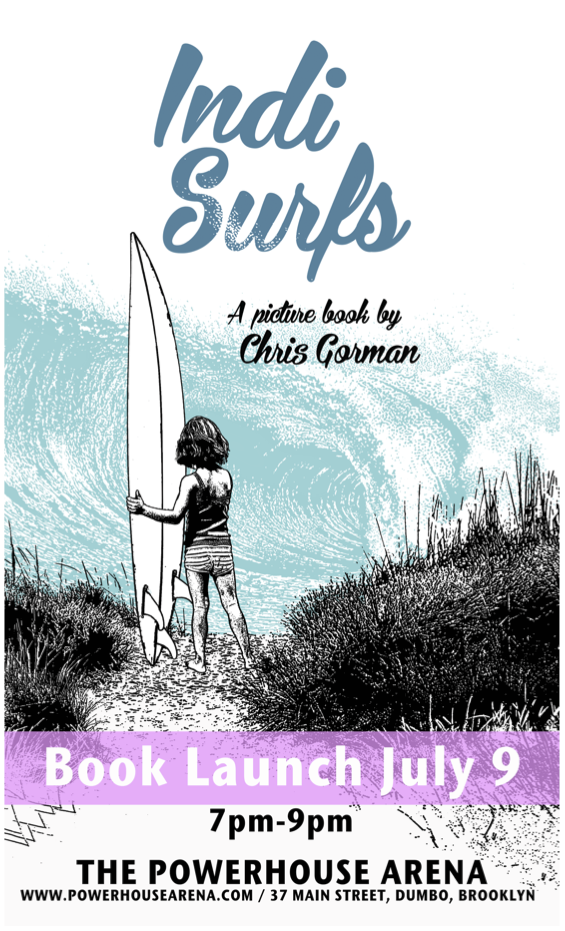 Thursday Jul 09, 2015
7:00 pm - 9:00 pm
THE POWERHOUSE ARENA [Dumbo]
37 Main Street
Brooklyn, NY 11201
For more information, please call 718.666.3049
RSVP appreciated: RSVP@powerHouseArena.com
-or-
Please fill out the "Bookings" form at the bottom of this page.
---
 Indi Surfs is the story of a little girl who braves the ocean in search of the perfect wave. Chris Gorman's striking, debut picture book, Indi Surfs, is an homage to vintage California travel ads and rock poster art that's sure to resonate with children ages 4 to 8 as well as adults.
About the Author:
Born and raised on the beaches of Rhode Island, Chris Gorman has spent his life in search of creative outlets . . . and waves. In 1991, he became one of the founding members of the acclaimed band Belly. After years on the road and in recording studios, he moved to New York City and began a successful career as a photographer. He also co-owned WaterBrothers Surf & Skate Shop in Newport, RI. When Chris isn't taking pictures, he's out in the ocean, seeking his perfect wave. He resides in Long Beach, NY with his wife Camille, daughter Indi, son Toll, dog Kali, and cat Lucifer.
RSVP
Bookings are closed for this event.