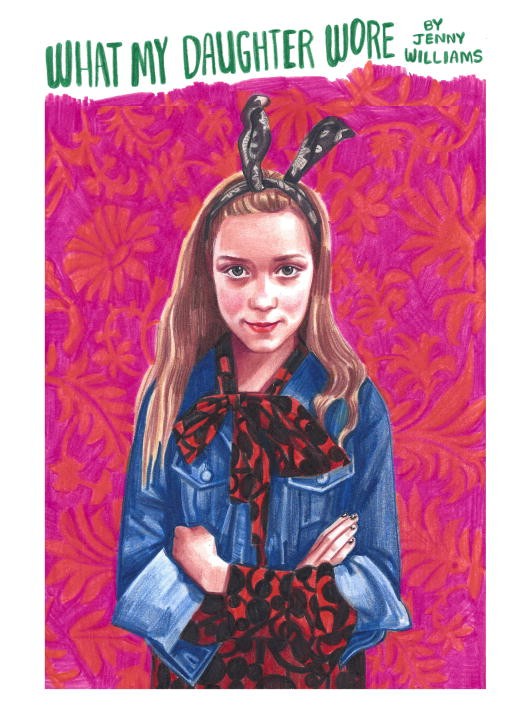 Tuesday Dec 16, 2014
7:00 pm - 9:00 pm
THE POWERHOUSE ARENA [Dumbo]
37 Main Street
Brooklyn, NY 11201
For more information, please call 718.666.3049
RSVP appreciated: RSVP@powerHouseArena.com
-or-
Please fill out the "Bookings" form at the bottom of this page.
---
Brooklyn artist Jenny Williams stops by the Arena to celebrate her new book, an original collection of intimate and playful drawings cataloging the sartorial choices of today's girls. She will be joined in conversation by photographer Tara Violet Niami, one of the book's young subjects. See an exhibition of original drawings from the project, and enjoy a set by musical guest all-girl experimental noise pop trio Palberta!
About What My Daughter Wore: 
What My Daughter Wore is Brooklyn artist Jenny Williams' original collection of intimate and playful drawings capturing the inspired, offbeat, and whimsical sartorial choices of girls in the fleeting years between childhood and young adulthood. With her daughter Clementine as her original muse—but also inspired by her daughter's friends—Jenny depicts a unique moment in a girl's life, when self-expression and individuality trump trends and the impulse to conform.
From a dress borrowed from mom worn over vintage pants handed down by a big brother, to a Dr. Who T-shirt paired with a flouncy knee-length skirt, the girls of What My Daughter Wore are dressing only for themselves and discovering the power and joy of their own tastes and style. What My Daughter Wore is a celebration and snapshot of the uniqueness and creativity of the girls, the tween years, and of course the clothes.
The What My Daughter Wore project began in Williams' Williamsburg loft, where her live/work artist's studio had gradually morphed into a setting familiar to every parent—a home overrun by her three kids and their many friends. Faced with diminishing space to paint, she turned to drawing, taking advantage of the ready inspiration the kids provided. The resulting drawings combine the straightforward documentary quality of a street-style blog with the immediacy and emotion of the portraits that fill Jenny's hundreds of private sketchbooks.
About the Author and Moderators: 
Jenny Williams is an artist and illustrator. Her blog, What My Daughter Wore, was named one of the 25 Best Blogs of 2013 by Time, and has attracted a loyal and enthusiastic following. Her work has appeared in The New Yorker, New York, Rolling Stone, and The Source. As the artist behind What My Daughter Wore, she has recently been profiled in numerous art/fashion publications, including Spanish Vogue, Refinery 29, and die Zeit. She works and lives in Brooklyn with her husband and three children.
Tara Violet Niami is a Brooklyn-based photographer and filmmaker from Los Angeles.  Tara has photographed for Rookie Magazine, and her work has appeared in Elle France, Vanity Fair Spain, VICE, Le Monde, and many others.  She is currently pursuing a BFA in photography at Pratt Institute, and directing a short film titled Mirrors and Ghosts.
Palberta is an all-girl punk trio based in New York.
RSVP
Bookings are closed for this event.