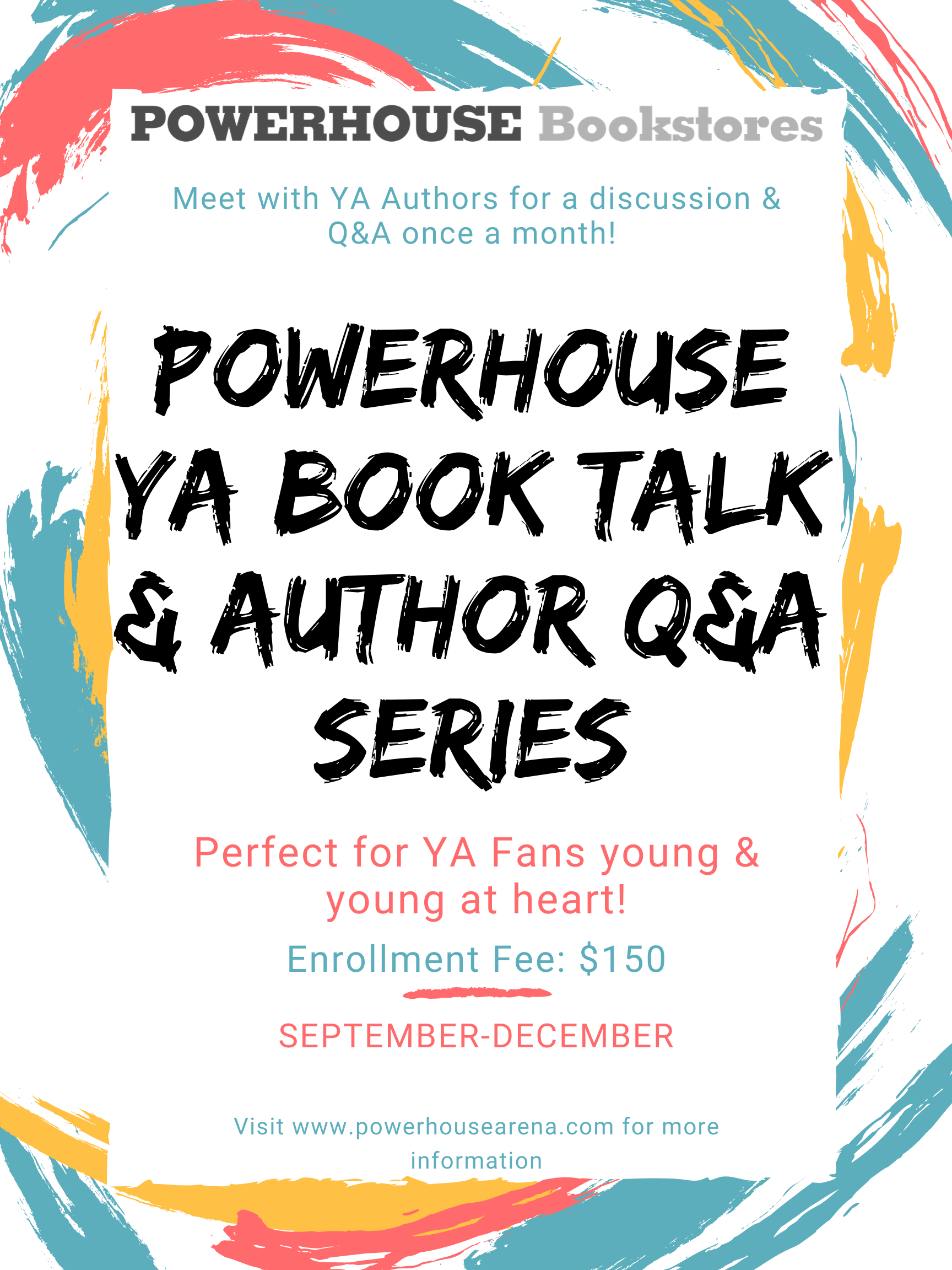 Tuesday Sep 29, 2020 - Tuesday Dec 08, 2020
6:00 pm - 7:00 pm
This is a ticketed event series. RSVP required – registration for each author's event is $35 and includes their JUST RELEASED YA Hardcover, exclusive access to their event, and shipping anywhere in the US! 

To sign up for one, or several of the authors individually, please register by clicking on their individual links below. We will send Zoom invites and communications about the series to the e-mail you use, so please double check that it is correct.
---
To register for JUST Mark Oshiro's event for Each of Us a Desert, click here!
To register for JUST Marie Lu's event for Skyhunter, click here! 
To register for JUST Dylan Farrow's event for Hush, click here! 
About the Event Series:

A very unique opportunity to meet and chat with the uber-popular author of the Legend, Young Elites, and Warcross series, Marie Lu; up-and-coming debut author and long-time activist Dylan Farrow; Lilliam Rivera, author of the hit YA novel Dealing in Dreams; and author of Anger Is a Gift, LGBTQ activist, and host of Mark Does Stuff, Mark Oshiro. 
Running from September to December, the POWERHOUSE YA Book Talk & Author Q&A Series meets once a month to discuss four brand-new Young Adult novels. Our resident YA Specialist, Megan, will lead an engaging panel-style discussion where you will all be able to participate by asking each month's author questions directly! Each Book Talk and Q&A takes place on a Tuesday from 6:00pm EST to 7:00pm EST. The author will join us for a full 45 minutes to an hour so we can delve into the writing process, the story-line, and all the topics of the novels. The specific dates for each month are posted below.
The enrollment fee for the POWERHOUSE YA Book Talk and Author Q&A Series is $150 and includes the four pre-selected books, shipping costs (you can also pick up your copies at our two bookstore locations in Dumbo or Park Slope if you can't wait to read them), and admission into each week's Virtual Book Talk. We will begin shipping the books out to you as soon as you register (release dates permitting), so that you have a chance to get ahead if you choose! This is a wonderful opportunity for Young Adult readers, both teens and those young at heart, to get to know other YA fans, and have a thought-provoking discussion with the authors of newly released books!
For questions about the program, email megan@powerhousearena.com.
You can now register for each author's event separately as well as for the whole program! Each author event is $35 and includes a copy of their newly released hardcover, access to their Zoom event, and shipping anywhere in the US! 
To register for JUST Mark Oshiro's event for Each of Us a Desert, click here!
To register for JUST Marie Lu's event for Skyhunter, click here! 
To register for JUST Dylan Farrow's event for Hush, click here! 
Book List 
Note: All of the books chosen are recommended by the publishers for ages 13 and up. We think anyone ages 13 or older will enjoy these stories! If you have any questions about the books or their content, feel free to email megan@powerhousearena.com
Never Look Back by Lilliam Rivera

Tuesday, September 29th 6:00pm EST
Eury comes to the Bronx as a girl haunted. Haunted by losing everything in Hurricane Maria–and by an evil spirit, Ato. She fully expects the tragedy that befell her and her family in Puerto Rico to catch up with her in New York. Yet, for a time, she can almost set this fear aside, because there's this boy . . .
Pheus is a golden-voiced, bachata-singing charmer, ready to spend the summer on the beach with his friends, serenading his on-again, off-again flame. That changes when he meets Eury. All he wants is to put a smile on her face and fight off her demons. But some dangers are too powerful for even the strongest love, and as the world threatens to tear them apart, Eury and Pheus must fight for each other and their lives.
Each of Us a Desert by Mark Oshiro

Tuesday, October 20th 6:00pm EST
Xochitl is destined to wander the desert alone, speaking her troubled village's stories into its arid winds. Her only companions are the blessed stars above and enigmatic lines of poetry magically strewn across dusty dunes.
Her one desire: to share her heart with a kindred spirit.
One night, Xo's wish is granted—in the form of Emilia, the cold and beautiful daughter of the town's murderous conqueror. But when the two set out on a magical journey across the desert, they find their hearts could be a match… if only they can survive the nightmare-like terrors that arise when the sun goes down.
Fresh off of Anger Is a Gift's smashing success, Oshiro branches out into a fantastical direction with their new YA novel, Each of Us a Desert.
Skyhunter: Marie Lu
Tuesday, November 10th 6:00pm EST
Talin is a Striker, a member of an elite fighting force that stands as the last defense for the only free nation in the world: Mara.
A refugee, Talin knows firsthand the horrors of the Federation, a world-dominating war machine responsible for destroying nation after nation with its terrifying army of mutant beasts known only as Ghosts.
But when a mysterious prisoner is brought from the front to Mara's capital, Talin senses there's more to him than meets the eye. Is he a spy from the Federation? What secrets is he hiding?
Only one thing is clear: Talin is ready to fight to the death alongside her fellow Strikers for the only homeland she has left . . . with or without the boy who might just be the weapon to save—or destroy—them all.
Hush by Dylan Farrow
Tuesday, December 8th, Time TBA 
Seventeen-year-old Shae has led a seemingly quiet life, joking with her best friend Fiona, and chatting with Mads, the neighborhood boy who always knows how to make her smile. All while secretly keeping her fears at bay… Of the disease that took her brother's life. Of how her dreams seem to bleed into reality around her. Of a group of justice seekers called the Bards who claim to use the magic of Telling to keep her community safe.
When her mother is murdered, she can no longer pretend.
Not knowing who to trust, Shae journeys to unlock the truth, instead finding a new enemy keen to destroy her, a brooding boy with dark secrets, and an untold power she never thought possible.
From Dylan Farrow comes Hush, a powerful fantasy where one girl is determined to remake the world.
About the Authors:
Lilliam Rivera is an award-winning writer and author of the young adult novels Never Look Back, Dealing in Dreams, and The Education of Margot Sanchez. Her work has appeared in the Washington Post, the New York Times, and Elle, to name a few. Lilliam grew up in the Bronx and currently lives in Los Angeles. Visit her online at www.lilliamrivera.com and @lilliamr
Mark Oshiro is the Hugo-nominated writer of the online Mark Does Stuff universe (Mark Reads and Mark Watches), where they analyze book and TV series. They were the nonfiction editor of Queers Destroy Science Fiction! and the co-editor of Speculative Fiction 2015, and they are the President of the Con or Bust Board of Directors. When not writing/recording reviews or editing, Oshiro engages in social activism online and offline. Anger Is a Gift was their debut YA contemporary fiction novel.
Marie Lu is the #1 New York Times–bestselling author of the Legend series, the Young Elites trilogy, Batman: Nightwalker, the Warcross series, and The Kingdom of Back. She graduated from the University of Southern California and jumped into the video game industry, where she worked as an artist. Now a full-time writer, she spends her spare hours reading, drawing, and playing games. She lives in Los Angeles with her illustrator/author husband, Primo Gallanosa, and their son.
Dylan Farrow is a writer, mother, and activist for survivors of sexual assault. Growing up in both New York City and rural Connecticut, she spent countless hours drawing and writing for pleasure. After graduating from Bard College she found a position at CNN as a production assistant and later moved into graphic design. Soon, however, she felt that neither were her calling. Dylan returned to writing full time, exploring her love of YA fantasy. Hush is her debut novel.