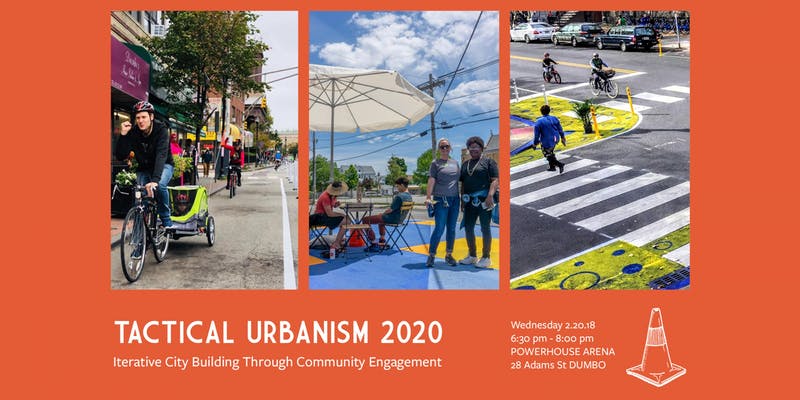 Wednesday Feb 20, 2019
6:30 pm - 8:00 pm
POWERHOUSE @ the Archway
28 Adams Street (Corner of Adams & Water Street @ the Archway)
Brooklyn , NY 11201
RSVP encouraged & appreciated.
Please fill out the form at the bottom of this page if you plan on attending. Facebook Event found here.
PLEASE NOTE: Submitting an RSVP for this event DOES NOT guarantee entrance. This is a free-access event — entrance will be on a first-come, first-served basis.
---
About the Event.
The DUMBO Improvement District and Street Plans present TACTICAL URBANISM 2020: Iterative City Building Through Community Engagement
The 21st Century city is at an existential crossroads. The resurgence of urban living has resulted in new open spaces, less crime, more transit options, and invigorated local stewardship, but it has also exacerbated traffic congestion, created housing shortages, and increased geographic inequality and vulnerability to disaster — both natural and man-made. To remain competitive, cities must address these challenges, and do so in an environment of increasingly complex regulations and constrained resources. As a response, one of the most compelling developments in urban design has been the explosion of interim "quick build" interventions to experiment with and expedite mobility and placemaking solutions for the public realm.
In this lecture, Street Plans co-founder Mike Lydon will highlight some relevant projects and emerging trends from around the globe in the years since he co-authored Tactical Urbanism: Short-term Action for Long-term Change (Island Press, 2015). Mike will also preview content from the forthcoming releases of two digital publications: Fast-Tracked: A Tactical Transit Study, and the Tactical Urbanist's Guide to Materials and Design Vol. 2. Finally, the presentation will conclude with a discussion about opportunities for New York City government agencies, private developers, BIDs, and neighborhood groups to employ similar tactics for executing public realm projects with greater speed, effectiveness, and community involvement.
RSVP REQUIRED: Click here to register | Refreshments will be served | Copies of the book will be available for purchase and signing