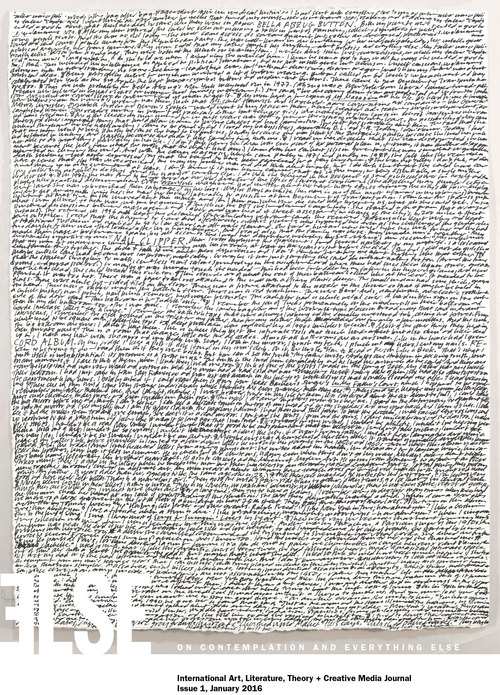 Saturday Jan 14, 2017
6:00 pm - 8:00 pm
POWERHOUSE @ the Archway
28 Adams Street (Corner of Adams & Water Street @ the Archway)
Brooklyn , NY 11201
For more information, please call 718.666.3049
RSVP appreciated: RSVP@powerHouseArena.com
-or-
Please fill out the "Bookings" form at the bottom of this page.
For more information, please call 718.666.3049
---
Join us for the launch of our next issue of ELSE Art and Cultural Journal with readings by select artists. A reception will follow along with discussions on future projects for our three year research topic "The Imperceptible Self" which commenced with exhibitions, performances, screenings and a symposium in Berlin for the Transart Triennale 2016-2019.
About ELSE Journal:
ELSE is an occasional journal that welcomes experimental and alternative forms of representing creative work. Peer-reviewed works, projects, and research thematically gravitating towards memory, forgetting, trauma and the archive; language/image; international diaspora and post-colonialism; role of art in peace meditation; liminality; space/place; temporary architecture; foreignness, otherness and the uncanny.
About the Participants:
Carol Becker is Dean of Faculty and Professor of the Arts at Columbia University School of the Arts. With research interests that range from feminist theory, American cultural history, the education of artists, art and social responsibility, to South African art and politics, she has published numerous articles and books on cultural criticism including: The Invisible Drama: Women and the Anxiety of Change; The Subversive Imagination: Artists, Society and Social Responsibility; Zones of Contention: Essays on Art, Institutions, Gender, and Anxiety; Surpassing the Spectacle: Global Transformations and the Changing Politics of Art and Thinking in Place: Art, Action, and Cultural Production. She also is a member of the Global Agenda Council on the Role of Art in Society for the World Economic Forum.
Luisa Greenfield is a Berlin-based visual artist with a background in painting, video and a keen interest in film history that informs her projects and have led her to create visual essays that analyze the material and function of the moving image. Luisa is a current PhD candidate in practice based research with Transart Institute through Plymouth University in the UK.
Akil Kirlew is a writer and media artist based in New York.  His research project Video Art: Accelerationism and the Reification of Desire explores the creative links between the production and circulation of video-based artworks and the dominance of capitalist-based forms of subjectivity.
Caroline Koebel is an artist and writer whose early love of experimental cinema and coming of age in a vibrant punk scene are touchstones for her travels near and far. She's presented her work across the US and internationally, and her writing has been translated into Spanish and Portuguese.
New York painter Mark Roth emerged from Chicago's performance art scene, which launched a ten-year touring career in the 80s and 90s. He headlined at The Green Mill, Randolph Street Gallery, Club Lower Links, PS122 and The Marsh. A graduate of The School of the Art Institute of Chicago, Roth's recent solo painting exhibits include Superheated Reservoirs at The Phatory, Dormancy Quota Exceeded at Michael Mut Gallery and The Tornado Paintings at DD172.
Morgan O'Hara's international performative drawing practice consists of "Live Transmissions"  in which she attempts to work/live in the present, tracking the movement (her subject) of the hands of people as they engage in life activities. Direct and minimal aspects of Japanese aesthetic practices, her background, and her studies with John Cage inspire her life/work.
Rachel Stevens is an interdisciplinary artist and writer whose work investigates social, material and media ecologies, critical geographies and infrastructural space. She recently completed a year-long residency with iLAND (Interdisciplinary Laboratory for Art, Nature and Dance) and a public project commissioned for Paths to Pier 42 on the East River Waterfront in Lower Manhattan. She writes for Millennium Film Journal and teaches in the Hunter College Integrated Media Art MFA program.
RSVP
Bookings are closed for this event.