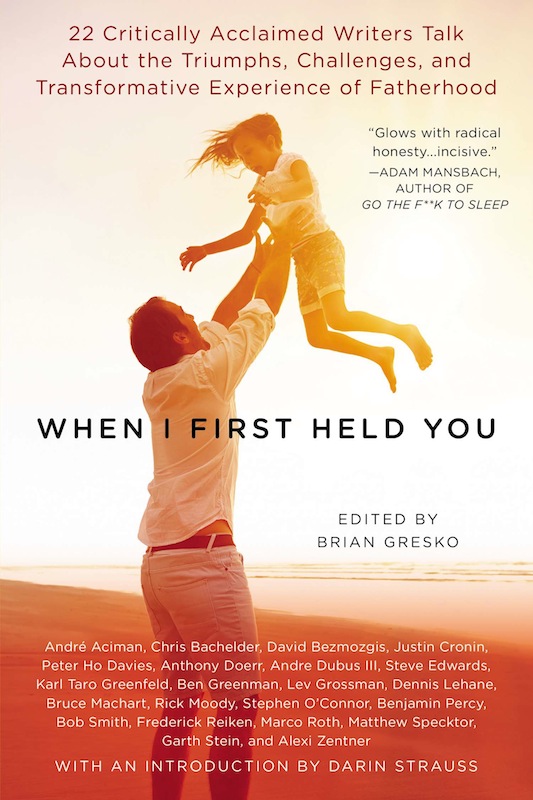 Friday Jun 06, 2014
7:00 pm - 9:00 pm
THE POWERHOUSE ARENA [Dumbo]
37 Main Street
Brooklyn, NY 11201
For more information, please call 718.666.3049
RSVP appreciated: RSVP@powerHouseArena.com
-or-
Please fill out the "Bookings" form at the bottom of this page.
---
With Father's Day just around the corner, some masterful writers share their stories about modern fatherhood and read their contributions from Brian Gresko's thought-provoking anthology.
About When I First Held You:
America's favorite literary dads have come together just in time for Father's Day to candidly discuss their parenting lives in WHEN I FIRST HELD YOU:  22 Critically Acclaimed Writers Talk About the Triumphs, Challenges, and Transformative Experience of Fatherhood, edited by Brian Gresko and with an introduction by Darin Strauss. WHEN I FIRST HELD YOU is a dazzling collection of essays that illuminates the men behind some of the most powerful pieces of contemporary literature on the joys, challenges and transformative experience of being a dad.
Each essay offers a unique view on fatherhood and presents introspective and, at times, humorous takes on its many aspects of fatherhood, from the decision to have kids, to getting through birth, coping with tantrums, dealing with a difficult teenager, and even saying goodbye to an adult child as she heads off to college. Throughout the collection, readers will find reflections on how being a father affected each author's work, changed his life, challenged him as a person, and even drove him a little bit crazy!
Released at a time when the full-time or part-time stay-at-home or work-at-home dad is common rather than an extraordinary creature, WHEN I FIRST HELD YOU shows how being a father changed the way these writers not only saw themselves, but saw the world as well.
About the Editor and Participants:
Editor BRIAN GRESKO is a stay-at-home dad and writer based in Brooklyn. His essays and journalism have appeared on the Huffington Post, Salon, TheAtlantic.com, The Daily Beast, The Paris Review Daily, The Rumpus, and the Los Angeles Review of Books among numerous other publications. He has also contributed to Glimmer Train and Slice magazine. He keeps a daily column about dads for Babble.com and is currently at work on a novel. Visit him on the web at www.briangresko.com.
Ben Greenman is an editor at the New Yorker and the author of several acclaimed books of fiction, including Superbad, Please Step Back, and What He's Poised to Do. As a journalist and critic, he has written widely on music and pop culture. His most recent novel is The Slippage. He lives in Brooklyn.
Lev Grossman is the book reviewer for Time magazine. In 2011 Grossman won the John W. Campbell Memorial Award for Best New Writer from the World Science Fiction Society. A graduate of Harvard and Yale, he lives in Brooklyn with his wife and three children.
André Aciman was born in Alexandria, Egypt, and is an American memoirist, essayist, novelist, and scholar of seventeenth-century literature. His work has appeared in the New Yorker, the New York Review of Books, the New York Times, the New Republic, Condé Nast Traveler, the Paris Review, and Granta, as well as in many volumes of The Best American Essays. Aciman received his Ph.D. in Comparative Literature from Harvard University and is chair and distinguished professor of Comparative Literature at the Graduate Center of the City University of New York. He is the author of the Whiting Award–winning memoir Out of Egypt (1995) and of three novels, Harvard Square (2013), Eight White Nights (2010), and Call Me by Your Name (2007), for which he won the Lambda Literary Award for Men's Fiction (2008). He is also the author of two essays collections, False Papers (2001) and Alibis (2011).
---
For more information, please contact
Justin Levine
email: justin@powerhousearena.com
powerHouse Arena, 37 Main Street, Brooklyn, NY 11201
tel: 212-604-9074 x109
RSVP
Bookings are closed for this event.