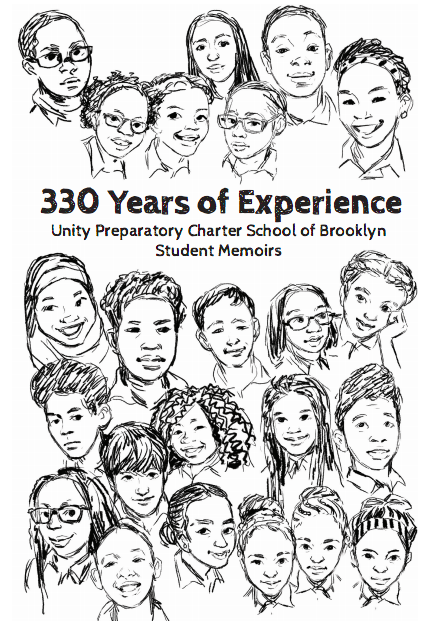 Wednesday Dec 14, 2016
7:00 pm - 9:00 pm
POWERHOUSE @ the Archway
28 Adams Street (Corner of Adams & Water Street @ the Archway)
Brooklyn , NY 11201
For more information, please call 718.666.3049
RSVP appreciated: RSVP@powerHouseArena.com
-or-
Please fill out the "Bookings" form at the bottom of this page.
---
From the minds of twenty-five young authors in Bedford Stuyvesant, Brooklyn comes 330 Years of Experience, an anthology of short memoirs written by the 8th grade students of Unity Prep. Any proceeds will fund Unity Preparatory's reading and writing program.
About 330 Years of Experience:
330 Years of Experience is an anthology of memoirs written by 8th grade students at Unity Preparatory Charter in Bedford Stuyvesant, Brooklyn. The only direction these young authors received was to compose a story about themselves that was both true and important and what they came up with is a diverse and rich collection of voices.
We worked to choose stories that represented the diversity of experience of our fourteen year old students living in Bedford Stuyvesant, Brooklyn. These pieces range from hilarious to shocking to mundane to heartbreaking. We know you all will fall in love with their stories as much as we did.
At the event, a few of our young authors will be reading excerpts from their stories. Stories include a young woman's first visit to her father in prison; a young man's struggle to come to terms with his mom's cooking; and a young woman bravely crossing the border from Mexico into the United States.
RSVP
Bookings are closed for this event.