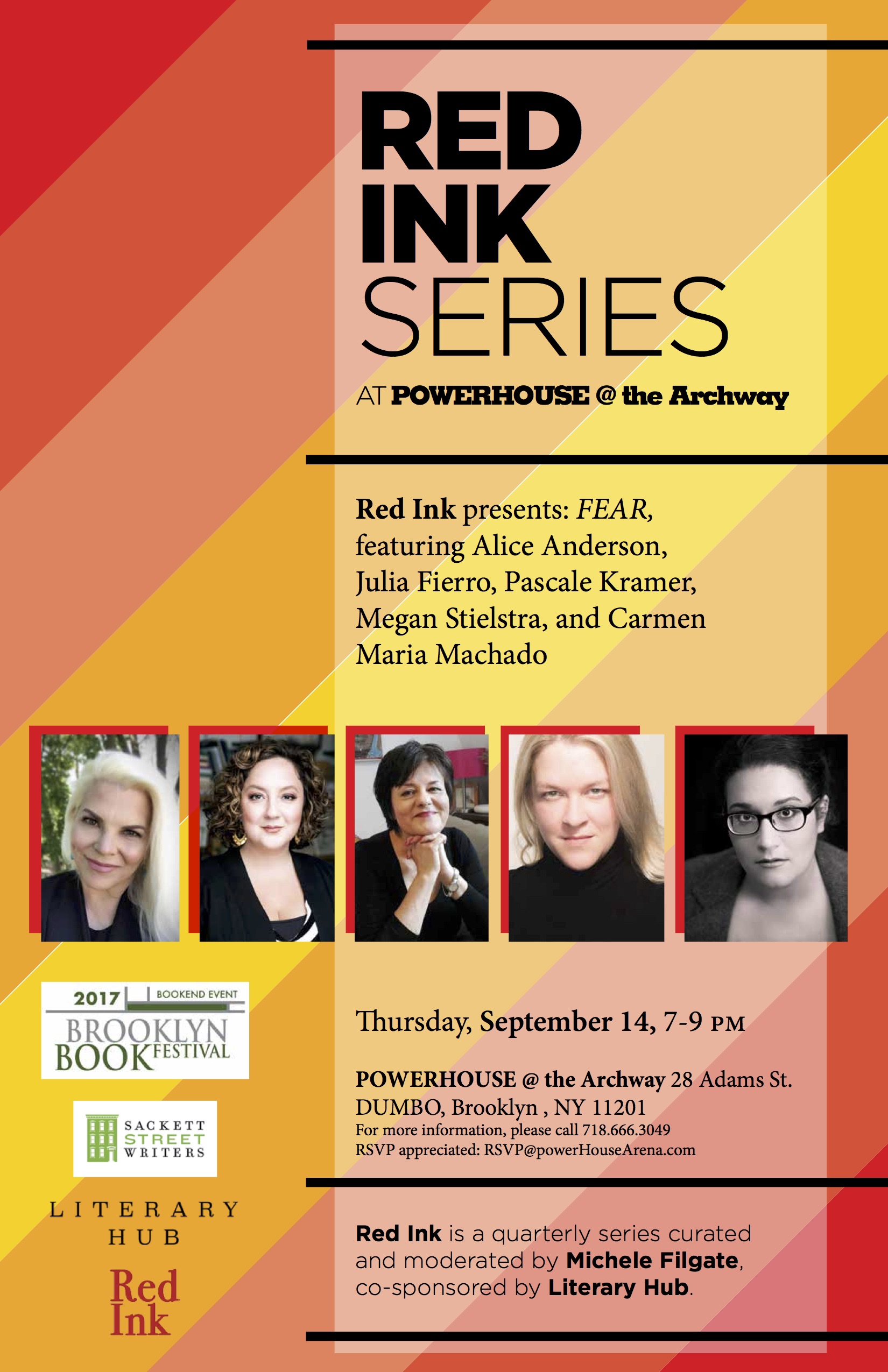 Thursday Sep 14, 2017
7:00 pm - 9:00 pm
POWERHOUSE @ the Archway
28 Adams Street (Corner of Adams & Water Street @ the Archway)
Brooklyn , NY 11201
RSVP appreciated:
Please fill out the "Bookings" form at the bottom of this page.
-or-
Send the name of the event and number of attendees to our RSVP email.
*Disregard the notification that will appear after Booking.*
---
"He thought her beautiful, believed her impeccably wise; dreamed of her, wrote poems to her, which, ignoring the subject, she corrected in red ink."
—Virginia Woolf, Mrs. Dalloway
About the Red Ink Reading Series:
Red Ink is a quarterly series curated and hosted by Michele Filgate. This dynamic series focuses on women writers, past and present. Red Ink makes one think of vitality, blood, the monthly cycle, correcting history, and making a mark on the world. The next discussion, "Fear," will feature Julia Fierro (The Gypsy Moth Summer), Megan Stielstra (The Wrong Way To Save Your Life), Pascale Kramer (Autopsy of a Father), Alice Anderson (Some Bright Morning, I'll Fly Away), and Carmen Maria Machado (Her Body and Other Parties). Co-sponsored by Literary Hub and the Sackett Street Writers' Workshop.
THIS IS AN OFFICIAL 2017 BROOKLYN BOOK FESTIVAL EVENT.

About the Authors:
Megan Stielstra is the author of three collections, most recently The Wrong Way to Save Your Life from Harper Perennial. Her work appears in the Best American Essays, the New York Times, Poets & Writers, Guernica, the Rumpus, and on National Public Radio. She teaches creative nonfiction at Northwestern University.
Pascale Kramer is a recipient of the Swiss Grand Prize for Literature and author of fourteen books, including three novels published in English: The Living, The Child, and Autopsy of a Father, which was named a finalist for the La Closerie des Lilas, Ouest-France, and Orange du Livre prizes. Born in Geneva, she has worked in Los Angeles, and now lives in Paris, where she directs a documentary film festival about children's rights.
Carmen Maria Machado is the author of Her Body and Other Parties (Graywolf Press). She is a fiction writer, critic, and essayist whose work has appeared in the New Yorker, Granta, Tin House, Guernica, Best American Science Fiction & Fantasy, and Best Horror of the Year. She is the Artist in Residence at the University of Pennsylvania, and lives in Philadelphia with her wife.
Alice Anderson is the author of The Watermark, published in the UK and US simultaneously from Eyewear Publishing, and Human Nature: Poems, awarded both the Best First Book Prize from the Great Lakes Colleges Association and the Elmer Holmes Bobst Prize from NYU. About Human Nature, Cheryl Strayed said: "Alice Anderson's honesty will take your breath away. She has the courage to tell her heart's deepest, darkest truths while never compromising on the poet's craft. Anderson's poems are rigorous and right. Human Nature is an amazing book." About Anderson's memoir, Some Bright Morning I'll Fly Away, Lidia Yuknavitch said: "Alice Anderson's Some Bright Morning I'll Fly Away is nothing short of a body and soul retrieval. I love this book with my whole body." With work appearing in journals such as New Letters, CUTTHROAT, The New York Quarterly, Tupelo Quarterly, and AGNI, Anderson is anthologized in On The Verge: Emerging Poets and Artists in America; American Poetry, The Next Generation. She is at work on a third poetry collection and a novel.
Julia Fierro is the author of the novels The Gypsy Moth Summer, released by St. Martin's Press on June 6th, and Cutting Teeth, published in 2014. Her work has been published in The New York Times, Glamour, The Millions, Poets & Writers, and other publications, and she has been profiled in The Observer and The Economist. A graduate of the Iowa Writer's Workshop, Julia founded The Sackett Street Writers' Workshop in 2002, which has grown into a creative home to 4,000 writers in NYC, Los Angeles, and Online. SSWW was named "Best Writing Classes" by The Village Voice, Time Out New York, Brooklyn Magazine, the L Magazine; and "Best MFA-Alternative" by Poets & Writers.
RSVP
Bookings are closed for this event.