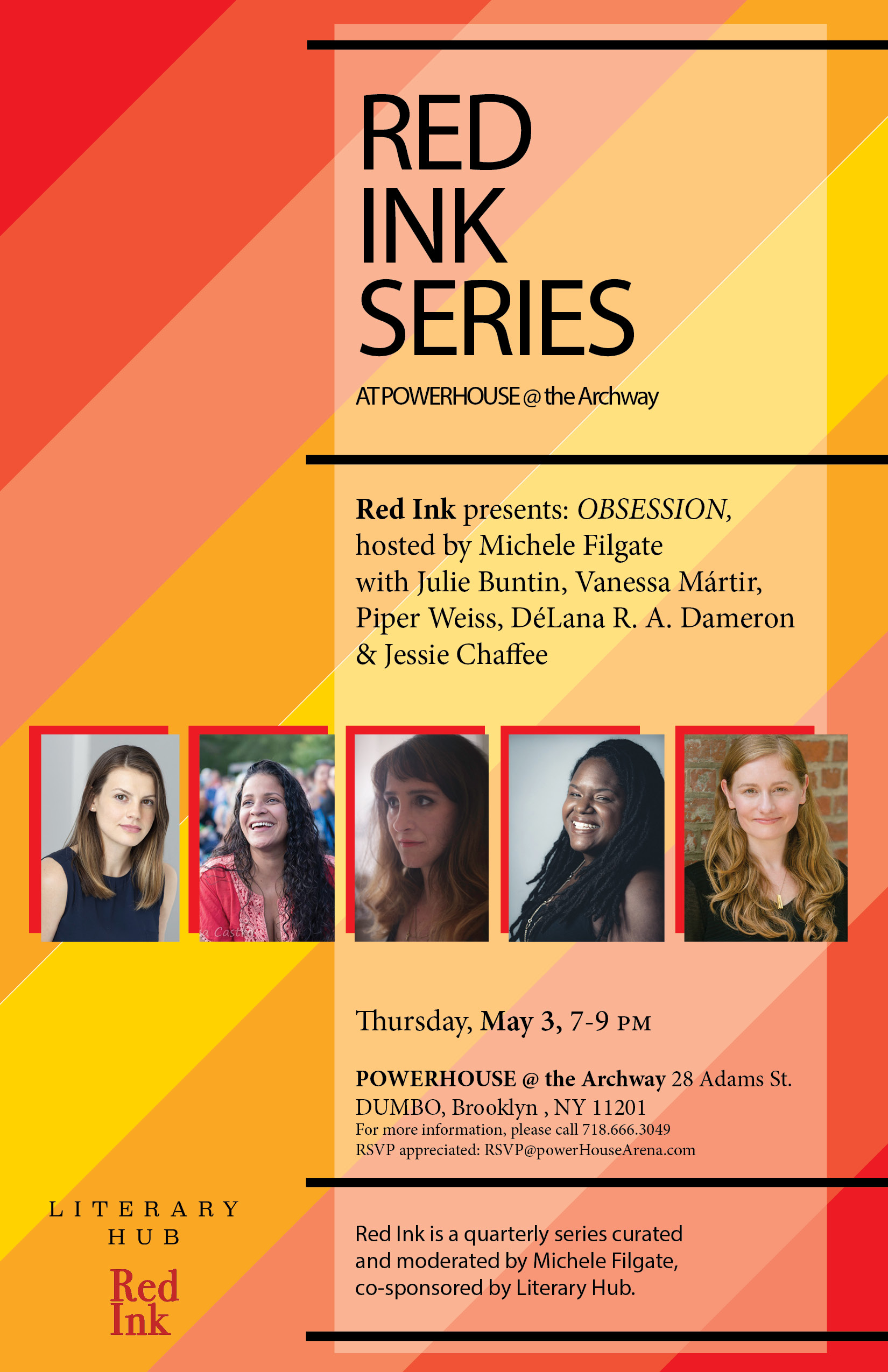 Thursday May 03, 2018
7:00 pm - 9:00 pm
POWERHOUSE @ the Archway
28 Adams Street (Corner of Adams & Water Street @ the Archway)
Brooklyn , NY 11201
RSVP appreciated. Please fill out the form at the bottom of this page if you plan on attending.
PLEASE NOTE: Submitting an RSVP for this event DOES NOT guarantee entrance. This is a free-access event — entrance will be on a first-come, first-served basis.
---
"He thought her beautiful, believed her impeccably wise; dreamed of her, wrote poems to her, which, ignoring the subject, she corrected in red ink."
—Virginia Woolf, Mrs. Dalloway
About the Red Ink Reading Series.
RED INK is a quarterly series curated and hosted by Michele Filgate. This dynamic series focuses on women writers, past and present. Red Ink makes one think of vitality, blood, the monthly cycle, correcting history, and making a mark on the world.
The next discussion, "Obsession," will feature Julie Buntin (Marlena), Vanessa Mártir (Not That Bad), Piper Weiss (You All Grow Up and Leave Me), Jessie Chaffee (Florence in Ecstasy), and DéLana R.A. Dameron (Weary Kingdom). Co-sponsored by Literary Hub and the Sackett Street Writers' Workshop.
About the Authors.
Jessie Chaffee's debut novel Florence in Ecstasy was published by The Unnamed Press in 2017 and is forthcoming in translation in the Czech Republic, Russia, Poland, and Turkey. She was awarded a Fulbright grant to Italy to complete the novel and was the writer-in-residence at Florence University of the Arts. Her writing has appeared in Literary Hub, Electric Literature, The Rumpus, Slice, and Global City Review, among others. She lives in New York City, where she is an editor at Words Without Borders, an online magazine of international literature. Find her at www.JessieChaffee.com and @JessieLChaffee.
Julie Buntin grew up in northern Michigan. Her debut novel, Marlena, was a finalist for the National Book Critics Circle's John Leonard Prize, longlisted for The Center for Fiction's First Novel Prize, and named a best book of 2017 by over thirteen venues, including The Washington Post, NPR, and Kirkus Reviews. Her writing has appeared in The Atlantic, Vogue, The New York Times Book Review, Guernica, and other publications. She currently lives in Brooklyn, New York, and is the Director of Writing Programs at Catapult.
Vanessa Mártir is a NYC based writer, educator, writing coach and mama. She is currently completing her memoir, A Dim Capacity for Wings, and chronicles the journey at vanessamartir.blog. A five-time VONA/Voices and two-time Tin House fellow, Vanessa's work has appeared in The Butter, Smokelong Quarterly, Kweli Journal, As/Us Journal and the VONA/Voices Anthology, Dismantle, among others. She has an essay forthcoming in the highly anticipated anthology Not That Bad, edited by Roxane Gay. Vanessa is the founder of the Writing Our Lives Workshop, which she teaches in NYC and online. When she's not writing or teaching, you can find Vanessa either on a dance floor, in a gym punching a bag or in the woods talking to a tree.
Piper Weiss is the author of two books. Her memoir, You All Grow Up and Leave Me, was published by William Morrow in April. She was formerly an editor at the New York Daily News and Yahoo, as well as the editorial director at HelloGiggles. Her writing has recently appeared in Hazlitt, LennyLetter, Elle.com, Shondland and as part of the Jewish Book Council's Visiting Scribe Series.
A native of Columbia, South Carolina and a Cave Canem fellow, DéLana R.A. Dameron's profoundly moving and accomplished poems address black southern narratives, black migration, history, and culture, as well as racial tensions in the North and South. In addition to How God Ends Us, selected by Elizabeth Alexander for the South Carolina Poetry Book Prize, and Weary Kingdom, selected by Nikky Finney for the Palmetto Poetry Series,  Dameron's writing has appeared in the Los Angeles Review of Books, ARTS.BLACK, Storyscape Journal, The Rumpus, Epiphany Magazine, and elsewhere. A graduate of the University of North Carolina at Chapel Hill and New York University's MFA program, she has conducted readings, workshops, and lectures across the US, Central America, and Europe. She lives in Brooklyn, NY with her husband, where she is an arts and culture administrator.
RSVP
Bookings are closed for this event.