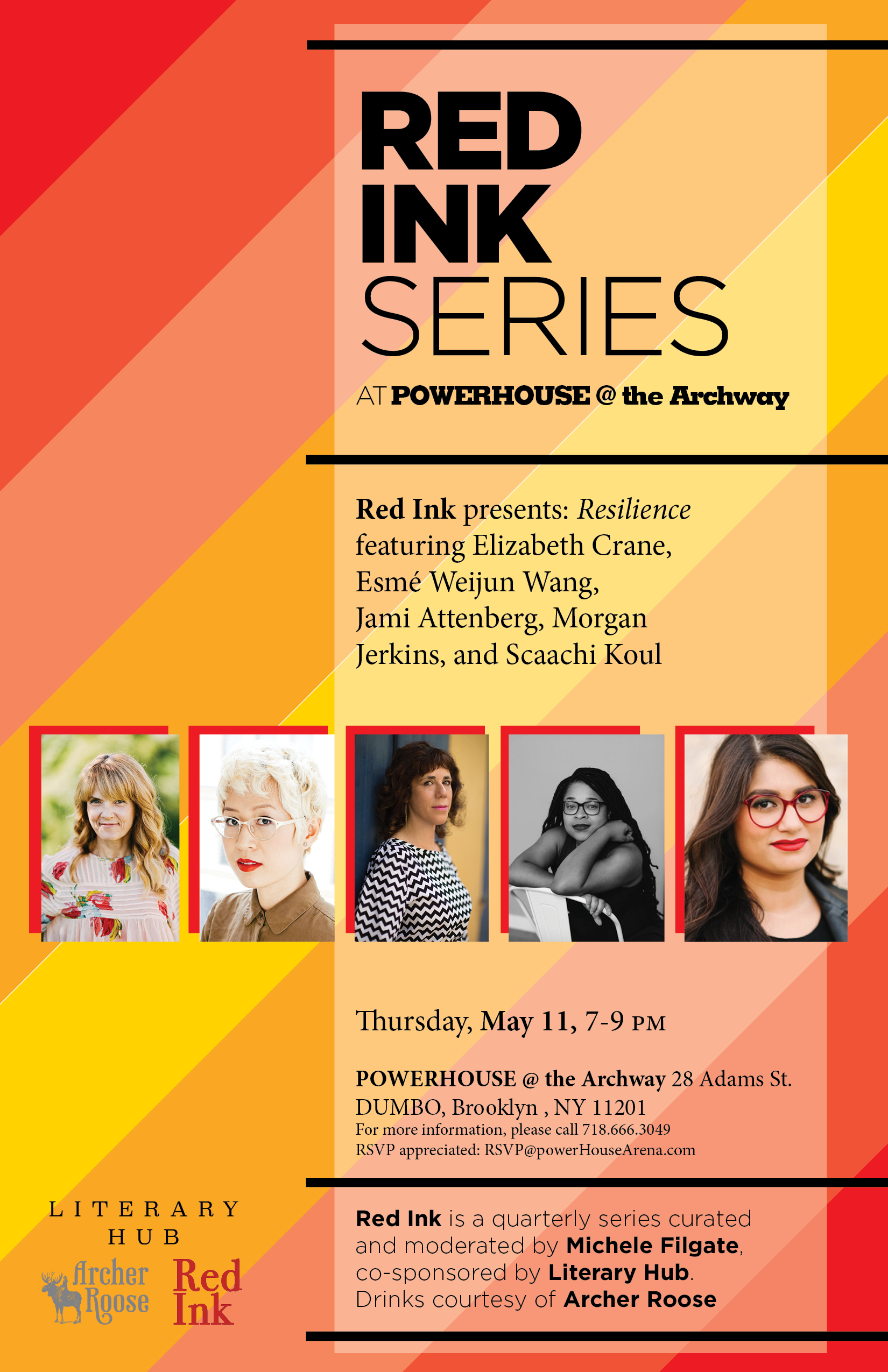 Thursday May 11, 2017
7:00 pm - 9:00 pm
POWERHOUSE @ the Archway
28 Adams Street (Corner of Adams & Water Street @ the Archway)
Brooklyn , NY 11201
RSVP appreciated:
Please fill out the "Bookings" form at the bottom of this page.
*Disregard the notification that will appear after Booking.*
-or-
Send the name of the event and number of attendees to our RSVP email.
---
"He thought her beautiful, believed her impeccably wise; dreamed of her, wrote poems to her,
which, ignoring the subject, she corrected in red ink."
—Virginia Woolf, Mrs. Dalloway
About Red Ink:
Red Ink is a quarterly series curated and hosted by Michele Filgate, and co-sponsored by Literary Hub. Red Ink makes one think of vitality, blood, the monthly cycle, correcting history, and making a mark on the world. This dynamic series focuses on women writers, past and present. The next discussion, "Resilience," will feature Morgan Jerkins (Contributing Editor at Catapult), Jami Attenberg (All Grown Up), Esmé Weijun Wang (The Border of Paradise), Elizabeth Crane (The History of Great Things), and Scaachi Koul (One Day We'll All Be Dead and None of This Will Matter).
About the Panelists:
Morgan Jerkins is a Harlem-based writer and Contributing Editor at Catapult. Her work has been featured in The New Yorker, The New York Times, BuzzFeed, ELLE, The Atlantic, and Rolling Stone, among many others. Her debut essay collection, This Will Be My Undoing, is forthcoming from Harper Perennial.
Jami Attenberg is the New York Times best-selling author of five novels, including The Middlesteins and Saint Mazie. She has contributed essays about sex, urban life, and food to The New York Times Magazine, The Wall Street Journal, The Guardian, and Lenny Letter, among other publications. She divides her time between Brooklyn and New Orleans.
Esmé Weijun Wang is a novelist and essayist. Her debut novel, The Border of Paradise, was named a Best Book of 2016 by NPR and one of the 25 Best Novels of 2016 by Electric Literature. She is the recipient of the Graywolf Nonfiction Prize for her forthcoming essay collection, The Collected Schizophrenias. She lives in San Francisco, and can be found at esmewang.com and on Twitter @esmewang.
Elizabeth Crane is the author of two novels and three collections of short stories. She is a recipient of the Chicago Public Library 21st Century Award. Her work has been featured on NPR's Selected Shorts and adapted for the stage by Chicago's Steppenwolf Theater. Her debut novel, We Only Know So Much, has been adapted for film, and her second novel, The History of Great Things, was released in 2016. Her fourth collection of stories, Turf, is forthcoming in June from Soft Skull Press.
Scaachi Koul was born and raised in Calgary, Alberta, and is a culture writer for BuzzFeed. Her writing has also appeared in The New Yorker, The Hairpin, The Globe and Mail, and Jezebel. One Day We'll All Be Dead and None of This Will Matter is her first book. She lives in Toronto.
About the Moderator:
Michele Filgate is a contributing editor at Literary Hub and on the board of the National Book Critics Circle. Her work has appeared in The Los Angeles Times, The Washington Post, Refinery29, Slice, The Paris Review Daily, Tin House, Gulf Coast, The Rumpus, Buzzfeed, and other publications. She teaches creative nonfiction for The Sackett Street Writers' Workshop and Catapult.
RSVP
Bookings are closed for this event.