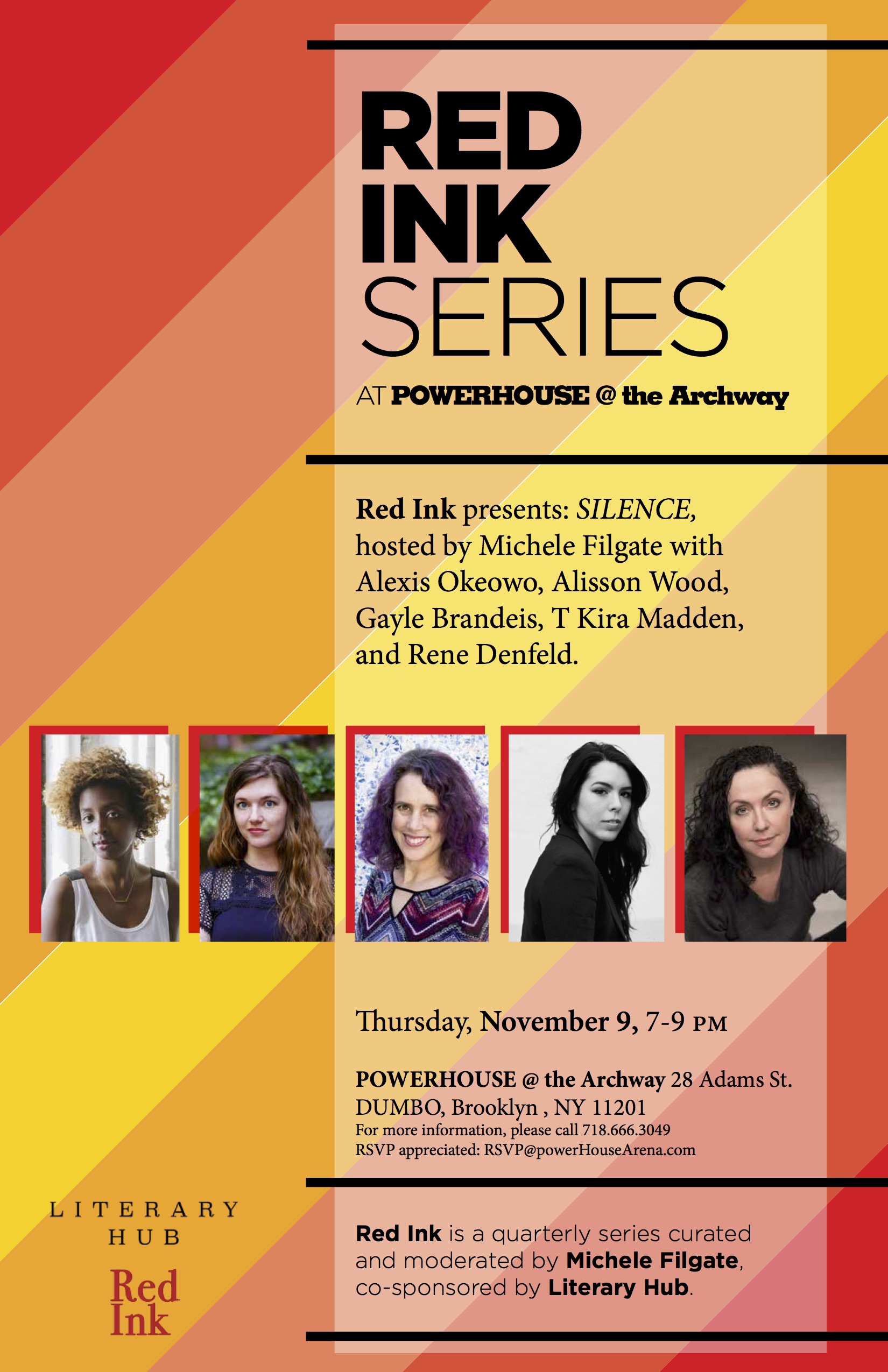 Thursday Nov 09, 2017
7:00 pm - 9:00 pm
POWERHOUSE @ the Archway
28 Adams Street (Corner of Adams & Water Street @ the Archway)
Brooklyn , NY 11201
RSVP appreciated:
Please fill out the "Bookings" form at the bottom of this page.
-or-
Send the name of the event and number of attendees to our RSVP email.
*Disregard the notification that will appear after Booking.*
PLEASE NOTE: Submitting an RSVP for this event DOES NOT guarantee entrance. This is a free-access event — entrance will be on a first-come, first-served basis.
---
"He thought her beautiful, believed her impeccably wise; dreamed of her, wrote poems to her, which, ignoring the subject, she corrected in red ink."
—Virginia Woolf, Mrs. Dalloway
About the Red Ink Reading Series:
Red Ink is a quarterly series curated and hosted by Michele Filgate. This dynamic series focuses on women writers, past and present. Red Ink makes one think of vitality, blood, the monthly cycle, correcting history, and making a mark on the world. The next discussion, "Silence," will feature Rene Denfeld (The Child Finder), Gayle Brandeis (The Art of Misdiagnosis), Alexis Okeowo (A Moonless, Starless Sky), T Kira Madden (No Tokens and Guernica), and Alisson Wood (The New York Times, Catapult, and Pigeon Pages). Co-sponsored by Literary Hub.
About the Authors:
Gayle Brandeis is the author of Fruitflesh: Seeds of Inspiration for Women Who Write (HarperOne), and the novels The Book of Dead Birds (HarperCollins), which won the Bellwether Prize for Fiction of Social Engagement, Self Storage (Ballantine), Delta Girls (Ballantine), and My Life with the Lincolns (Henry Holt), which received a Silver Nautilus Book Award and was chosen as a state-wide read in Wisconsin. Her poetry collection, The Selfless Bliss of the Body, was released in June by Finishing Line Press and her memoir, The Art of Misdiagnosis: Surviving My Mother's Suicide, will be published by Beacon Press in November. Her poetry, essays, and short fiction have been widely published and have received numerous honors, including a Barbara Mandigo Kelly Peace Poetry Award and a Notable Essay in Best American Essays 2016. She currently teaches at Sierra Nevada College and the low residency MFA program at Antioch University, Los Angeles.
Alexis Okeowo is the author of the recently published A Moonless, Starless Sky: Ordinary Women and Men Fighting Extremism in Africa, and is a staff writer at The New Yorker.  Her work has appeared in the New Yorker, the New York Times Magazine, the Financial Times, Time, and Fortune, among many other publications. The daughter of immigrant parents, Okeowo grew up in Alabama and attended Princeton University. She was based in Lagos, Nigeria, from 2012 to 2015, and now lives in Brooklyn.
Rene Denfeld is the author of the acclaimed novels The Child Finder and The Enchanted, as well as essays in publications such as the New York Times. Rene's new literary thriller, The Child Finder, which explores themes of survival, resiliency, and redemption, is receiving much acclaim, including a starred Library Journal review, major press, an Indie Next pick and more. Rene's lyrical writing is inspired by her work with sex trafficking victims and innocents in prison. Rene was the Chief Investigator at a public defender's office and has worked hundreds of cases. In addition to her advocacy work, Rene has been a foster adoptive parent for twenty years. She will be awarded the Break The Silence Award at the 24th Annual Knock Out Abuse Gala in Washington, DC on November 2, 2017, in recognition for her advocacy and social justice work. Rene lives in Portland, Oregon, where she is the happy mom of three kids adopted from foster care.
Alisson Wood's essays, stories, and poems have appeared in places such as The New York Times, Catapult, NY Yoga + Life Magazine, Dovetail, Stillwater, and Salad Days Substance. She is the founder & curator of the NYC reading series, Pigeon Pages, and serves as editor of the newly launched Pigeon Pages literary journal. You can find her online at alissonwood.com or on Twitter at @literaryTSwift.
T Kira Madden is a writer, photographer, and amateur magician living in New York City. She is the recipient of fellowships from The MacDowell Colony, Yaddo, Hedgebrook, and Tin House, and is a 2017 NYSCA/NYFA Artist Fellow in nonfiction literature from the New York Foundation for the Arts. She serves as the founding Editor-in-chief of No Tokens, and her debut memoir is forthcoming from Bloomsbury in 2019.
RSVP
Bookings are closed for this event.