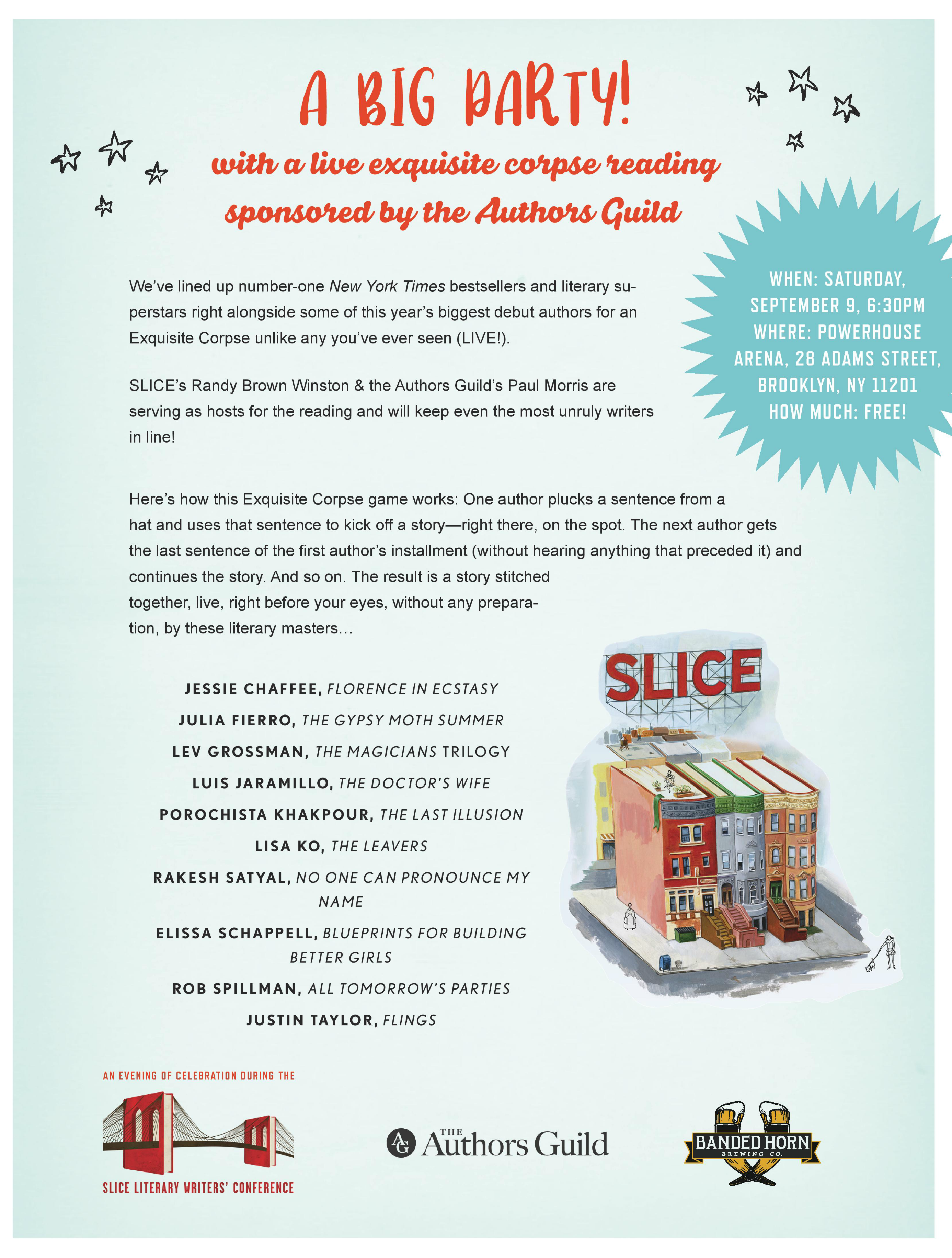 Saturday Sep 09, 2017
6:30 pm - 9:00 pm
POWERHOUSE @ the Archway
28 Adams Street (Corner of Adams & Water Street @ the Archway)
Brooklyn , NY 11201
RSVP appreciated:
Please fill out the "Bookings" form at the bottom of this page.
-or-
Send the name of the event and number of attendees to our RSVP email.
*Disregard the notification that will appear after Booking.*
PLEASE NOTE: Submitting an RSVP for this event DOES NOT guarantee entrance. This is a free-access event — entrance will be on a first-come, first-served basis.
---
SLICE Literary is hosting a Live Exquisite Corpse Reading, Sponsored by The Authors Guild
______________________
We've lined up #1 New York Times bestsellers and literary superstars right alongside some of this year's biggest debut authors for an Exquisite Corpse unlike any you've ever seen (LIVE!).
SLICE's Randy Brown Winston & The Authors Guild's Paul Morris are serving as hosts for the reading and will keep even the most unruly writers in line!
Here's how this Exquisite Corpse game works: One author plucks a sentence from a hat and uses that sentence to kick off a story—right there, on the spot. The next author gets the last sentence of the first author's installment (without hearing anything that preceded it) and continues the story. And so on. The result is a story stitched together, live, right before your eyes, without any preparation, by these literary masters…
Jessie Chaffee
,
Florence in Ecstasy
Julia Fierro
, 
The Gypsy Moth Summer
Lev Grossman
, 
The Magicians 
Trilogy
Luis Jamarillo
, 
The Doctor's Wife
Porochista Khakpour
,
The Last Illusion
Lisa Ko
, 
The Leavers
Elissa Schappell, Blueprints for Building Better Girls
Rakesh Satyal, No One Can Pronounce My Name
Rob Spillman, All Tomorrow's Parties
Justin Taylor, Flings
There will be complimentary snacks and beverages, too.
RSVP
Bookings are closed for this event.