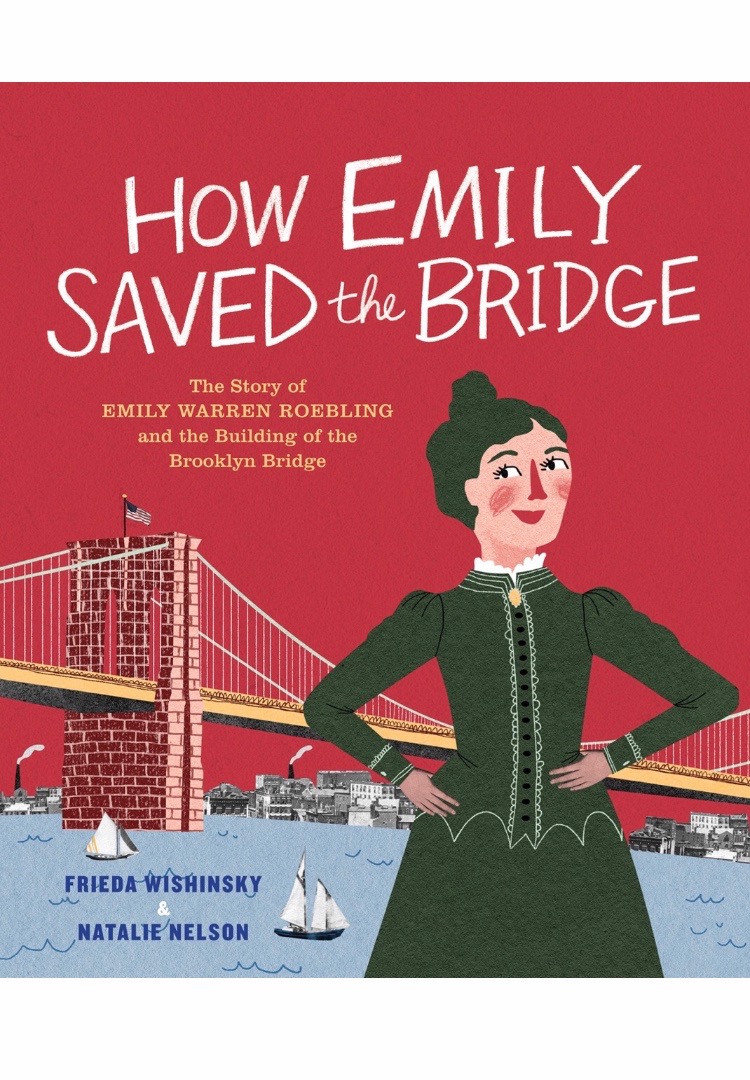 Wednesday Oct 02, 2019
5:00 pm - 6:00 pm
POWERHOUSE @ the Archway
28 Adams Street (Corner of Adams & Water Street @ the Archway)
Brooklyn , NY 11201
Category(ies)
RSVP encouraged & appreciated.
Please fill out the form at the bottom of this page if you plan on attending. Facebook event found here.
PLEASE NOTE: Submitting an RSVP for this event DOES NOT guarantee entrance. This is a free-access event — entrance will be on a first-come, first-served basis.
---
About the Book.
The Brooklyn Bridge, the iconic suspension bridge that connects Manhattan and Brooklyn, was completed in 1883. It is thanks to Emily Warren Roebling that the bridge was finished at all.
Emily was not an engineer, but she was educated in math and science. She married Washington Roebling, the chief engineer of the famous bridge. When Washington became ill from
decompression sickness, Emily stepped in, doing everything from keeping the books, to carrying messages for her husband, to monitoring the construction of the bridge. She was the first person to cross the Brooklyn Bridge when it opened.
Emily, who went on to study law among many other accomplishments, is an inspiration to all, as demonstrated through Frieda Wishinsky's informative and engaging text and Natalie Nelson's distinctive collage illustrations. Speech bubbles revealing imagined dialogue add a playful note to this historical account, which includes fascinating facts about the Brooklyn Bridge and a further reading list.
About The Author.
FRIEDA WISHINSKY is the award-winning author of more than sixty books, including picture books, novels and non-fiction, which have been translated into many languages. Each One Special, illustrated by Werner Zimmerman, was nominated for a Governor General's Literary Award, and Please, Louise! illustrated by Marie-Louise Gay won the Marilyn Baillie Picture Book Award. More recently, Frieda has written the novel Avis Dolphin, illustrated by Willow Dawson, and A History of Just about Everything with Elizabeth MacLeod, illustrated by Qin Leng. Frieda grew up in Manhattan and has always loved crossing the Brooklyn Bridge. She now lives in Toronto.
About The Illustrator.
NATALIE NELSON's illustrations have appeared in many publications, including the New York Times and the Washington Post. She is the illustrator of The King of the Birds by Acree Graham Macam, which Booklist reviewed as "nothing short of charming." She has also illustrated A Storytelling of Ravens by Kyle Lukoff, which received starred reviews from Kirkus and Foreword, and Uncle Holland by JonArno Lawson, described by School Library Journal as "sophisticated yet playful." Natalie lives in Atlanta.
RSVP
Bookings are closed for this event.