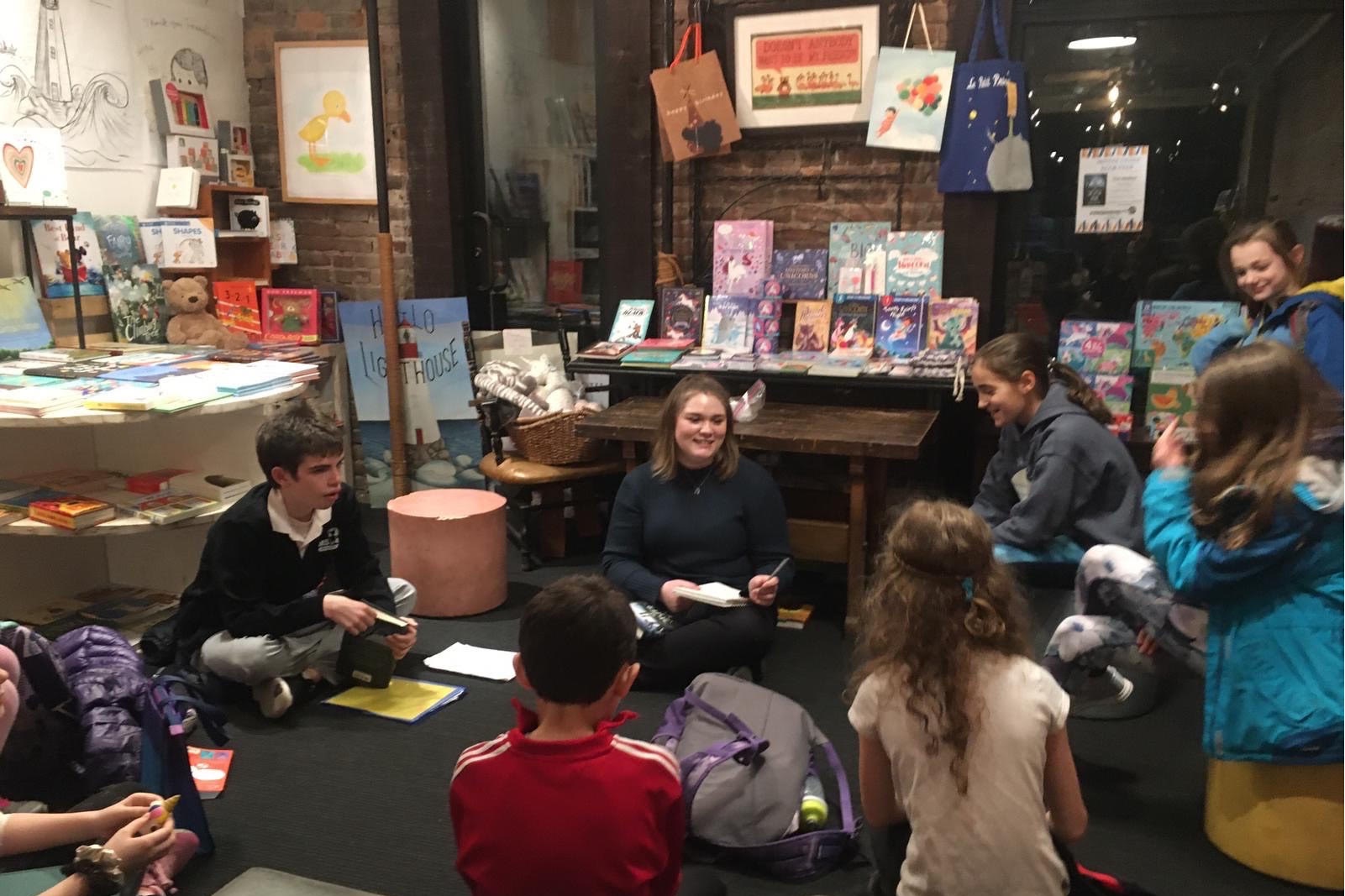 Tuesday Jul 14, 2020 - Tuesday Aug 18, 2020
11:00 am - 12:30 pm
RSVP required – registration is $250 and includes six pre-selected book club books!
Please register here if you plan on attending – we will send Zoom invites to the e-mail you use.
---
About the Event:

Running July 14th through August 18th we offer weekly virtual book club meetings to discuss six brand-new middle-grade novels. The discussion will be led by Brittany, our beloved kid's book specialist, and as an extra bonus, we will offer the unique opportunity to do a Q&A with the author directly. 
Each discussion takes place on Tuesday from 11am to 12:30pm via Zoom. The first half of the event is a book discussion with the author followed by a Q&A where everyone has the chance to ask the author any burning questions. The second half is a book club led discussion with our bookseller to further delve into the topics and themes of the novel. 
The enrollment fee for the Summer Lit Camp 2020 is $250 and includes the six pre-selected book club books and admission into each week's virtual discussion. We will ship the six books to you as soon as you register, so that the kids can have a chance to read a few ahead. This is an opportunity for kids to connect with other readers their age and have a thought-provoking discussion around a series of diverse books ranging from social issues to mind-bending mysteries and even explore fantasy worlds alongside the author of each chosen book. 
Book List 
What Lane? by Torrey Malonado 
Anything his friends can do, Stephen should be able to do too, right? So when they dare each other to sneak into an abandoned building, he doesn't think it's his lane, but he goes. Here's the thing, though: Can he do everything his friends can? Lately, he's not so sure. As a mixed kid, he feels like he's living in two worlds with different rules–and he's been noticing that strangers treat him differently than his white friends.
Brooklyn author Torrey Maldonado does a masterful job showing a young boy coming of age in a racially split world, trying to blaze a way to be his best self.
Con Quest! by Sam Maggs
The debut novel from bestselling author Sam Maggs, Con Quest! is a comics convention adventure for young readers about fandom, family, and finding your place in the world!
Cat and Alex are excited to be at the world's most popular comics convention—and they're even more excited to compete in the Quest, a huge scavenger hunt run by their favorite nerdy celebrity. The big prize: a chance to meet him!
Can the twins work together even when they disagree on how to compete? Will Fi find Cat and Alex before their parents realize they're missing? Most importantly, can these ultimate fans complete the ultimate Quest?
The Girl and the Witches Garden by Erin Bowman 
The Secret Garden meets Miss Peregrine's Home for Peculiar Children in this rich, charming middle-grade adventure about a girl determined to infiltrate her grandmother's enchanted garden with the help of some magically gifted friends.
Mallory Estate is the last place twelve-year-old Piper Peavey wants to spend her summer vacation, but when Piper's father falls ill, Mallory Estate is exactly where she finds herself.
The grand house and its garden hold many secrets—some of which may even save her father—and Piper will need to believe in herself, her new friends, and magic if she wants to unlock them before it's too late.
One Year at Ellsmere by Faith Erin Hicks (Graphic Novel)
Was boarding school supposed to be this hard?
One Year at Ellsmere is an endearing—and surprising—middle-grade friendship story from beloved author Faith Erin Hicks!
When studious thirteen-year-old Juniper wins a scholarship to the prestigious Ellsmere Academy, she expects to find a scholastic utopia. But living at Ellsmere is far from ideal: She is labeled a "special project," Ellsmere's queen bee is out to destroy her, and it's rumored that a mythical beast roams the forest next to the school.
The Brave by James Bird 
This middle-grade novel The Brave is about a boy with an OCD issue and his move to a reservation to live with his biological mother.
When Collin asks to leave yet another school, his dad decides to send him to live in Minnesota with the mother he's never met. She is Ojibwe, and lives on a reservation.
Collin's quirk is matched by that of his neighbor, Orenda, a girl who lives mostly in her treehouse and believes she is turning into a butterfly. With Orenda's help, Collin works hard to overcome his challenges. His real test comes when he must step up for his new friend and trust his new family.
The Mysterious Messenger by Gilbert Ford 
Eleven-year-old Maria de la Cruz is trapped under the thumb of Madame Destine, her pseudo-psychic mother. Destine is a bona fide con artist who will stop at nothing to swindle her customers into believing she can communicate with the dead. But Maria, unlike her mother, has a big secret—she really can communicate with the dead, most frequently with a ghost named Edward who has been her only friend since she was a child.
It's not long before this clairvoyant young sleuth gets wrapped up in an epic journey that combines bookish mystery with the literary movement of the Beat poets and art and jazz history. Maria may have the power to unlock extraordinary secrets, but can she find the treasure Edward sends her clues about? More importantly, can she find true friendship?