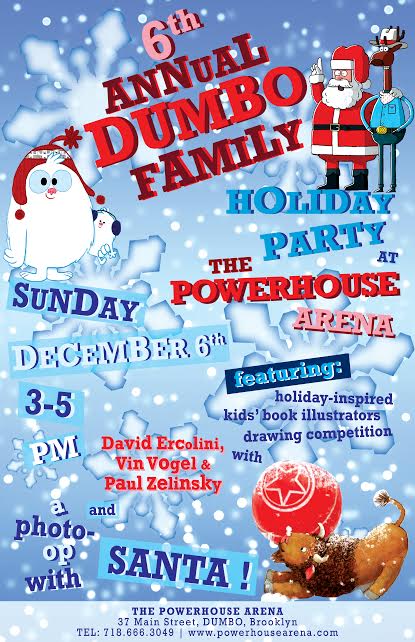 Sunday Dec 06, 2015
3:00 pm - 5:00 pm
THE POWERHOUSE ARENA [Dumbo]
37 Main Street
Brooklyn, NY 11201
For more information, please call 718.666.3049
RSVP appreciated: RSVP@powerHouseArena.com
-or-
Please fill out the "Bookings" form at the bottom of this page.
---
Join the holiday festivities as POWERHOUSE's favorite kids books illustrators battle each other in a fast-paced and good-natured drawing competition based on holiday-inspired suggestions from kids in the audience! Santa will join for a visit and photo op.
About Vin Vogel, creator of The Thing About Yetis:
"Vogel narrates with gentle humor as his yetis—and the human kids they play with—remind readers that there's plenty of fun to be had in every season."
—Publishers Weekly
"Out in time for the chilliest season, this offers a solution to winter blues while adding to the growing list of yeti protagonists."
—Kirkus Reviews
The perfect snowy day read, The Thing About Yetis by Vin Vogel follows a yeti who loves waking up on chilly mornings and playing in the snow. However, winter can be tough and even yeti gets cranky about the cold and misses the sunny summer. Perfect for any season, The Thing About Yetis is a great book for both young readers and adults who want the best of both winter and summer.
Unlike the scary yetis of lore, Vogel's yetis are loveable, fluffy white fur-balls that truly adore winter. They love snowball fights, hot chocolate, sledding, and building snow castles. But even yetis get the shivers, and even yetis get the blustery winter blues. So here's a secret about yetis: Sometimes they miss summer, just like everyone else. Sometimes, they have to bring a little bit of summer to the coldest of winter days by creating their own summer vacation. Those yetis, they're just full of surprises!
Perfect for fans of Love Monster and Here Comes Santa Cat, The Thing About Yetis is an endearing, humorous book that will warm your heart, tickle your funny bone, and become a great book that young readers will be begging for at story time all year long. Packed with adorable illustrations, The Thing About Yetis introduces an irresistible character who will give you the warm fuzzies on even the coldest of nights.

Vin Vogel is a Brazilian illustrator and character designer based in New York City. He has illustrated more than 45 books for children and young adults in Brazil, and he has illustrated and provided character designs for a variety of print, animation, apparel, and web projects.  The Thing About Yetis is his debut picture book as an author and illustrator.
About Paul Zelinsky, illustrator of Toys Meet Snow:
The lovable trio of Lumphy, StingRay, and Plastic (originally introduced in Toys Go Out) are back and making their picture-book debut in Toys Meet Snow, written and illustrated by the award-winning team of Emily Jenkins and Paul O. Zelinsky.
"What do you think snow is exactly?" asks Lumphy.
"It's a blanket of peace over the world," says StingRay.
"No, it's frozen water," says Plastic. "I read it in a book."
When curiosity gets the best of them, Lumphy, the stuffed buffalo; StingRay, the plush stingray; and Plastic, the bouncy red ball, make their way outdoors to see what snow is really all about. Once outside, the three experience all the joys that snowy weather can offer, from making a snowman to sledding to making snow angels. Once daylight begins to fade, the toys, fresh from their adventures, return to the warmth of their home, where the beauty of the sunset and descending nightfall bring them peace.
Toys Meet Snow has everything a reader looks for in a picture book—a captivating story, characters to cherish, and charming and heartwarming illustrations. Jenkins and Zelinsky have collaborated to create an utterly unforgettable story destined to become a classic and sure to be embraced by kids, parents, and educators alike. The perfect read-aloud no matter what the weather, Toys Meet Snow is the book all readers will be clamoring for this year.

Paul Zelinsky received the Caldecott Medal for his retelling of Rapunzel and three Caldecott Honors, for his illustrations in Rumpelstiltskin, Hansel and Gretel, and Swamp Angel by Anne Isaacs, a New York Times Notable Book and an Oppenheim Toy Portfolio Platinum Award winner. Visit him at paulozelinsky.com.
Emily Jenkins's award-winning picture books include A Fine Dessert (hailed by Kirkus Reviews as "delicious" in a starred review); Water in the Park, a Booklist Editors' Choice and a Bulletin Blue Ribbon Book; and Lemonade in Winter, a Publishers Weekly Best Children's Book of the Year. Learn more at emilyjenkins.com
About David Ercolini, illustrator of The Night Before Christmas:
A funny, over-the-top new spin on the classic Christmas poem!
A hysterical new version of "The Night Before Christmas"! David Ercolini's over-the-top illustrations will have readers saying, "Ho! Ho! Ho!"
Creatures of all shapes and all sizes will be stirring with laughter in this overly decked out, Christmas-splendored illustrated picture book!
Ercolini breathes new life into an unrivaled classic with his vibrant illustrations featuring fun, accessible scenes of holiday mayhem and spirited cheer. It's The Night Before Christmas as you've never seen it before!
David Ercolini studied painting at Pratt Institute in New York City. Upon receiving his BFA, he returned to Massachusetts and continued making art. David also began teaching art to pre-shcool, kindergarten, and first grade students. It was through this experience that he developed an interest in picture books. Returning to New York City, David attended the School of Visual Arts where he honed his storytelling skills and received an MFA in illustration. His work has been recognized by CMYK, 3×3 Magazine, Society of Illustrators and American Illustration. His first illustrated picture book, Not Inside This House!, was published in August 2011 by Scholastic. He has recently finished illustrating an interactive childrens book application called Obsolete Bleep for Ruckus Media.
RSVP
Bookings are closed for this event.