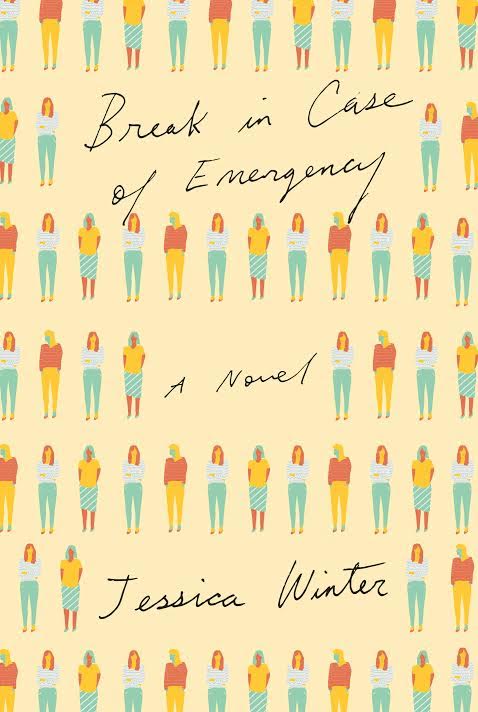 Monday Jul 25, 2016
7:00 pm - 8:00 pm
Granite Prospect at Brooklyn Bridge Park
Pier 1 Brooklyn Bridge Park
Brooklyn, NY 11201
For more information, please call 718.666.3049
RSVP appreciated: RSVP@powerHouseArena.com
-or-
Please fill out the "Bookings" form at the bottom of this page.
Experience fresh and established voices while overlooking the iconic New York skyline at our annual Books Beneath the Bridge reading series! This year POWERHOUSE ARENA presents debut novelist Jessica Winter and her novel Break in Case of Emergency, as well as Ed Park's book Personal Days. The evening will feature a reading, followed by an audience Q&A and book signing. Lead support for Books Beneath the Bridge is provided by AT&T, and is in partnership with the Brooklyn Bridge Park Conservancy. Click here for more information.
About Break in Case of Emergency:
"Enthralling, sharply observed" —Marie Claire

"Hilarious…The personal and workplace plots are woven together beautifully. Read, cringe, laugh, relate." —Lenny

An irreverent and deeply moving comedy about friendship, fertility, and fighting for one's sanity in a toxic workplace.

Jen has reached her early thirties and has all but abandoned a once-promising painting career when, spurred by the 2008 economic crisis, she takes a poorly defined job at a feminist nonprofit. The foundation's ostensible aim is to empower women, but staffers spend all their time devising acronyms for imaginary programs, ruthlessly undermining one another, and stroking the ego of their boss, the larger-than-life celebrity philanthropist Leora Infinitas. Jen's complicity in this passive-aggressive hellscape only intensifies her feelings of inferiority compared to her two best friends—one a wealthy attorney with a picture-perfect family, the other a passionately committed artist—as does Jen's apparent inability to have a baby, a source of existential panic that begins to affect her marriage and her already precarious status at the office. As Break in Case of Emergency unfolds, a fateful art exhibition, a surreal boondoggle adventure in Belize, and a devastating personal loss conspire to force Jen to reckon with some hard truths about herself and the people she loves most.

Jessica Winter's ferociously intelligent debut novel is a wry satire of celebrity do-goodism as well as an exploration of the difficulty of navigating friendships as they shift to accommodate marriage and family, and the unspoken tensions that can strain even the strongest bonds.
About Personal Days:
"Witty and appealing…Anyone who has ever groaned to hear 'impact' used as a verb will cheer as Park skewers the avatars of corporate speak, hellbent on debasing the language….Park has written what one of his characters calls 'a layoff narrative' for our times. As the economy continues its free fall, Park's book may serve as a handy guide for navigating unemployment and uncertainty. Does anyone who isn't a journalist think there can't be two books on the same subject at the same time? We need as many as we can get right now." —The New York Times Book Review
In an unnamed New York-based company, the employees are getting restless as everything around them unravels. There's Pru, the former grad student turned spreadsheet drone; Laars, the hysteric whose work anxiety stalks him in his tooth-grinding dreams; and Jack II, who distributes unwanted backrubs–aka "jackrubs"–to his co-workers.
On a Sunday, one of them is called at home. And the Firings begin.
Rich with Orwellian doublespeak, filled with sabotage and romance, this astonishing literary debut is at once a comic delight and a narrative tour de force. It's a novel for anyone who has ever worked in an office and wondered: "Where does the time go? Where does the life go? And whose banana is in the fridge?"
About the Authors:
JESSICA WINTER is features editor at Slate and the former culture editor of Time. Her writing has appeared in The New York Times, The Guardian, Bookforum, The Believer, and many other publications. She lives in Brooklyn.
ED PARK is the author of the novel Personal Days, which was named one of Time's top 10 fiction books of 2008 and was a finalist for the PEN Hemingway Award, the Asian American Literary Award, and the John Sargent Sr. First Novel Prize. He is a founding editor of The Believer and a former editor of the Voice Literary Supplement, and is executive editor at Penguin Press. He has recently written introductions to Anthony Powell's Afternoon Men and Russell Hoban's Turtle Diary, and liner notes for the Criterion editions of ROSEMARY'S BABY and SAFETY LAST! BUFFALO NOIR, co-edited with Brigid Hughes, is out now.
RSVP
Bookings are closed for this event.