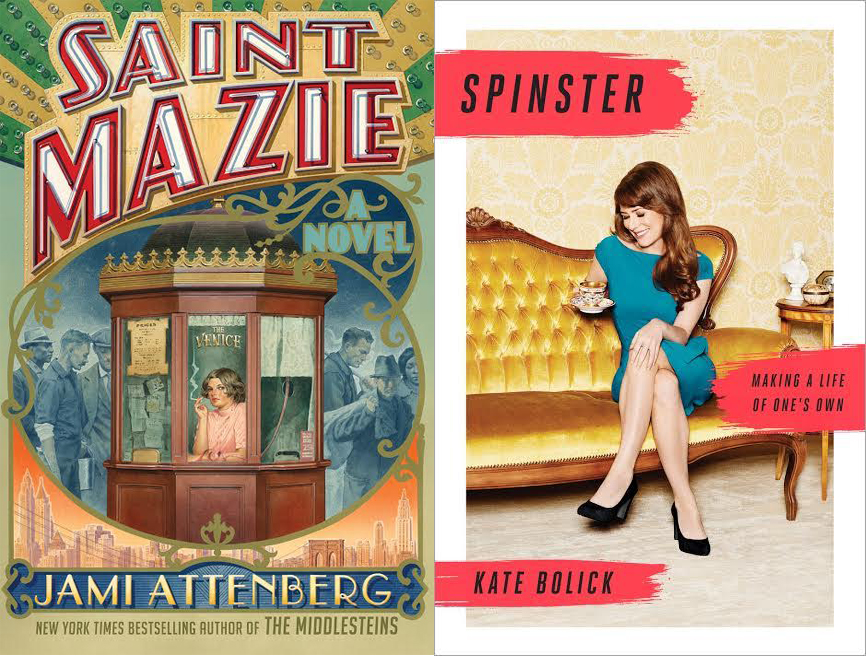 Monday Jul 20, 2015
7:00 pm - 8:00 pm
Brooklyn Bridge
334 Furman St.
Brooklyn, NY 11201
For more information, please call 718.666.3049
RSVP appreciated: RSVP@powerHouseArena.com
-or-
Please fill out the "Bookings" form at the bottom of this page.
---
Join us for the annual Books Beneath the Bridge reading series, as Jami Attenberg and Kate Bolick read from their latest books against the backdrop of the Manhattan skyline as part of this Borough-wide literary festival.  This evening will feature a reading, followed by Q&A and book signing. Lead support for Books Beneath the Bridge is provided by AT&T, and is in partnership with the Brooklyn Bridge Park Conservatory.  Click here for more information.
 About Saint Mazie:
"Jami Attenberg is a master at creating complex and compelling characters. She did it with Edie Middlestein of The Middlesteins, and she's done it again with Mazie Phillips-Gordon of Saint Mazie. While Mazie is an actual historical figure, in Attenberg's adept hands, she blossoms as a multidimensional woman who helped the down-and-out in New York City during and after the Depression, while stirring up her own mischief and bad behavior. A wonderful and thoughtful read, as relevant then as it is today, SAINT MAZIE is not to be missed." ―B.A. Shapiro, New York Times bestselling author of The Art Forger.
Meet Mazie Phillips: big-hearted and bawdy, she's the truth-telling proprietress of The Venice, the famed New York City movie theater. It's the Jazz Age, with romance and booze aplenty–even when Prohibition kicks in–and Mazie never turns down a night on the town. But her high spirits mask a childhood rooted in poverty, and her diary, always close at hand, holds her dearest secrets.
When the Great Depression hits, Mazie's life is on the brink of transformation. Addicts and bums roam the Bowery; homelessness is rampant. If Mazie won't help them, then who? When she opens the doors of The Venice to those in need, this ticket taking, fun-time girl becomes the beating heart of the Lower East Side, and in defining one neighborhood helps define the city.
Then, more than ninety years after Mazie began her diary, it's discovered by a documentarian in search of a good story. Who was Mazie Phillips, really? A chorus of voices from the past and present fill in some of the mysterious blanks of her adventurous life.
Inspired by the life of a woman who was profiled in Joseph Mitchell's classic Up in the Old Hotel, Saint Mazie is infused with Jami Attenberg's signature wit, bravery, and heart. Mazie's rise to "sainthood" – and her irrepressible spirit – is unforgettable.
About Spinster:
 "Whom to marry, and when will it happen—these two questions define every woman's existence." So begins Spinster, a revelatory and slyly erudite look at the pleasures and possibilities of remaining single. Using her own experiences as a starting point, journalist and cultural critic Kate Bolick invites us into her carefully considered, passionately lived life, weaving together the past and present to examine why she—along with over 100 million American women, whose ranks keep growing—remains unmarried.
This unprecedented demographic shift, Bolick explains, is the logical outcome of hundreds of years of change that has neither been fully understood, nor appreciated. Spinster introduces a cast of pioneering women from the last century whose genius, tenacity, and flair for drama have emboldened Bolick to fashion her life on her own terms: columnist Neith Boyce, essayist Maeve Brennan, social visionary Charlotte Perkins Gilman, poet Edna St. Vincent Millay, and novelist Edith Wharton. By animating their unconventional ideas and choices, Bolick shows us that contemporary debates about settling down, and having it all, are timeless—the crucible upon which all thoughtful women have tried for centuries to forge a good life.
Intellectually substantial and deeply personal, Spinster is both an unreservedly inquisitive memoir and a broader cultural exploration that asks us to acknowledge the opportunities within ourselves to live authentically. Bolick offers us a way back into our own lives—a chance to see those splendid years when we were young and unencumbered, or middle-aged and finally left to our own devices, for what they really are: unbounded and our own to savor.
About the Authors:
Jami Attenberg is the author of a story collection, Instant Love, and three novels, The Kept Man, The Melting Season, and The Middlesteins, which was a finalist for the Los Angeles Times Book Prize for Fiction. It will be published in nine countries. She has contributed essays and criticism to The New York Times, Real Simple, Elle, The Washington Post, and many other publications. She lives in Brooklyn, New York.
---
Kate Bolick is a contributing editor to The Atlantic. She was previously the executive editor of Domino magazine. She lives in New York.
---
RSVP
Bookings are closed for this event.