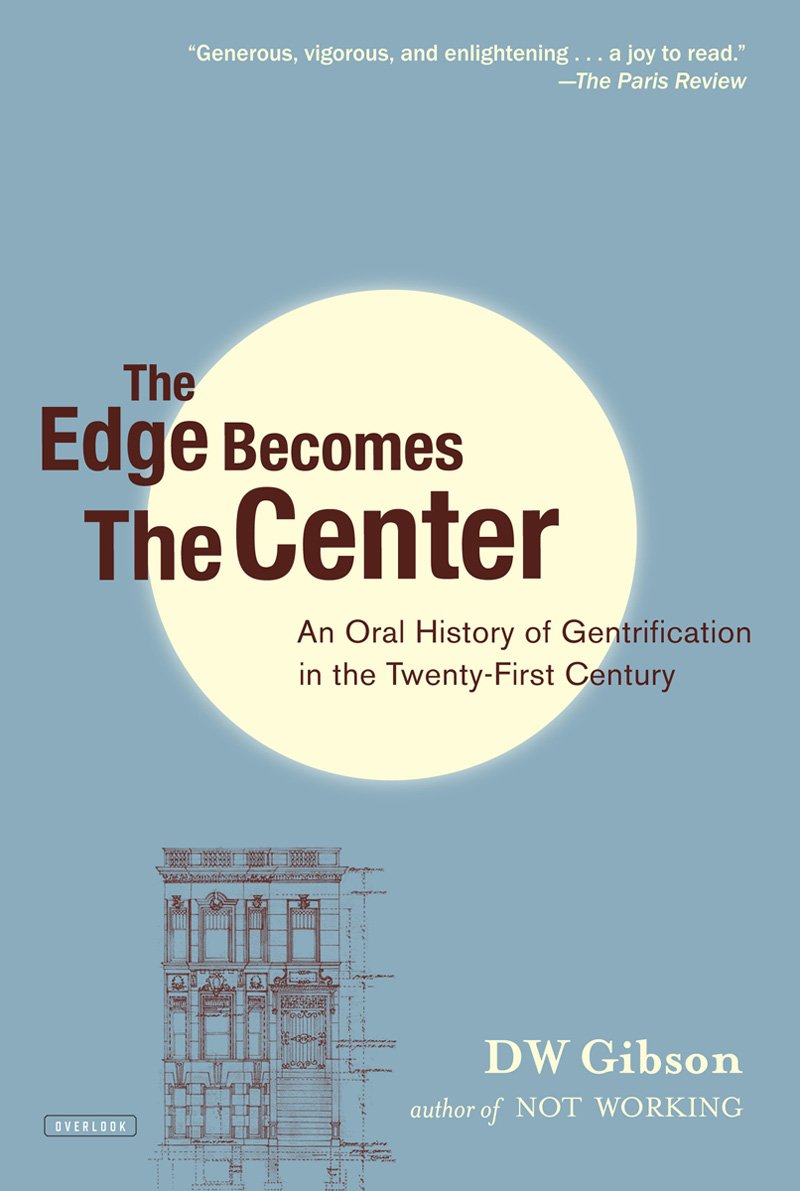 Wednesday Jul 01, 2015
7:00 pm - 9:00 pm
THE POWERHOUSE ARENA [Dumbo]
37 Main Street
Brooklyn, NY 11201
For more information, please call 718.666.3049
RSVP appreciated: RSVP@powerHouseArena.com
-or-
Please fill out the "Bookings" form at the bottom of this page.
---
In The Edge Becomes the Center acclaimed author and documentary filmmaker DW Gibson interviews individuals from all walks of life in New York City—landlords, tenants, drug dealers, politicians, artists, investment bankers, and everyone in between—to provide an intimate snapshot of the economic, social, and cultural issues that shape gentrification.
About Here The Edge Becomes the Center:
"In this impressive and multifaceted oral history…Gibson manages to capture a global city in flux." – Publisher's Weekly Starred Review
Over the last few years, gentrification has transformed our surroundings, altering the way cities look, feel, and cost. Journalists, policymakers, critics, and historians have all tried to explain just what it is that happens when new money and new residents flow into established neighborhoods, yet we've had very little access to the human side of the gentrification phenomenon. The Edge Becomes the Center, for the first time, breathes life into the complexities of gentrification that play out across the globe and highlights the attitudes and opinions of those who are directly affected in New York City, one of the fastest evolving cities in the world.
In this extraordinary oral history, DW Gibson takes gentrification out of the op-ed columns and textbooks and brings it to life. The Edge Becomes the Center is a story that will reverberate with readers across the country who have experienced how development has defined the cityscapes, neighborhoods, and communities that surround them.
About the Author and Moderator:
DW Gibson is the author of Not Working: People Talk About Losing a Job and Finding their Way in Today's Changing Economy. His work has appeared in publications such as the New York Times, New York Observer, Daily Beast, BOMB, and The Caravan. Gibson serves as director of Writers Omi at Ledig House in Ghent, New York, which is part of the Omi International Arts Center. He lives in New York City with his wife and daughter.
Mark Binelli is the author of the novel Sacco and Vanzetti Must Die! and a contributing editor at Rolling Stone and Men's Journal.  His most recent book is Detroit City is the Place to Be.  Born and raised in the Detroit area, he now lives in New York City.
RSVP
Bookings are closed for this event.