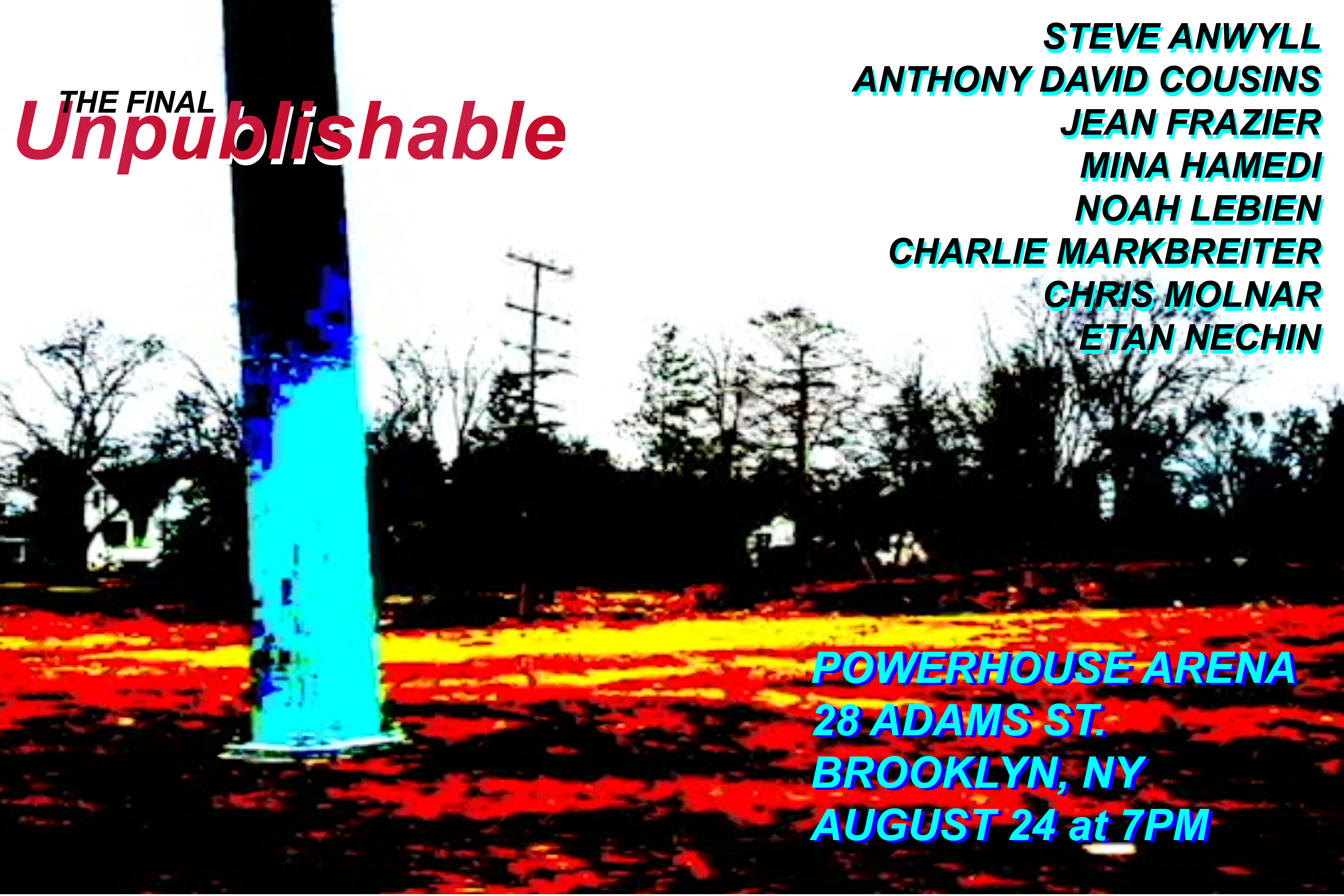 Saturday Aug 24, 2019
7:00 pm - 9:00 pm
POWERHOUSE @ the Archway
28 Adams Street (Corner of Adams & Water Street @ the Archway)
Brooklyn , NY 11201
RSVP encouraged & appreciated.
Please fill out the form at the bottom of this page if you plan on attending. Facebook event found here.
PLEASE NOTE: Submitting an RSVP for this event DOES NOT guarantee entrance. This is a free-access event — entrance will be on a first-come, first-served basis.
---
About the Event.
UNPUBLISHABLE is art that excites you, that scares you, things that you delete from your browser history. The piece you can't submit but can't stop thinking about either, burning a hole in the bottom of your desk drawer. Writing from any genre that is uncharacteristic, outré, or offending of sensibilities, that is impossible to place or be published in some fashion.
Event will include a free chapbook of pieces read as a program.
Contributors are creative writers, academics, artists & scientists living in the New York City area.
This is the fourth and final iteration of UNPUBLISHABLE – it will be replaced by ARCHWAYS, a new series with the same ideals, but whose chapbooks will be compiled into annual journals published by Archway Editions, the new imprint of powerHouse Books.
Readers & Performers:
Steve Anwyll
Anthony David Cousins
Jean Frazier
Mina Hamedi
Noah LeBien
Charlie Markbreiter
Chris Molnar
Etan Nechin
Links to the previous Unpublishables:
https://www.facebook.com/events/384235719011157/
https://www.facebook.com/events/2156586294372628/
https://www.facebook.com/events/840221636354390/
RSVP
Bookings are closed for this event.