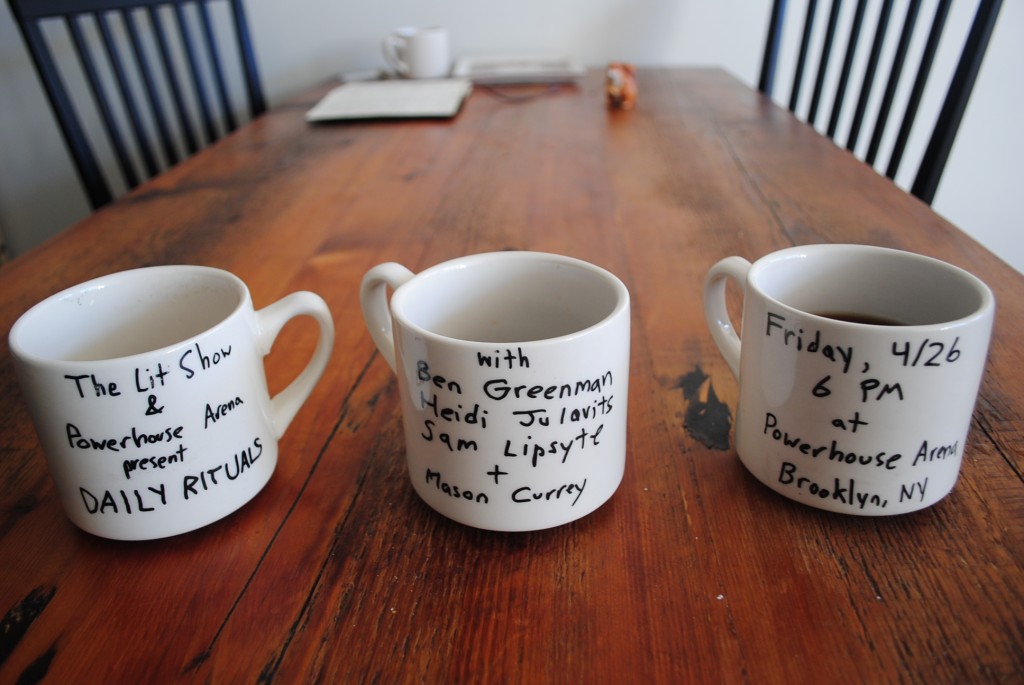 Friday Apr 26, 2013
6:00 pm - 8:00 pm
THE POWERHOUSE ARENA [Dumbo]
37 Main Street
Brooklyn, NY 11201
For more information, please call 718.666.3049
RSVP appreciated: RSVP@powerHouseArena.com
-or-
Please fill out the "Bookings" form at the bottom of this page.
---
The Lit Show presents Daily Rituals, an evening of reading and discussion at powerHouse Arena. Guests Ben Greenman, Heidi Julavits, and Sam Lipsyte read from their work and take part in conversation moderated by Mason Currey and Lit Show host Joe Fassler.
Currey's book, Daily Rituals (Alfred A. Knopf), collects insights and anecdotes about writers' daily work–and the workaday reality of writers will be our conversation topic. It's easy to become smitten with rosy notions of the creative process: the artist alone at a battered desk, composing in epiphanic fits. But inspiration, as most working artists can testify, is trickier and more elusive than romantic narratives suggest. ("Blank pages inspire me with terror," said no less a writer than Margaret Atwood.)
What habits, large and small, help writers overcome creative fear and continue working–day after day, year by year? How to forge a relationship with words that lasts and sustains a lifetime?
This event is free and open to the public, and a signing will follow. Audio and video recording by Yellow Hook Productions.
CONTRIBUTORS
Ben Greenman's new novel is The Slippage. He's an editor at The New Yorker and the author of several acclaimed books of fiction, including Superbad,Superworse, and A Circle is a Balloon and Compass Both: Stories About Human Love.
Heidi Julavits' most recent novel is The Vanishers. A founding editor of The Believer magazine, she is also the author of The Uses of Enchantment, The Effect of Living Backwards, and The Mineral Palace.
Sam Lipsyte is the author of collections The Fun Parts and Venus Drive, as well as three novels: The Ask, The Subject Steve and Home Land. He teaches writing at Columbia University.
Mason Currey is author of Daily Rituals: How Artists Work.
---
For more information, please contact
Julie Buntin, Events Coordinator
email: julie@powerhousearena.com
powerHouse Arena, 37 Main Street, Brooklyn, NY 11201
tel: 212-604-9074 x109
RSVP
Bookings are closed for this event.