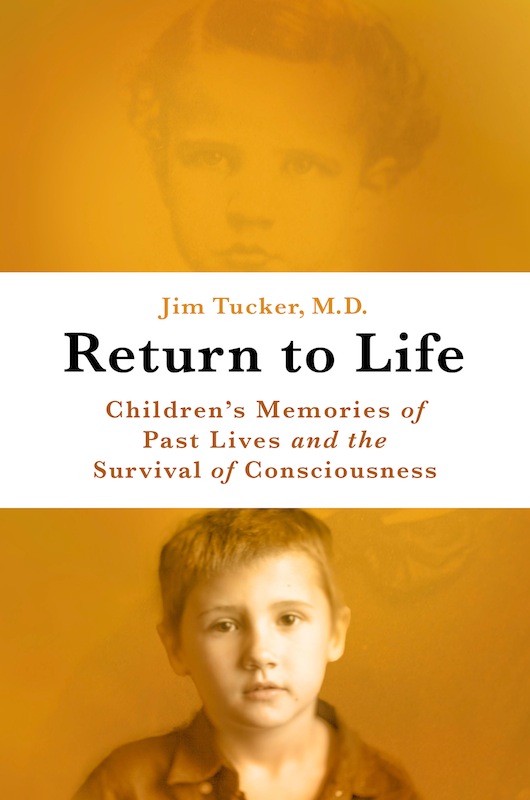 Saturday Mar 15, 2014
4:00 pm - 5:30 pm
THE POWERHOUSE ARENA [Dumbo]
37 Main Street
Brooklyn, NY 11201
For more information, please call 718.666.3049
RSVP appreciated: RSVP@powerHouseArena.com
-or-
Please fill out the "Bookings" form at the bottom of this page.
---
Dr. Tucker discusses American cases of young children who report memories of previous lives in the follow-up to his popular book Life Before Life. Writer Sharon Guskin will read fiction selections exploring similar themes.
About Return to Life:
We've all heard stories of people who claim to remember their previous lives. Whether or not we believe their accounts depends on the person, but it's exactly these assertions that sparked psychiatrist, physician and author Jim B. Tucker's interest. After careful investigation and methodical research, Tucker asserts that some children do possess memories of previous lives.
For more than a decade, Tucker has traveled the country meeting families, listening to children tell memories of their past lives and concluding the validity of those memories. For each case, his goal—to determine what happened—remains the same, as does his method of reasoning where he takes into account what the child has said, how the parents have reacted, whether the child's statements match the life of a particular deceased person and whether the child could have learned such information through normal means.
RETURN TO LIFE  is a first-person account of Tucker's research and experiences with these extraordinary children. Serving as a follow-up to his first book, Life Before Life, which focuses on cases primarily in Southeast Asia where beliefs in past and future lives are widely accepted, Tucker's newest work threatens the geographic and cultural argument by focusing on children in America.
Readers will meet a boy who describes a previous life on a small island. When Tucker takes him to that island, he finds that some details eerily match the boy's statements. Another boy points to a photograph from the 1930s and says he used to be one of the men in it. Once the laborious efforts to identify that man are successful, many of the child's numerous memories are found to match the details of his life.
Thought-provoking and captivating, RETURN TO LIFE urges its readers to think about life and death, and reflect about their own consciousness and spirituality. The stories are told with attention to detail and fact, so that even a skeptical reader won't be able to dismiss Tucker's serious analysis and observation. Tucker delves into the science of quantum physics, carefully intertwining these studies with our scientific understanding of the world, as he ultimately tackles the big question of what happens to our bodies and souls when we die.
About the Author and Contributor:

JIM B. TUCKER, M.D. is Bonner-Lowry Associate Professor of Psychiatry and Neurobehavioral Sciences at the University of Virginia. He is continuing the work of Ian Stevenson at the UVA Division of Perceptual Studies with children who report memories of previous lives. His first book on the research, Life Before Life: A Scientific Investigation of Children's Memories of Previous Lives, has been translated into ten languages. He lives in Charlottesville, Virginia, with his family. For more information, visit his website at www.jimbtucker.com
Sharon Guskin's first novel will be published by Amy Einhorn Books/Putnam. She has also written professionally for television and documentary film. She has degrees from Yale College and Columbia University and lives in Brooklyn with her family.
---
For more information, please contact
Justin Levine
email: justin@powerhousearena.com
powerHouse Arena, 37 Main Street, Brooklyn, NY 11201
tel: 212-604-9074 x109
RSVP
Bookings are closed for this event.