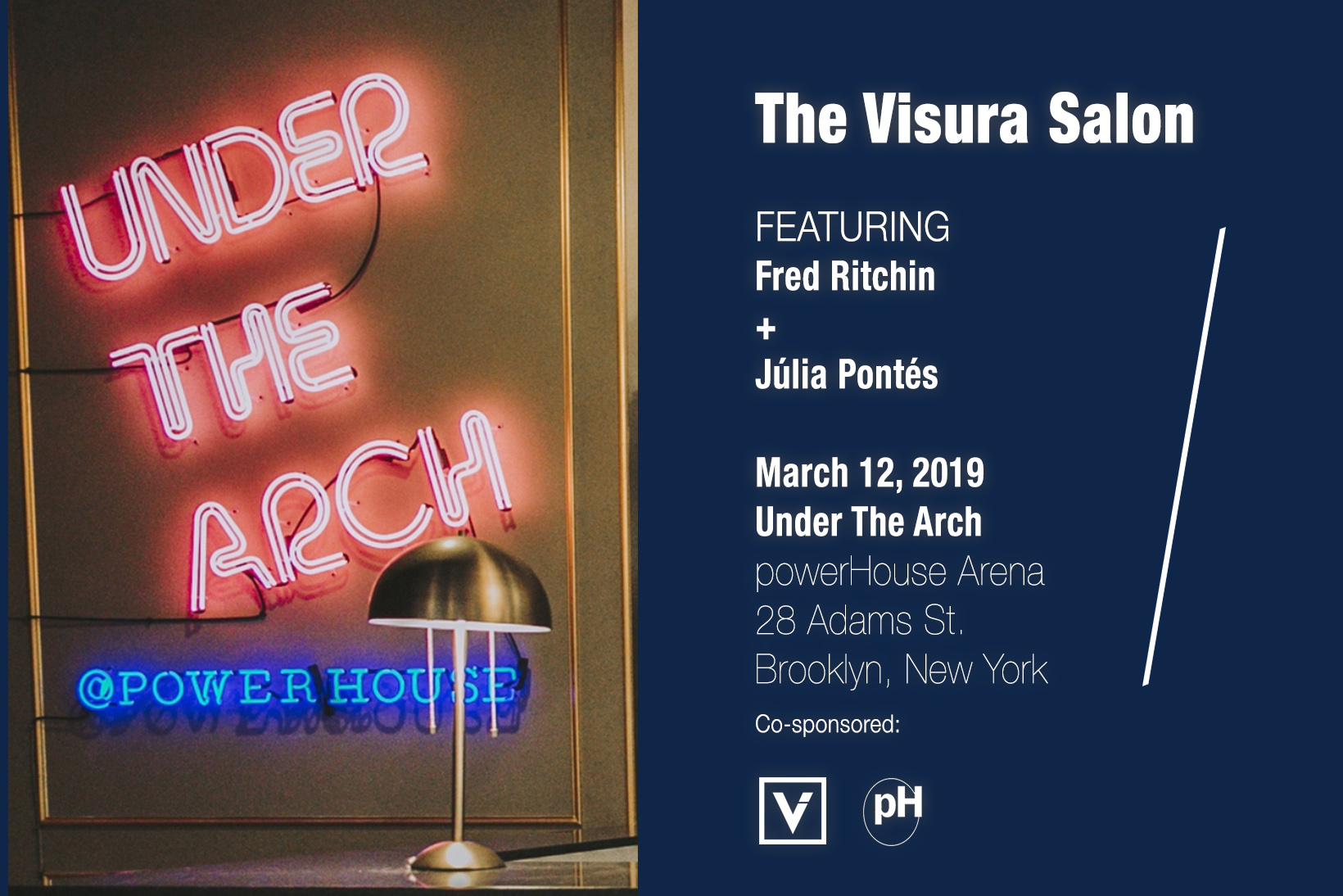 Tuesday Mar 12, 2019
7:00 pm - 9:00 pm
POWERHOUSE @ the Archway
28 Adams Street (Corner of Adams & Water Street @ the Archway)
Brooklyn , NY 11201
RSVP encouraged & appreciated.
Please fill out the form at the bottom of this page if you plan on attending. Facebook event found here.
PLEASE NOTE: Submitting an RSVP for this event DOES NOT guarantee entrance. This is a free-access event — entrance will be on a first-come, first-served basis.
---
About the Event.
We are proud to debut the Visura Salon Series, a new evening series presented by Visura and the new POWERHOUSE Lounge, located in the upper deck of the DUMBO Arena bookstore, which will celebrate, with slideshows and animated discussion, new and successful forms of storytelling being deployed today. Photography, film, design, science, technology, engineering, art, health, social-humanitarian, environmental, educational, photojournalistic, and pop cultural ecosystems will be highlighted and explored in images, video, presentations, and panel talks.
Dean Emeritus of the International Center of Photography (ICP) School Fred Ritchin presents Four Corners, a new approach to contextualizing photographs online, and discusses the Post-Photographic Challenge, or how to make a difference in society at a time of diminished media credibility. And Brazilian photographer Júlia Pontés presents her long-term aerial portrayal and documentation of the devastation caused by mining in Brazil. This work was recently recognized by Harvard University's Planetary Health Alliance and published on Bloomberg Businessweek.
About The Speakers.
Fred Ritchin is the Dean Emeritus of the International Center of Photography (ICP) School. Ritchin founded the Photojournalism and Documentary Photography Program at the ICP School and directed it from 1983–86. He was appointed Dean in 2014 and Dean Emeritus in 2017. Ritchin was professor of Photography and Imaging at New York University's Tisch School of the Arts from 1991–2014, where he co-founded the NYU/Magnum Foundation Photography and Human Rights educational program; picture editor of the New York Times Magazine (1978–82); and executive editor of Camera Arts magazine (1982–83); and, co-founder and director of the online publication PixelPress.  He has published three books on the future of imaging: In Our Own Image: The Coming Revolution in Photography (Aperture, 1990); After Photography (W. W. Norton, 2008); and Bending the Frame: Photojournalism, Documentary, and the Citizen (Aperture, 2013). In 1994-95 he created the first multimedia version of the New York Times, and in 1997 was nominated by the Times for a Pulitzer Prize in Public Service for the online documentary, "Bosnia: Uncertain Paths to Peace," along with photographer Gilles Peress.
Portrait Photo of Fred by Ports Bishop
Júlia Pontés is an artist, aerial photographer, and photographic printer based between São Paulo and New York.  Born in Minas Gerais, Brazil, Pontés graduated at the International Center of Photography in 2015, during which she mentored with Fred Ritchin. Since, she has been chosen twice for the Emerging Immigrant Artist Program by the New York Foundation for the Arts, and granted a Lillian Disney Scholarship from CalArts and the Allan Sekula Social Documentary grant. In 2018, Júlia joined Visura.co, where her long term project on the humanitarian and environmental devastation caused by mining in her hometown State of Minas Gerais in Brazil was discovered and recognized by Harvard University's Planetary Alliance. Before long, images from this project were published in Bloomberg Businessweek.
Visit her website: juliapontes.com /
Portrait Photo of Júlia by Alexandre Almeida
RSVP
Bookings are closed for this event.