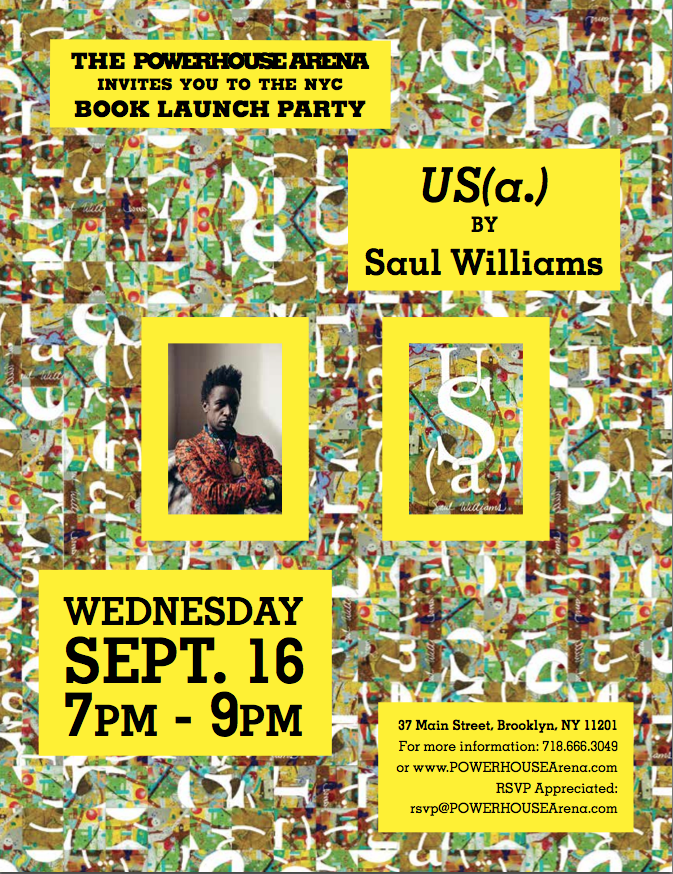 Wednesday Sep 16, 2015
7:00 pm - 9:00 pm
THE POWERHOUSE ARENA [Dumbo]
37 Main Street
Brooklyn, NY 11201
For more information, please call 718.666.3049
RSVP appreciated: RSVP@powerHouseArena.com
-or-
Please fill out the "Bookings" form at the bottom of this page.
---
In his greatly anticipated new full-length book of poetry, "the poet laureate of hip-hop" (CNN) Saul Williams presents his ideas, observations, realizations, dreams, and questions about the state of America, the American psyche, and what it means to be American.
About US(a.):
After living abroad for four years, Saul Williams returned to America and found his head twirling with thoughts on everything from race, class, and gender, to finance, freedom, and guns, to cooking shows, dog shows, superheroes, not-so-super politicians, and everything else that makes up our country.
US(a.) is a collection of poems that embodies the spirit of a culture that questions sentiments and realities, embracing a cross-section of pop culture, hip-hop, and the greater world politic of the moment. It's a punk rock oracular testament that speaks to the rebellious teen as well as the sheltered suburban dreamer. Saul Williams explores what social media may only hint at—the fact that times and realities have changed, yet there is a connect and a disconnect. We are wirelessly connected to a past and path to which we are, possibly, chained.
Saul Williams aims to stop and frisk the moment, make it empty its pockets, and chronicle what's inside. Here is an extraordinary book that will find its place in the hands and minds of a new generation.
About the Author and Moderator:
Saul Williams is an acclaimed poet, musician, and actor. The film Slam, which he cowrote and starred in, won the Grand Jury Prize at the Sundance Film Festival (1998), and the Camera d'Or at the Cannes Film Festival. He has contributed to The New York Times, voiced Jean-Michel Basquiat in Downtown 81, and cut records with Rick Rubin and Trent Reznor. He has spoken at more than 200 universities where his poetry has been added to the curriculum of dozens of creative writing programs, and has taught poetry/performance workshops around the world. He recently starred in the Broadway musical Holler If Ya Hear Me. His books include S/HE, ,said the shotgun to the head., and The Dead Emcee Scrolls. He lives in New York. Visit his website at SaulWilliams.com.
Miles Marshall Lewis is an award-winning pop culture critic, essayist, literary editor, fiction writer and music journalist. He is the author of Scars…,There's a Riot Goin' On and Irrésistible, as well as editor and creator of Bronx Biannual literary journal. During the past 20 years, he has written for The New York Times, Ebony, The Nation, The Washington Post, Rolling Stone, The Believer, Wax Poetics, Essence, Dazed and Confused, Salon.com, The Huffington Post and many other publications.
---
RSVP
Bookings are closed for this event.