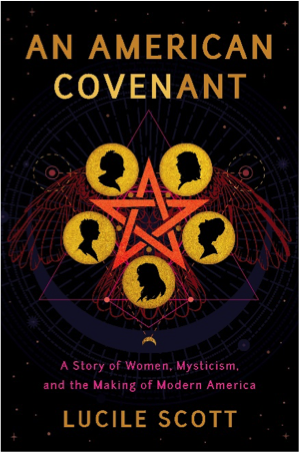 Monday Oct 05, 2020
7:00 pm - 8:00 pm
POWERHOUSE @ the Archway
28 Adams Street (Corner of Adams & Water Street @ the Archway)
Brooklyn , NY 11201
This event is virtual!  Registration link here!
PLEASE NOTE: Submitting an RSVP for this event DOES NOT guarantee entrance. This is a free-access event — entrance will be on a first-come, first-served basis.
---
Featuring a ritual led by Lauren Ludwig and Mason Flink, artist-witches from the collective THIRD SPACE.
***
About the Book.
During these strange and uncharted times, where each day takes us deeper into the unknown, people everywhere are searching for escape, solace, and purpose. Therein lies a mystical space – one both familiar and foreign in pop culture – where hope, liberation, and understanding are the foundation for living. In AN AMERICAN COVENANT: A Story of Women, Mysticism, and the Making of Modern America by debut author Lucile Scott, readers can join the author on a journey into the deep and rich history of mystic resistance and five women who transcended the expected to transform America. This is not a mere foray into the lives of mystic women and witches and their memorable followings. This is a woman's journey as she tries to forge a mystic path through both her personal and cosmic chaos and explore how these five women's legacies continue to mold today's cadre of altar-building, crystal-carrying, Resistance-leading, feminist witches looking to #HexThePatriarchy nationwide. 
For centuries, women who emerge as mystic leaders have played vital roles in American culture. For just as long, they've been subjugated and ridiculed. Today, women and others across the nation are once again turning to their mystic powers to #HexThePatriarchy and help fight the forces that seem bent on relegating them to second-class citizenry.
Amid this tumult, Lucile Scott looks to the past and the stories of five women over three centuries to form an ancestral spiritual coven: Marie Laveau, the Voodoo Queen of New Orleans; Cora L. V. Scott, nineteenth-century Spiritualist superstar; Helena Blavatsky, mother of Theosophy; Zsuzsanna Budapest, feminist witch and founder of Dianic Wicca; and Marianne Williamson, presidential candidate and preacher of the New Age Gospel of Love. Each, in their own ways, defied masculine preconceptions about power.
A scathing queer feminist history and a personal quest for transcendence, AN AMERICAN COVENANT opens our eyes to the paths forged by women who inspired the nation in their own times—and who will no longer be forgotten or silenced in ours.
About The Author.

Lucile Scott is a Brooklyn-based writer and editor. She has reported on national and international health and human rights issues for over a decade. Most recently, she has worked at the United Nations and amfAR, the Foundation for AIDS Research, and has contributed to such publications as VICE and POZ magazines. In addition, she has written and/or directed plays that have been featured at numerous New York City venues, as well as in Edinburgh and Los Angeles. In 2016 she hit the rails as part of Amtrak's writer's residency program. An American Covenant is her first book. She hails from Kentucky and moved to New York after graduating from Northwestern University.
About The Moderator.
Mira Ptacin is author of the acclaimed memoir  Poor Your Soul as well asThe In-Betweens: The Spiritualists, Mediums, and Legends of Camp Etna. She lives on Peaks Island, Maine, with her family and is currently working on her next book. www.miraMptacin.com
About The Witches.
THIRD SPACE is an arts collective working to bring about a world that is both real and imagined. We experiment with hybrid art-forms that address the fractured nature of our times. Our work creates interactive containers that allow participants to tell a new story for America and feel the way forward.
Lauren Ludwig is a writer, director, and witch who believes deeply in the transformative power of collective experiences. Their work focuses on emotional activism, utilizing comedy, ritual, interactive storytelling, and healing modalities to create spaces for change. They are the director of CAPITAL W, an immersive theater company, and a founding member of THIRD SPACE.
Mason Flink is a writer, director, and witch in search of a New America. His work encourages radical acts of imagination, a renewed connection to the earth, and the abandonment of social media. He makes immersive theater with CAPITAL W, folk music/sociohistorical critique with SIDE OF THE STORY, and brownies with oat flour. He is a founding member of THIRD SPACE.
Tiffany Alzatti is a drama television writer/claircognizant witch. As a Latinx cathartic storyteller, she explores themes of consent, sexuality, and cultural identity. Her eclectic craft connects her to Grandmumma Moon for manifestation rituals, quantum dreams, and sex magic. She spends most of her time spoiling her bearded dragon familiar.
Sarah Sellman is a writer, director, and witch who uses genre narratives to explore the role of myth in distorting and healing personal and generational trauma. She offers tarot readings for story problems, builds the bridge to the future with other creatives, and sometimes writes zombie television for Netflix.  She is a founding member of THIRD SPACE.