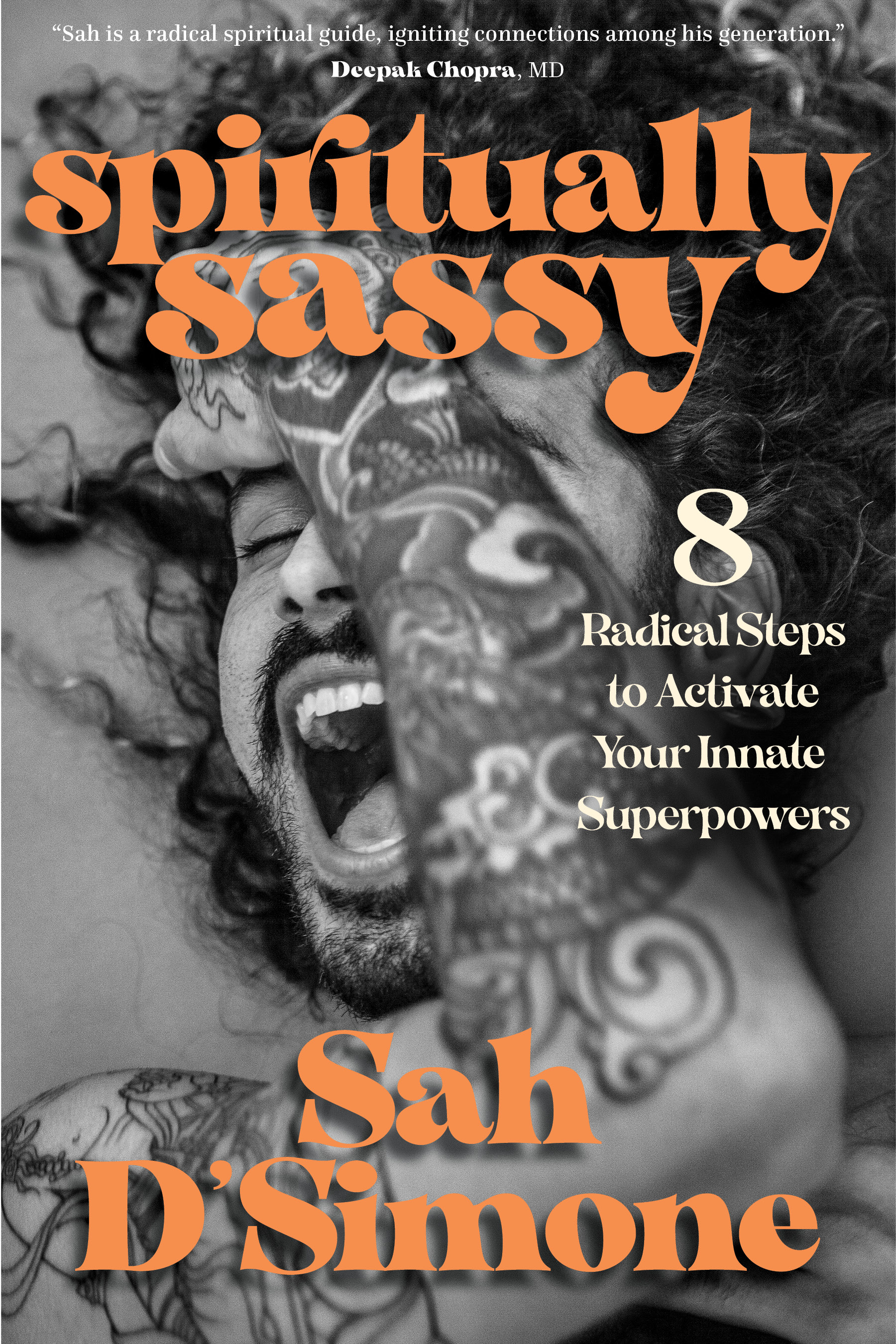 Tuesday Sep 22, 2020
7:00 pm - 8:00 pm
POWERHOUSE @ the Archway
28 Adams Street (Corner of Adams & Water Street @ the Archway)
Brooklyn , NY 11201
This event is virtual!  Registration link here!
Signed copies exclusively available at POWERHOUSE.
PLEASE NOTE: Submitting an RSVP for this event DOES NOT guarantee entrance. This is a free-access event — entrance will be on a first-come, first-served basis.
---
About the Book.
"Sah is a radical spiritual guide, igniting connections among his generation. Spiritually Sassy encourages us to embrace our own very personal version of inner freedom and is a celebration of boundless living!" —Deepak Chopra, MD
Wild dance parties, vegan cake, and meaningful spirituality. Stop trying to put yourself into a box of what spirituality "should" look like―because, honey, being yourself is spiritual.
This is what Sah D'Simone shares in Spiritually Sassy, a guide for a generation that celebrates diversity, authenticity, and freedom both in life and on the spiritual path.
A queer, brown, flamboyant, immigrant spiritual seeker, Sah is a voice for anyone who wants to grow in creative ways. To be of service and make an impact on the world. To embrace their fierce, funny, and fabulous selves―even the parts they might feel ashamed of or figure just aren't "spiritual" enough.
With Spiritually Sassy, Sah distills the art of living well in our modern world into eight radical yet totally attainable steps. By incorporating scientifically backed principles of modern psychology with time-tested Buddhist techniques―and a heavy dose of sassy sauce―Sah will help you unblock your heart, befriend your mind, and live your truth out loud. In other words, he'll help you find your sass.
Highlights include:
– Clear out old ways of thinking to make room for a new story that reflects your fabulous heart―and quiets your inner critic
– Overcome imposter syndrome and know you are worthy of love, abundance, and joy
– Get out of your own way in a big way
– Uncover your true self to become spiritual―and sassy―AF
– Get real about your dreams and goals, and learn powerful manifestation practices to help make them happen
– Embrace your superpowers―the gifts and talents that help you live your purpose
– The importance of looking beyond yourself to your community, your tribe, and how you give back
– Plus―tons of practices for meditation, breath work, mantra, movement, journaling, working with your mind, and more
"It is my mission in life to help you find your sass, whatever that means for you," writes Sah, "so it can radiate out and touch everything you do."
Spiritually Sassy isn't a quick fix, spiritual bypassing, or entitlement. It's a life-embracing path to awakening in modern times. Dive in to uncover your most radically authentic and spiritual self―and get sassy AF.
About The Author.
Sah D'Simone is a spiritual guide, meditation teacher, transformational speaker, and bestselling author. He leads a heart-based healing movement rooted in tried-and-true techniques, pioneering a Spiritually Sassy approach in which joy and authenticity illuminate the path to enlightenment.
Born in Brazil, Sah immigrated to the US at age 16. By his early 20s, he had found great success in the fashion industry as cofounder and creative director of an international fashion magazine, and yet he was overwhelmed by addiction, depression, and anxiety. In 2012, he walked away from everything and began an intensive search for health and well-being.
In 2013, Sah embarked on a journey to Nepal, India, Thailand, and Indonesia to study with great spiritual masters such as His Holiness the Dalai Lama, Lama Zopa Rinpoche, and Jetsunma Tenzin Palmo. Sah developed a revolutionary healing approach blending ancient Tantric Buddhism and modern contemplative psychotherapy, served with a twist of his trademark sass. He is also passionate about sharing his mission with the underserved, advocating for mental health and well-being in the LGBTQIA+ and POC communities.
Sah's approach has helped enrich the lives of thousands through his teachings. He has shared the stage with Deepak Chopra, Yung Pueblo, Ruby Warrington, and Dan Harris. His first book, 5-Minute Daily Meditations, is an international bestseller, translated into Spanish, Chinese, and Dutch. He has been invited to speak at TEDx, and his client list includes Google, MoMA, Kanye West, Cannes Lions, American Express, the United Nations, New Balance, Bloomingdale's, and Havas. For more, visit sahdsimone.com.
Alexandra Roxo
is a writer, artist, and cofounder of the online community and ritual program Radical Awakenings. Her writing on the intersection of spirituality, sexuality, and healing has been featured in Girlboss, 
Teen Vogue
, MindBodyGreen, and more. Her film and TV work with Vice and her iconic web show 
Be Here Nowish
 have been viewed by millions. Alexandra is the author of 
F*CK LIKE A GODDESS: Heal Yourself. Reclaim Your Voice. Stand in Your Power
, which has been covered by 
Bustle
, 
Refinery29
, 
InStyle.com
, and others. She has been featured in the 
New York Times, Playboy, 
the
 Guardian
, and 
Nylon 
magazine for her raw and sensual approach to healing and wellness and storytelling. She has also been named a modern spiritual leader by Well+Good. She currently lives in Los Angeles. For more, visit 
alexandraroxo.com
.