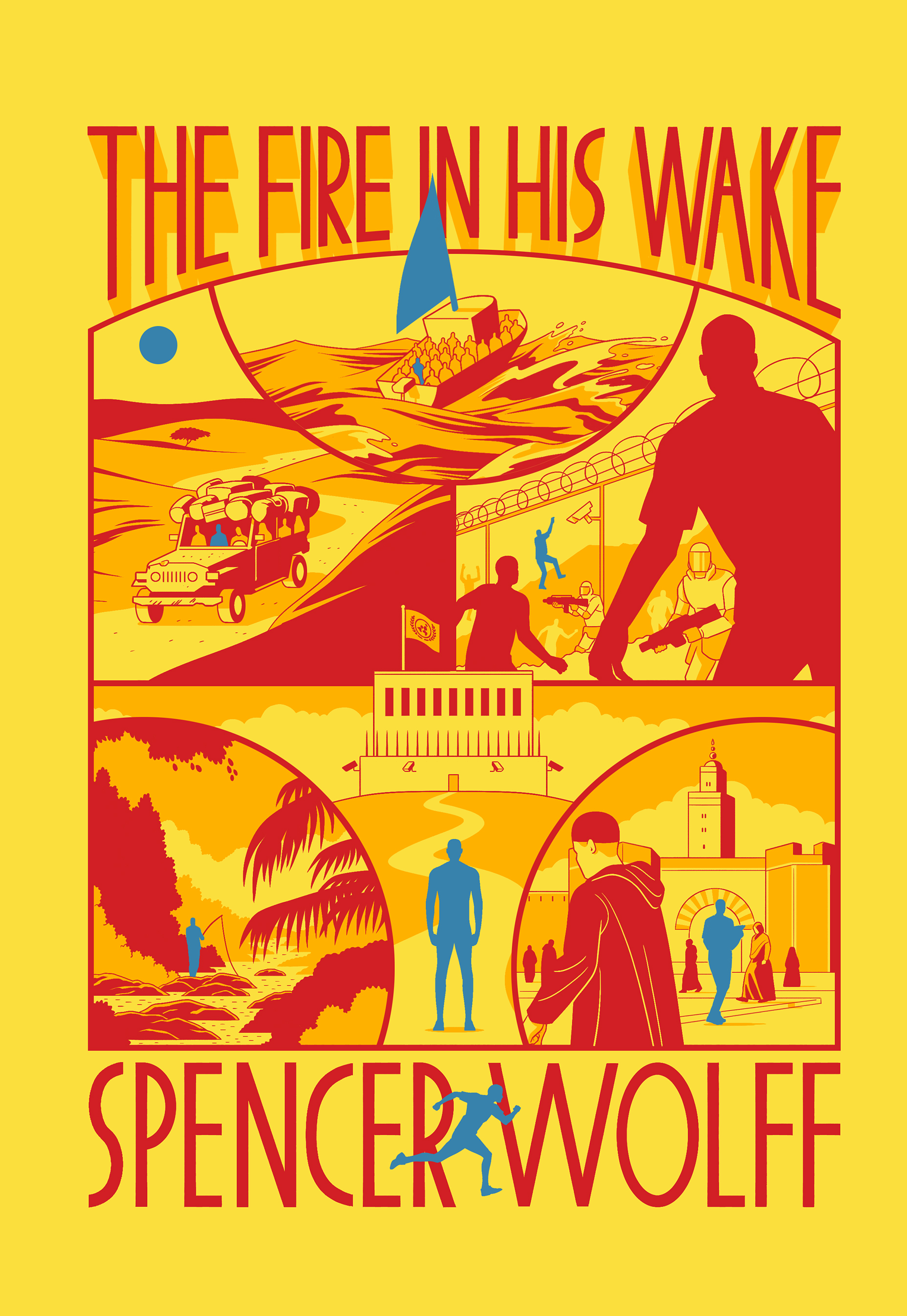 Wednesday Jul 29, 2020
7:00 pm - 8:00 pm
POWERHOUSE @ the Archway
28 Adams Street (Corner of Adams & Water Street @ the Archway)
Brooklyn , NY 11201
This event is now virtual!  Registration link here!
PLEASE NOTE: Submitting an RSVP for this event DOES NOT guarantee entrance. This is a free-access event — entrance will be on a first-come, first-served basis.
---
About the Book.
The Fire in His Wake, Spencer Wolff's exuberant debut novel, tells the story of two men swept up in refugee crises of the twenty-first century: Simon, a young employee at the UNHCR in Morocco, and Arès, a Congolese locksmith left for dead in the wake of ethnic violence.In search of a better future, Arès embarks on an epic journey across northern Africa with Europe as his goal. He reaches Rabat, Morocco, where he joins a desperate community of exiles fighting for survival in a hostile land. While Arès risks everything to make it to Spain, Simon gradually awakens to a subterranean world of violence that threatens his comfortable expat life and fledgling romance with a Moroccan singer. Part colorful portrait of life in the Maghreb, part astonishing tale of hope and perseverance, The Fire in his Wake carries the reader from the inner sanctums of the UN to the hazardous realities faced by the refugees in the streets and on their risky crossings to Europe.
When a storm gathers at the UNHCR, and the ghosts of the Congo's violence surface in Rabat, the two men find themselves on a collision course, setting the stage for the novel's unforgettable and genre-busting ending. Eye-opening, suspenseful, and full of unexpected humor, Wolff brings his personal experiences as an aid worker to this unforgettable story of two remarkable individuals.
Praise for Fire in His Wake
"There is not a page of "The Fire in His Wake" that is not skillfully written and compelling… an utterly successful first novel, one that sports a flair for harrowing adventure matched with a complex political conscience… it is not too early to say Mr. Wolff's novel will be one of the best debuts of the year."
—The East Hampton Star
"A dazzling first novel about a Congolese refugee…The Fire in His Wake addresses pressing themes of our times—migration, human rights, and the refugee crisis. Splendidly ambitious both in narrative scope and formal innovation….Wolff has managed, with enviable dexterity and sensitivity, to tell the story of an African without reducing his humanity or pretending to comprehend or sublimate his suffering."
—Nyuol Lueth Tong, editor-in-chief of the Bare Life Review, a journal of immigrant and refugee literature
"The Fire in His Wake is a work of extraordinary empathetic and imaginative power. With a lot of heart, and in vivid prose, Spencer Wolff has done that brave and difficult—and ever more rare—thing we most need our novelists to do: painstakingly imagine himself into lives and circumstances starkly different than his own. It is an astonishing debut."
—Thomas Chatterton Williams, author of Self-Portrait in Black and White
"A devastating and infuriating story written with compassion, style, and grace. Beyond the harrowing depictions of torture and war, this chilling tale of a heartbreaking life is, at its core, a struggle to come to terms with something much worse: the maddening hypocrisy at our borders, the violence that Western powers inflict on the stories of refugees who arrive at their doors."
—Dina Nayeri, author of The Ungrateful Refugee
"At this dark hour of shuttered borders and hearts, can the novel still expose a human truth that finds no footing in statistics or news reports? With incandescent lyricism and wry fury, Spencer Wolff's The Fire in His Wake builds to its remarkable answer: only by confronting the existential fullness of today's refugees, migrants, and so many abandoned aspirants—the picaresque comedy alongside the tragedy—can we see that it is those of us living in the shadow of fences and walls who are truly adrift.
—Greg Jackson, author of Prodigals: Stories
About The Author.

Spencer Wolff is an award-winning documentary filmmaker and journalist based in Paris, France. An adjunct faculty member of the École normale supérieure (Paris), he teaches a Master's course focused on the history of diaspora and migration. A graduate of Harvard College and Columbia Law School, he worked at the UN Refugee Bureau (UNHCR) in Rabat, Morocco in 2009. The Fire in his Wake is his first novel.
About The Moderator.
Nyuol Lueth Tong is a writer from South Sudan and the editor-in-chief of the Bare Life Review, a journal of immigrant and refugee literature. Tong is the editor of the first-ever anthology of short fiction from South Sudan, There Is a Country (McSweeney's, 2013), as well as In Their Faces a Landmark: Stories of Movement and Displacement (McSweeney's, 2018), a collection of stories by immigrant and refugee writers. Tong studied philosophy and comparative literature at Duke University and fiction at the Iowa Writers' Workshop.
His short fiction has appeared in McSweeney's, The Baffler, IntersectMagazine, New Sudan, Gurtong, and NPR, among other publications. He is a Ph.D. student of Comparative Literature at Yale University.