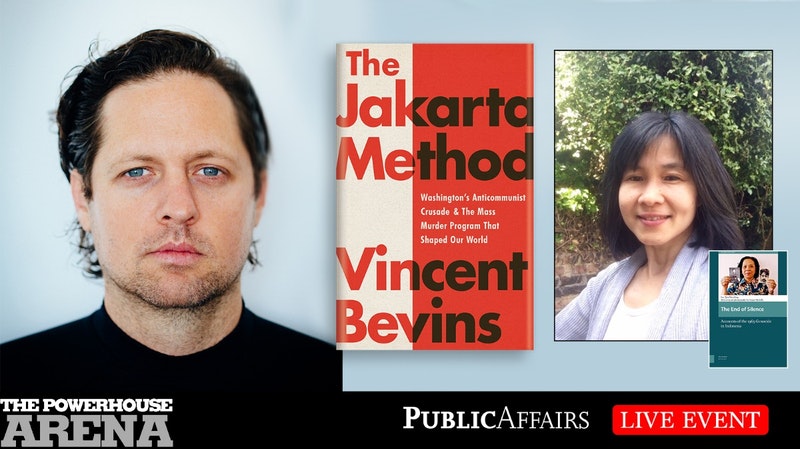 Thursday Aug 13, 2020
6:00 pm - 7:00 pm
POWERHOUSE @ the Archway
28 Adams Street (Corner of Adams & Water Street @ the Archway)
Brooklyn , NY 11201
This event is virtual!  Registration link here!
PLEASE NOTE: Submitting an RSVP for this event DOES NOT guarantee entrance. This is a free-access event — entrance will be on a first-come, first-served basis.
---
PublicAffairs and POWERHOUSE Arena present a conversation with Vincent Bevins and Soe Tjen Marching about THE JAKARTA METHOD: Washington's Anticommunist Crusade and the Mass Murder Program that Shaped Our World
About the Book.
n 1965, the US government secretly helped the Indonesian military kill approximately one million innocent civilians effectively eliminating the largest communist party outside of China and the Soviet Union. The massacre ranks "as one of the worst mass murders of the 20th century, along with the Soviet purges of the 1930's, the Nazi mass murders during the Second World War, and the Maoist bloodbath of the early 1950's," according to a decades old CIA report.
The world has believed that parts of the developing world passed peacefully into the US-led capitalist system. Instead, the terror in Indonesia inspired copycat programs in faraway countries like Brazil and Chile. These events remain widely overlooked, precisely because the CIA's secret interventions were so successful.
In The Jakarta Method, Bevins builds on his incisive reporting for the Washington Post, using recently declassified documents, archival research and eye-witness testimony collected across twelve countries to reveal a shocking legacy that spans the globe. Here he reveals that the brutal extermination of unarmed leftists was a fundamental part of Washington's final triumph in the Cold War.
About The Author.

Vincent Bevins is an award-winning journalist and correspondent. He covered Southeast Asia for the Washington Post, reporting from across the entire region and paying special attention to the legacy of the 1965 massacre in Indonesia. He previously served as the Brazil correspondent for the Los Angeles Times, also covering nearby parts of South America, and before that he worked for the Financial Times in London.
Among the other publications he has written for are the New York Times, The Atlantic, The Economist, the Guardian, Foreign Policy, the New York Review of Books, Folha de S.Paulo, The New Republic, The New Inquiry, The Awl, The Baffler, and New York magazine. Vincent was born and raised in California and spent the last few years living in Jakarta.
About The Moderator.
Soe Tjen Marching is a writer, academic, activist, and an award winning composer of avant-garde music from Indonesia. Her most recent book is The End of Silence: Accounts of the 1965 Genocide in Indonesia (Amsterdam University Press). Her novel about the 1965 genocide in Indonesia will be published in September 2020.  She is now senior lector in Indonesian at SOAS University of London.