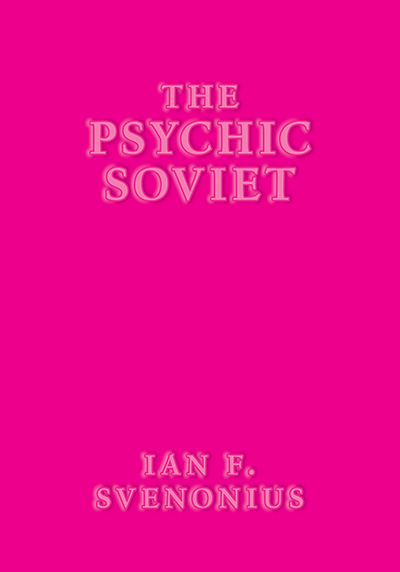 Monday Jul 06, 2020
7:00 pm - 9:00 pm
POWERHOUSE @ the Archway
28 Adams Street (Corner of Adams & Water Street @ the Archway)
Brooklyn , NY 11201
This event is now virtual!  Register here!
PLEASE NOTE: Submitting an RSVP for this event DOES NOT guarantee entrance. This is a free-access event — entrance will be on a first-come, first-served basis.
---
About the Book.
A new, expanded collection of essays and articles from one of the mainstays of the Washington, DC, underground rock and roll scene, The Psychic Soviet is Ian F. Svenonius's groundbreaking first book of writings. The selections are written in a lettered yet engaging style, filled with parody and biting humor that subvert capitalist culture, and cover such topics as the ascent of the DJ as a star, the "cosmic depression" that followed the defeat of the USSR, how Seinfeld caused the bankruptcy of modern pop culture, and the status of rock and roll as a religion. The pocket-sized book is bound with a durable bright-pink plastic cover, recalling the aesthetics of Mao's Little Red Book, and perfect for carrying into the fray of street battle, classroom, or lunch-counter argument.
Table of Contents
Instructions
 The Psychic Soviet
 Vampirism & Vampirology
 The Bloody Latte
 Beatles vs. Stones
 Rock 'N' Rolligion
 The Responsible Use of Rock 'N' Roll
 Eat the Rocument
 Time As Money
Seinfeld Syndrome
  Rock 'N' Roll As Real Estate
A Warning to Swedish Girls
 Scion-tology
Mordor Dearest
Camp Exploitation
The Stilyagi
The Seduction of Paolo Hewitt
The Mix Master Race
You Can't Always Get No Satisfaction
Personal Inscription
Afterword (to the second edition)
Epilogue: The Psychick Psketchbook
About The Author.
IAN F. SVENONIUS is the author of the underground best sellers The Psychic Soviet, Supernatural Strategies for Making a Rock 'n' Roll Group, and Censorship Now!! He was also the host of VBS.tv's Soft Focus, where he interviewed Mark E. Smith, Genesis P. Orridge, Chan Marshall, Ian MacKaye, and others. As a musician he has created more than twenty albums and countless singles in various rock and roll combos (Chain & the Gang, Weird War, The Make-Up, The Nation of Ulysses, etc.). He lives in Washington, DC.