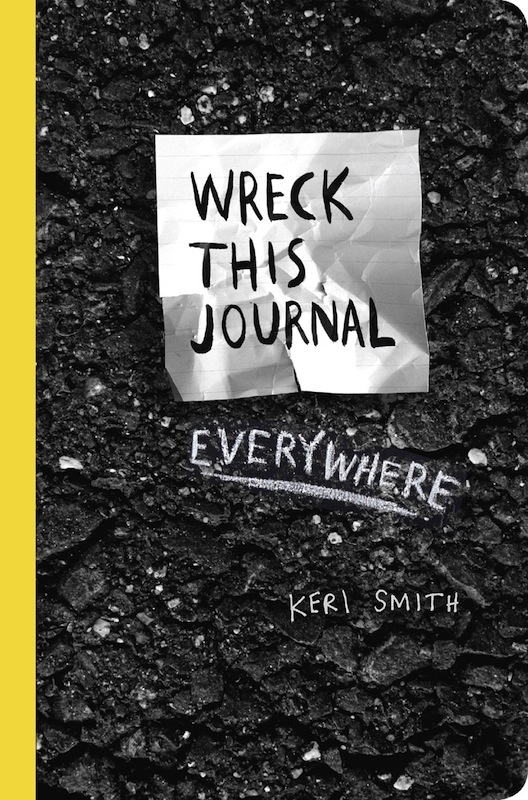 Sunday Jun 08, 2014
3:00 pm - 5:00 pm
THE POWERHOUSE ARENA [Dumbo]
37 Main Street
Brooklyn, NY 11201
Category(ies)
For more information, please call 718.666.3049
Ages 8+
RSVP appreciated: RSVP@powerHouseArena.com
-or-
Please fill out the "Bookings" form at the bottom of this page.
---
In honor of Keri Smith's newest book, WRECK THIS JOURNAL EVERYWHERE, this kid and teen-friendly event is a celebration of creativity, imperfection and exploration. Come immerse yourself in the world of Wreck by scribbling, doodling, writing, coloring, stomping, and best of all…destroying gigantic, Alice in Wonderland-style pages of the book. Crayons, markers, chalk, stickers and other fun "wrecking tools" will be provided, as well as wreckable badges and t-shirts for at-home wrecking.
About the Wrecking phenomenon:
With more than two million copies sold, Keri Smith's "creativity through destruction" guidebook—WRECK THIS JOURNAL—is a global phenomenon, garnering legions of fans around the world who share their creations on Twitter, Instagram, Tumblr and in You Tube videos. The Believer says "Keri Smith may well be the self-help guru this DIY generation deserves" and O, the Oprah magazine says she will encourage you to "start relishing the artistic process."
On June 3rd, Perigee Books will release WRECK THIS JOURNAL EVERYWHERE: a travel-size version, which gives avid fans and wanna-be-wreckers a new companion for wrecking out in the world. Wreck This Journal Everywhere features dozens of new activities as well as the most popular on-the-go prompts from the original.
About the Author:
Keri Smith is a bestselling author, illustrator, and thinker. Her books demonstrate a 'learn by doing approach', and are being used in school curriculums all over the world as a way of fostering non-traditional methods of exploration. She also teaches and conducts workshops based on her non-traditional techniques across North America. Her books include: Wreck This Journal, How to Be an Explorer of the World, This is Not a Book, Mess – A Manual of Accidents and Mistakes, Finish This Book, and Pocket Scavenger. She enjoys spending time with her husband, experimental musician Jefferson Pitcher, and two children Tilden and Ida.
---
For more information, please contact
Justin Levine
email: justin@powerhousearena.com
powerHouse Arena, 37 Main Street, Brooklyn, NY 11201
tel: 212-604-9074 x109
RSVP
Bookings are closed for this event.