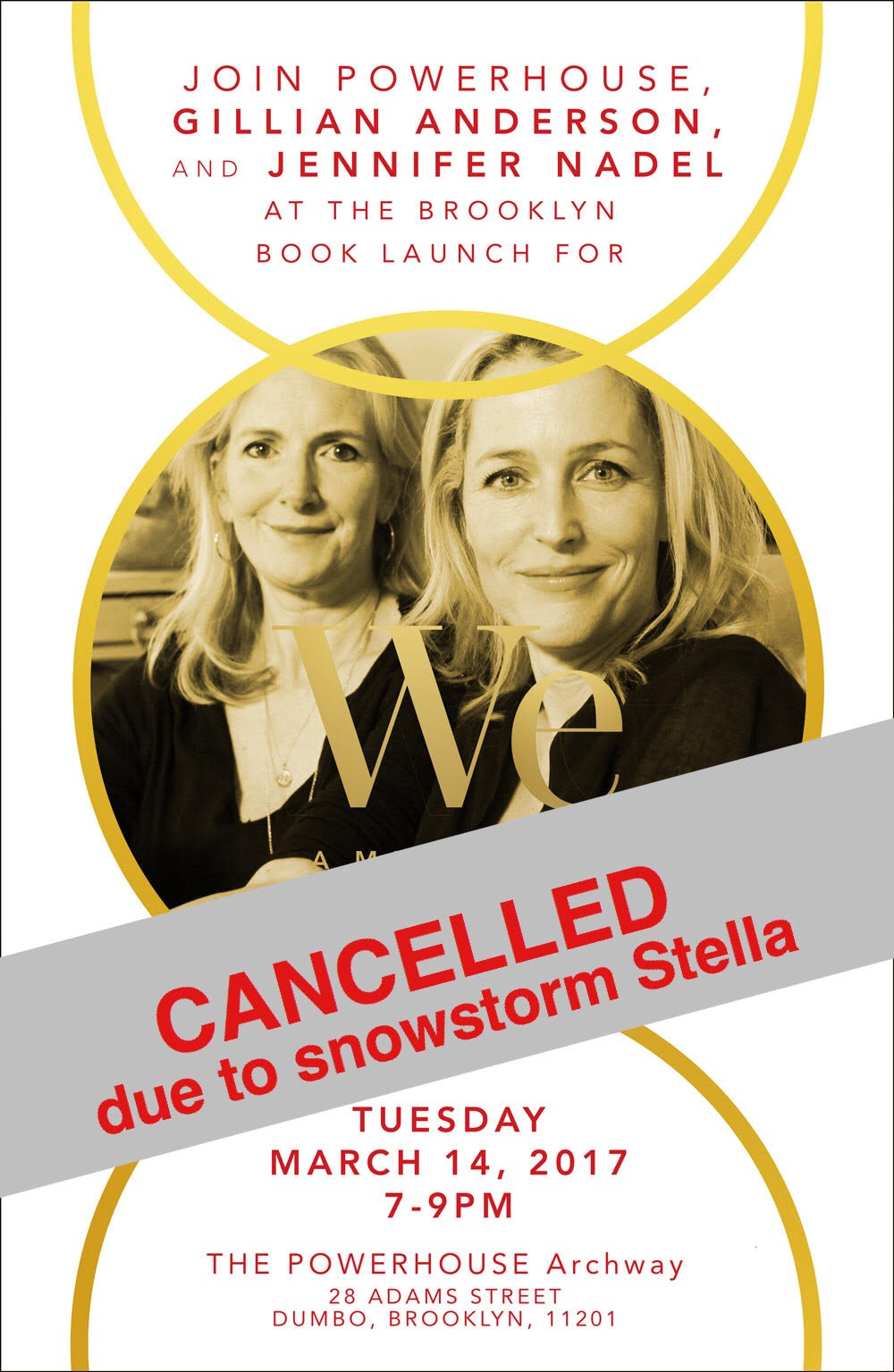 Tuesday Mar 14, 2017
7:00 pm - 9:00 pm
POWERHOUSE @ the Archway
28 Adams Street (Corner of Adams & Water Street @ the Archway)
Brooklyn , NY 11201
Category(ies)
We regret to inform our audience that this event has been
CANCELLED
due to Snowstorm Stella.
Please stay tuned for more information on how to receive your pre-purchased copy of We: A Manifesto for Women Everywhere.
Order a signed copy here.
For updates, follow POWERHOUSE on social media:
FACEBOOK | TWITTER | INSTAGRAM
---
"WE: A Manifesto for Women Everywhere is a bracing, honest, uplifting manual for changing the world by owning your gifts, telling the truth, expressing gratitude, and living with joy. It's for every woman, everywhere on the planet. Open to any page, and there you will find a truth that can set you free. We're all in this together. And WE is the GPS for the journey."

—Christiane Northrup, MD, New York Times bestselling author of Women's Bodies, Women's Wisdom; The Wisdom of Menopause; and Goddesses Never Age
"Tell me, what is it you plan to do with your one wild and precious life?" —Mary Oliver
WE: A Manifesto for Women Everywhere by award-winning actress Gillian Anderson and journalist Jennifer Nadel is a revolutionary guide to radical self-transformation with compassion for others at its core. It is a journey toward inner peace and a more meaningful life that can create a ripple effect around the world, lifting individuals even as it helps all women support and encourage one another.
By combining spirituality, politics, and psychology in this powerful call to action, WE: A Manifesto for Women Everywhere is a crucial and timely antidote to the "have-it-all" superwoman culture, to deliver a more rewarding, happier, and fulfilling life.
WE: A Manifesto for Women Everywhere (Atria Books) is an uplifting, inspirational, and intensely practical manual for change, providing nine universal principles that offer a path for dealing with life's inevitable emotional and spiritual challenges. It's for anyone who wants to see her own life and the world around her change for the better.
By combining tools that are psychological, political and spiritual, WE takes readers on a life-changing journey. It asks: Why are so many of us—and our daughters—still, in the 21st century, locked in depression and addiction, self-criticism, and even self-harm? How much more effective and powerful would we all be if we replaced our current patterns of competition, criticism, and comparison with collaboration, cooperation, and compassion?

For more details go to: https://www.wewomeneverywhere.org/
Twitter hashtag: #wewomen
About the Authors:
Gillian Anderson is an award-winning film, television, and theater actor, best known for her landmark role in the acclaimed series The X-Files, as well as producer, writer, and activist. She currently lives in London with her daughter and two sons.
Jennifer Nadel is UK-based broadcast journalist, writer, and activist; her book on domestic violence was made into a BBC film and Channel 4 documentary. American-born, she lives in London with her three sons.